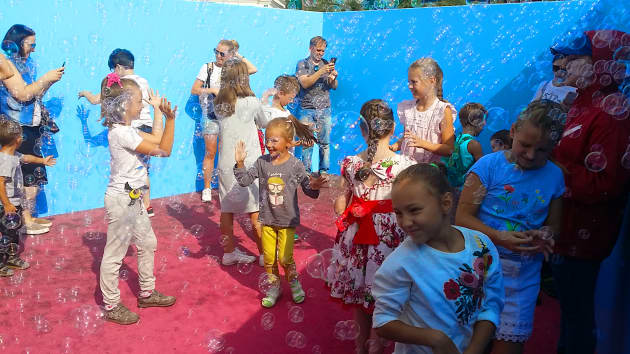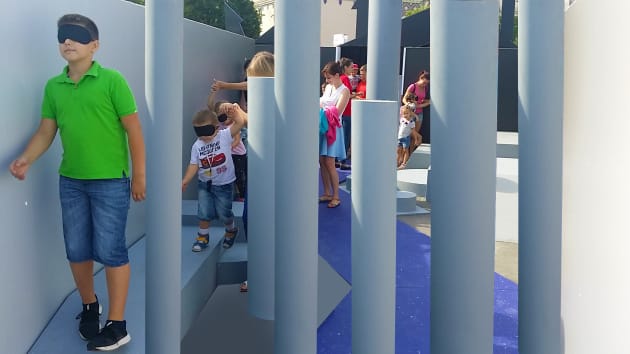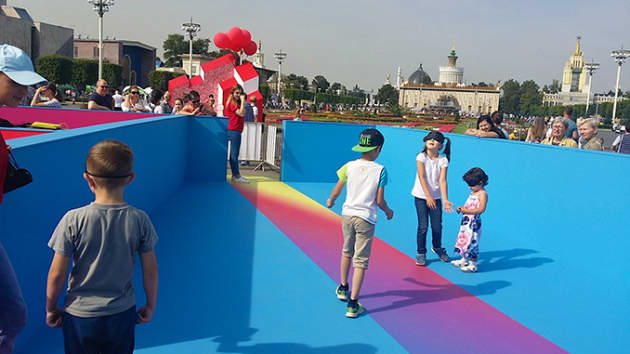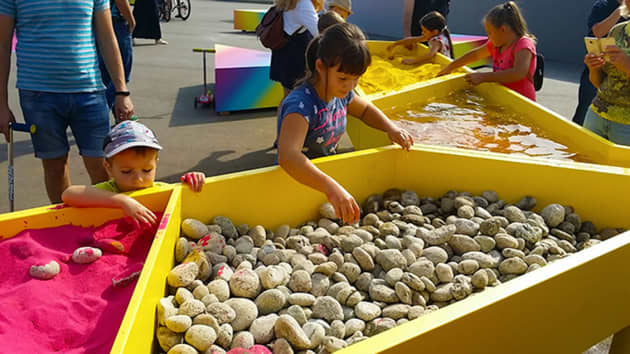 Client: VDNK
Location: Moscow, Russian Federation
Completion date: 2018
Artwork budget: $30,000
Project Team
Architect
Richard Marfiak
self emplyed
Artist
Peter Fink
Studio Fink
Overview
City without borders, explored the notion of all children playing together, whilst specifically exploring how 'disability', i.e. not being able to do something, is a socially constructed situation rather than something that necessarily follows from someone having a physical impairment, or a neurological difference. The project used the short story of Winnie the Witch, by Valerie Thomas and Korky Paul, to introduce this 'social model of disability', and to look at how we could try to adapt the built environment, and our attitudes to each other, in order to make spaces in which everyone is happy just as they are.
Goals
The art was the overall design. I am particularly interested how temporary transformations of public spaces can be transformative and encourage social and environmental sustainability through cross generational or target audience activation. In this project the activation happened on many levels from personal reflection, team work, play, education and creative exploration. The zones focused on many diffrent aspects of communication from story telling to yoga meditation. For example In the brightly coloured external rooms children explored teamwork, leadership and communication as blind folded participants. The games were developed to give children the opportunity to explore such questions:
How did you feel being blindfolded?
How critical was listening during the challenge? How did you feel not being able to verbally communicate?
Did you come up with a strategy before starting the game? If yes, how did you come up with the idea?
How important was the support of others? In an other area group the children entered into a grey and black space filled with different obstacles. They were tasked to negotiate in pairs this obstacle journey with one of them being blindfolded whilst the other narrated the journey ahead. The children afterwards discussed the challenges of disability friendly designs of the city environment.
Process
The project represented a collaboration with an architects Richard Marfiak and a and public space activation coordinator Harriet Fink. The principal challenge of this project was to deliver within a budget for a temporary project an extensive installation that in terms of durability and safety was able to cope with the 15,000 children and parents users over four days. In addition the project required training thirty volunteers, that were mostly artists, to lead and supervise the various activity zones as well as provide pastoral care. The installation was highly successful in its primary mission of introducing the concept of integration of all children in a socially inclusive environment.For example by highlighting, stairs that stop a wheel-chair user from being able to enter a building; or attitudes that stop someone with a learning disability from living independently:
Additional Information
Context : WINNIE THE WITCH'S HOUSE story told by story tellers. In brief: Witch living in all black house with black cat keeps tripping over the cat and by magic turns it green , but continues to trip over her in the garden. So, she turns her multi-coloured, making the cat totally miserable as it no longer feels like itself. The upset witch turns it black again and makes the house instead multi-coloured. Theme: need to accept people as they are and to adjust the environment to fit people rather than trying to force people to change/conform.