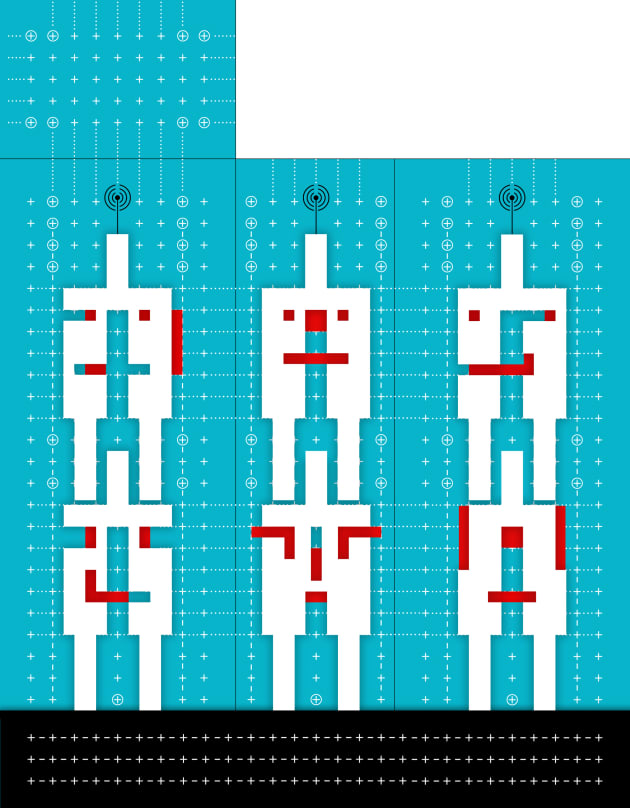 Photo: Andrew Reach
Client: Downtown Cleveland Alliance
Location: Cleveland, OH, United States
Completion date: 2015
Artwork budget: $1,000
Project Team
Public Art Agent
Downtown Cleveland Alliance
Overview
The Project was a competition by the Downtown Cleveland Alliance titled "Citizens Artbox", sponsored by Citizens Bank to wrap utility boxes in Downtown Cleveland with art. My art along with five other artists work were chosen. The RFP theme was "Citizens of Downtown Cleveland". I interpreted this theme with abstract personas called "Model Citizens" beaming with civic pride. Rows of dotted lines behind the Model Citizens represent the streets. A grid of tick marks are an abstract reference to the downtown grid. The Model Citizens are embedded and aligned within this grid representing the connection to the urban environment.
Goals
The goal of the project was to enliven Downtown by bringing art to the street, beautifying the large, plain utility boxes that line Euclid Avenue from Public Square to Playhouse Square. The RFP provided a template with dimensions of a typical utility box and the artwork had to fit within the parameters of these dimensions. I wanted to design something graphically bold that would not only relate well to pedestrians on the street but also to passing cars. The color scheme I used had great contrast between the "Model Citizen" figures and the background to further make it readable to passing cars. A dark band at the bottom provided a base for the figures to sit on as well as functioning to make dirt buildup from the street less noticeable.
Process
The template of the utility box that I designed my winning proposal for, had a horizontal proportion, with two wide sides and two narrow sides. One of the wide sides was allocated for Citizens Bank logo. I put one "Model Citizen" on each narrow side and three "Model Citizens" on the wide side with the grid of tick marks and dotted lines wrapping around the corners. After my artwork was chosen for the project, Downtown Cleveland Alliance changed the box my design would go on and asked me to redesign my artwork to fit this different box. This box, instead of being wide and short in proportion, was tall and narrow in proportion. My solution was to stack the Model Citizens two high on each side.
Additional Information
Each "Model Citizen" is unique yet at the same time, much the same, representing that while we are all unique individuals; we all respect our differences and care for the common good. "Model Citizens" have a wi-fi antenna representing that we live in a new age of modernity, connected to each other through technology in a way unprecedented in history and that with this connectivity comes responsibility; to use this new ability to connect to help one another reach our highest potential.