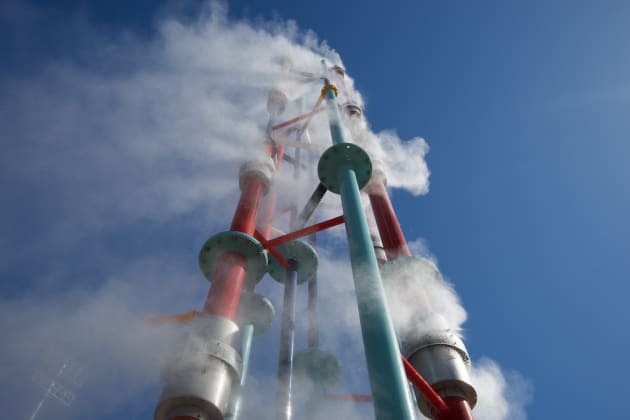 Photo: Matthew Geller
Photo: Matthew Geller
Photo: Matthew Geller
Client: MCAD, City of El Paso
Location: El Paso, TX, United States
Completion date: 2015
Artwork budget: $240,000
Project Team
Client
City of El Paso
MCAD, City of El Paso

Overview
Chroma Booster creates an interactive visual and sensory experience for the Pedestrian Pathway in downtown El Paso. A cluster of colored pipes release mist clouds at random intervals during the day. In the evening, LED lights cause the clouds to glow with vibrant colors. Users may enjoy activating the water feature: at the push of a button, water briefly gushes from different waterspouts at several locations throughout the sculpture's perimeter.
Goals
Chroma Booster plays on the tradition of having a fountain in large public gathering spaces. The modern interpretation pulls from the industrial landscape of railroad tracks and warehouses as inspiration. The 55-foot tall painted pipes invited visitors to the pathway to cool off in the mist or play with other features that will send water cascading on their friends.
Before the El Paso Chihuahuas take the field at Southwest University Park, baseball fans can be seen meeting or relaxing at Chroma Booster. During downtown events, the mist provides a welcome break from the desert heat.
Chroma Booster is an excellent example of how Public Art can help transform a space. The Pedestrian Pathway was designed as a way to connect the Downtown Arts District to the Downtown Entertainment District. The overall project transformed a parking lot into a vibrant public meeting space. The artwork along the path that is anchored by Chroma Booster illustrates how art can be transformational.

Process
With the support of a National Endowment for the Arts Our Town Grant, the City was able to engage the community in helping design a pathway that would create space to display and showcase major art elements in a space that covers about three city blocks. Because of the scale of the project, an iconic piece of artwork would be needed to anchor the pathway and provide a landmark to guide visitors along their way.
Artist Matthew Geller had worked with MCAD before on a temporary installation at the City's annual public art festival, Chalk the Block. The piece was well received by the community, and Matthew's approach would work well with this project. Matthew's sculptures turn underutilized environments like sprawling open spaces into a gathering place where visitors feel the need to engage with the art.
Because the Pedestrian Pathway would become a gathering place for visitors to the area, we wanted an interactive piece that would transform the space and create a focal point.

Additional Information
Chroma Booster was recognized by the Americans for the Arts as one of the nation's Outstanding Public Arts Projects for 2015. This interactive sculpture was one of 38 outstanding public arts projects that were recognized through the Public Art Network's Year in Review program. In 2017, Chroma Booster received an award of merit from the Illuminating Engineering Society for Lighting Design.