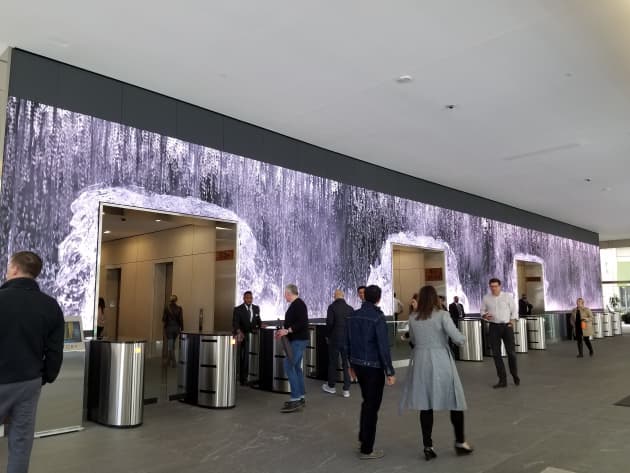 Client: Obscura Digital | Salesforce
Location: San Francisco, CA, United States
Completion date: 2016
Project Team
Industry Resource
Fusion CI Studios
Fusion CI Studios
Industry Resource
Obscura Digital
Obscura Digital
Overview
Obsura Digital reached out to Fusion CI Studios for its fluid fx expertise to create a one-of-a-kind computer-generated (CG) waterfall for an LED screen installation project in the Salesforce Lobby, downtown San Francisco. The actual dimensions of this fabulous screen have fluctuated a bit, but the final word from Obscura is 108 glorious feet long – the longest continuous 4mm LED screen in America, with over 7 million pixels at 8,112 x 960 resolution! The finest compliments we received are from those who have mistaken the waterfall in this installation as a waste of real water during California's epic drought!
Goals
https://vimeo.com/165055658
Process
Full case study describing the collaboration process and the intense technical challenges in simulating and rendering a natural-looking computer-generated waterfall is here: www.fusioncis.com/press/SalesForceWaterfall.pdf
Additional Information
Fusion's focus is on transforming spaces with digital canvases. LED/LCD screens are prolific now and creative content is a challenge for all of our clients. We believe these screen are 3-dimensional canvases that can be used for far more than 'way-finding' or advertising. They can be a key component in interior design - visually extending a physical space, creating environments that transform the atmosphere, even becoming a destination feature for guests.