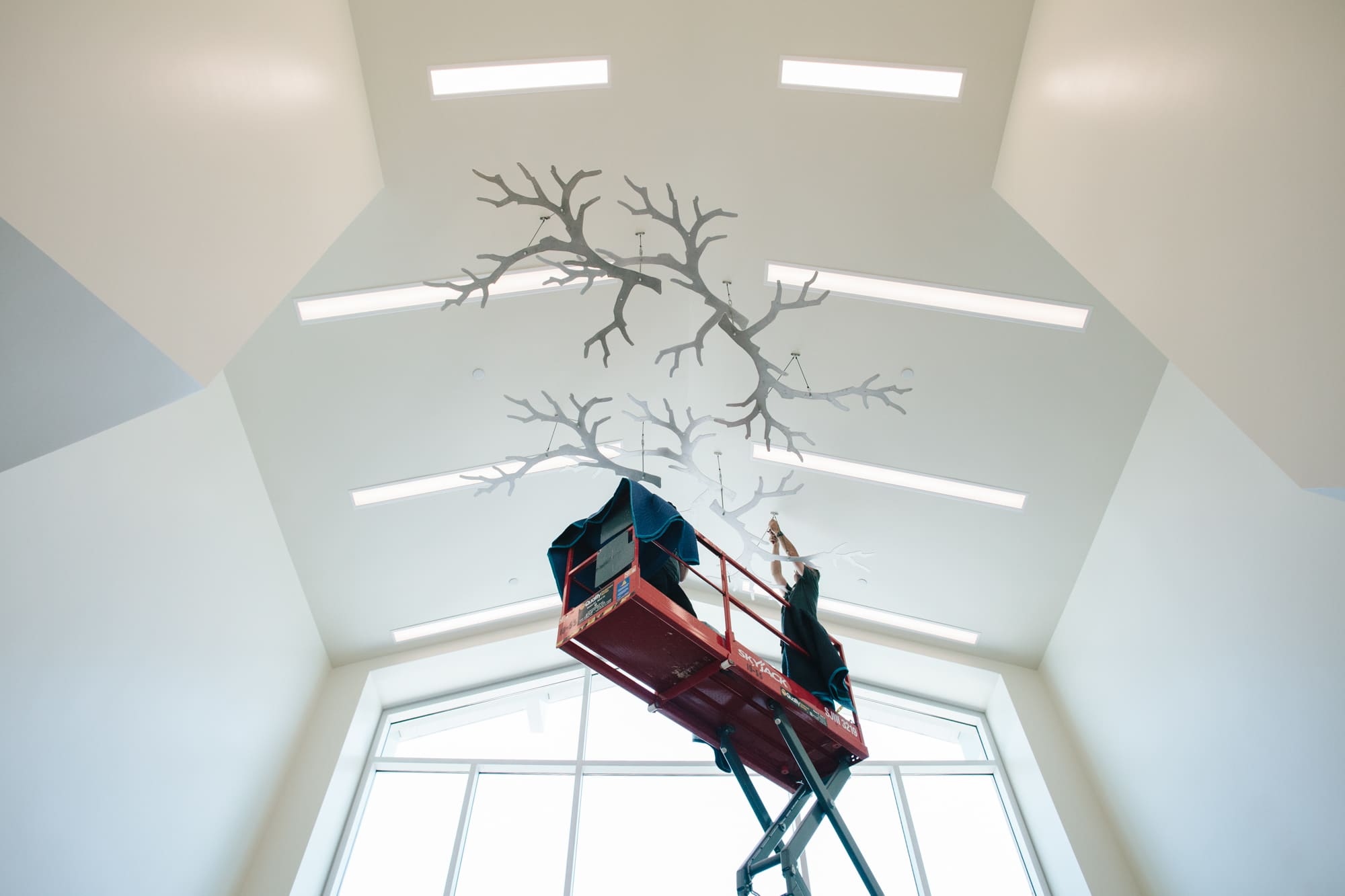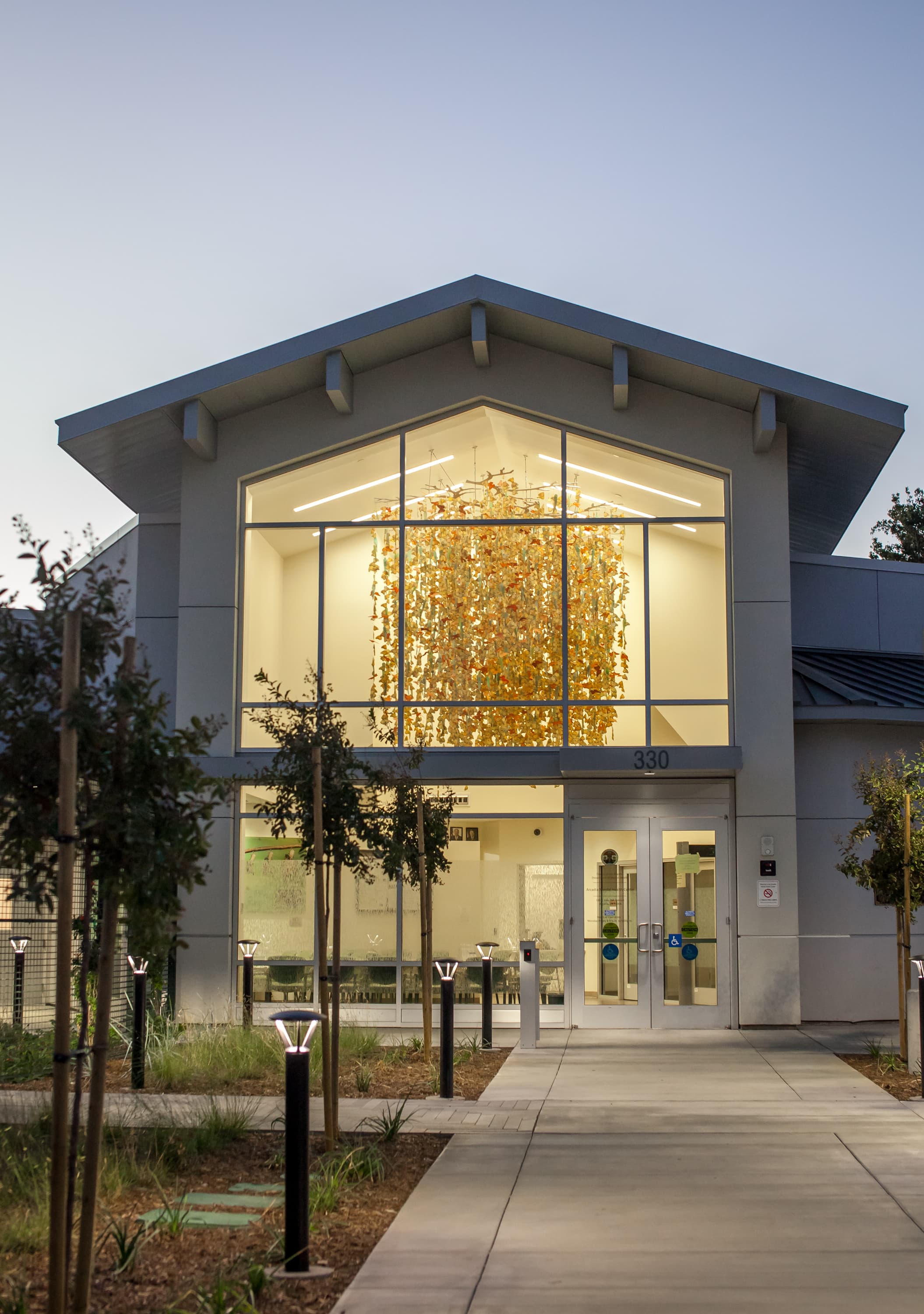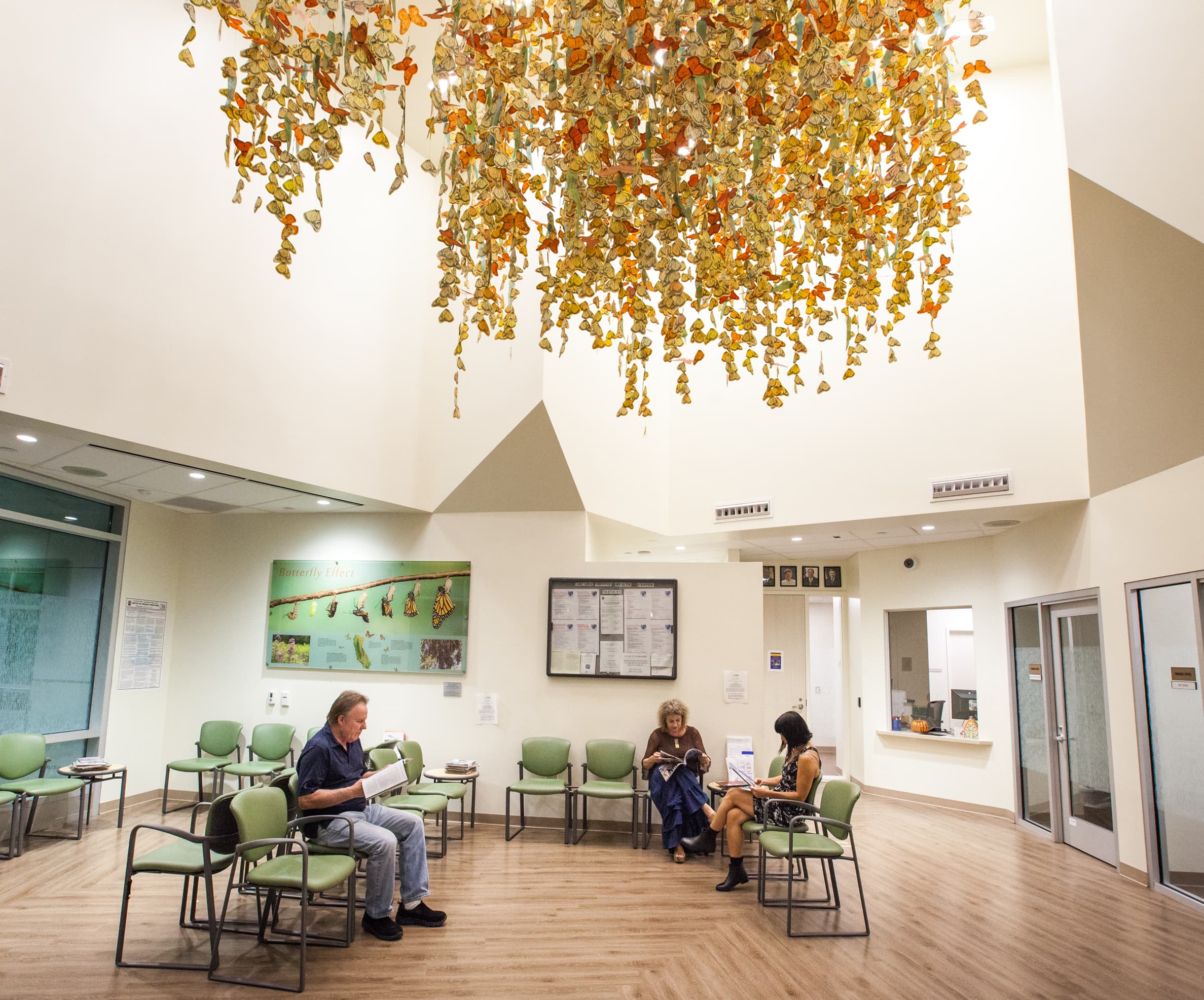 Project
Client: Los Angeles County
Location: Arcadia, United States
Completion date: 15/06/2015
Artwork budget: $75,000
Project Team
Client
Parisa Dadmehr
Department of Public Works, Los Angeles County
Industry Resource
Paul Davis
Valley Graphics
Overview
The original brief for this public art commission was to create artwork that would enhance the entry lobby of a (still to be designed) new LA County outpatient mental health clinic. Typically my artwork is 2D; that is what I presented to the selection panel. Only after I was awarded the contract was 3D mentioned.
The lobby includes a two-story volume that is approximately 22'x25'. I designed a large suspended sculpture,120″x200″x150″, that depicts a "monarch cluster". Over 10,000 butterflies and leaves (hand-painted and silk-screened fiberglass and polyester) hang from 6 metal branches.
Goals
This County facility serves all - from the jilted lover to the homeless schizophrenic. They are often distraught. My first priority was that the artwork add beauty and a sense of peace to the space. The previous clinic was dark and unwelcoming. This new clinic has a glorious light-filled two-story lobby that I wanted to enhance that with a swell of color and brightness. Mental health is all about change, movement and metamorphosis. Some say that the fluttering of a butterfly's wings on one side of the planet might cause a tsunami on the other side - the Butterfly Effect. Small changes have the potential to create much larger changes—in our own lives, the lives of others and the environment. Monarch butterflies, familiar to most Californians, are the perfect metaphor. Besides their own individual metamorphosis, they are constantly moving. Traveling great distances every year, they rest along the California coast. Overwintering in clusters hanging from the trees, they wait for the right time to move on - to change. Rest and change, rest and change.... Looking up, you are surrounded by fluttering butterflies. With nature as my starting point, the artwork is optimistic while being both energetic and calming.
Process
Focusing on the concept of CHANGE, I led several workshops with clinic clients and staff. Their written thoughts about change, along with those of members of the Arts Commission, the Dept. of Public Works, and the construction team, were printed on 700 hand-painted and hand-cut fabric leaves, thanks to the help of my assistant, Mary McFarland. We also handpainted over 3000 sheets of fiberglass and polyester which were then silkscreened with my drawings of butterflies. One fabricator die-cut the butterflies; another water-jet-cut the aluminum branches. Then those leaves and butterflies were assembled into strands. Each strand had been designed and specifically located in collaboration with a 3D graphics designer, Paul Davis. Over 100 different people helped me assemble the strands at a series of "Butterfly Parties". It truly took a village! The project also focuses on the diminishing monarch population. The wall-mounted "Art/Science Panel" shows how the clinic sits in the monarch flyway. It describes how an individual might help reverse this population crisis by planting milkweed. Working with MonarchWatch.org, I distributed packets of milkweed seeds (600 packets) to everyone who helped with the project. It is all about the "Butterfly Effect".