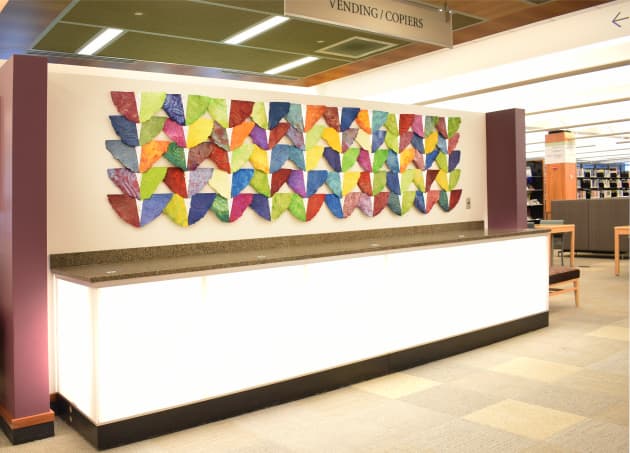 Client: Mt. Prospect Public Library
Location: Mt. Prospect Public Library, IL, United States
Completion date: 2018
Project Team
Artist
Priscilla Robinson
Art Consultant
Blythe Lee
Corporate Artworks
Overview
The artwork was commissioned to create a piece for the check out area of this library in the Chicago area. A colorful wall sculpture was needed to accent the island of a wide wall surrounded by the visually busy shelves of books. The units read as butterflies but are also remindful of books, opened at the seam.
Goals
The goal was to create a colorful textured wall sculpture repeating the materials of books in a new way. Handmade paper cast with textures joined like a book binding but with half circles instead of rectangles.

Process
Once the size of the footprint on the wall was determined, the number of units was calculated. An impact from a distance was created with larger units instead of many smaller ones. Each unit was saturated with acrylic paint. The piece is 39" x 12 ft.

Colors were inspired by the library's logo. Textures varied from plant and abstract motifs to occasional lines of poetry.