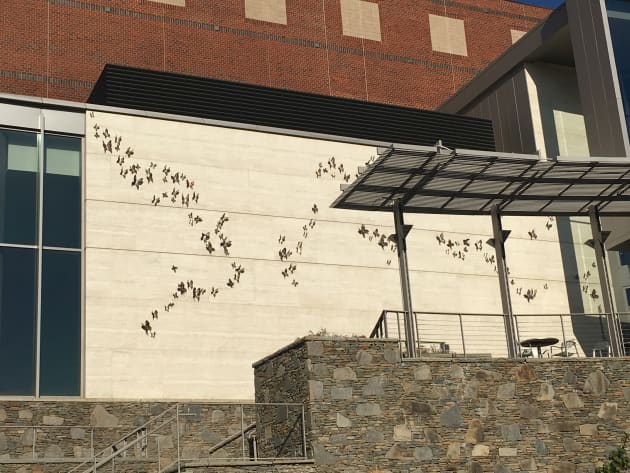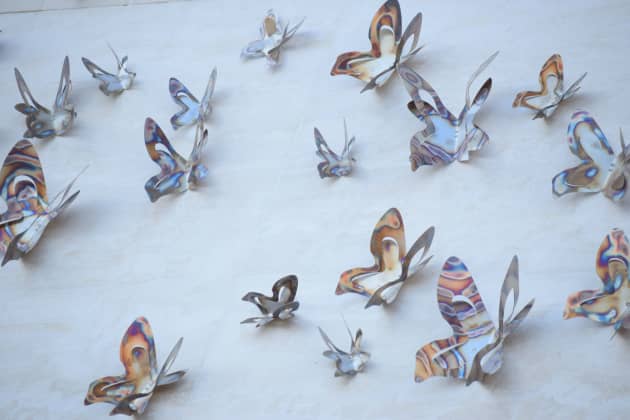 Photo: Detail
Photo: Installation
Client: Peace Center for the Performing Arts
Location: Greenville, SC, United States
Completion date: 2016
Artwork budget: $55,000
Project Team
Artist
Megan Riegel
Peace Center for the Performing Arts
Overview
"Butterflies for Peace" is a large installation of stainless steel butterflies on the facade of the Peace Center for the Performing Arts. Composed of 200 laser cut butterflies in varied sizes, the installation is approximately 25 feet high and 60 feet wide. This installation is a component of a multi-phase project to create and install hundreds of steel butterflies in and around the downtown area of the city of Greenville, SC to symbolize the City's transformation from a textile manufacturing town to an automotive, high-technology city.
Goals
The artist, Yuri Tsuzuki, was commissioned to create an installation for the Peace Center for the Performing Arts to commemorate the institution's 25th anniversary and to honor its founding donor. At the time of commission, Tsuzuki was concurrently installing steel butterflies on city buildings, storefronts, and light posts to symbolize the "transformation" of Greenville. The timing of the Peace Center's commission fit perfectly with Tsuzuki's ongoing butterfly project and became its centerpiece. The Peace Center is centrally located and the installation can be viewed from the surrounding park, hotels, and residences across the river, and by all who walk in the downtown area. This centrality has made the "Butterflies for Peace" an art attraction that celebrates the Peace Center while also serving to promote the City's ongoing focus on art in public places.
Process
As a multi-phase art project, the Butterfly Project seeks to make viewers experience art as a tangible and engaging experience that elicits an emotion of pure surprise and delight. The project began with the placement of hundreds of butterflies around the City's downtown area. Passersby would spot these butterflies on lampposts, storefronts, and other structures as if on a scavenger hunt. "Look, it's a butterfly!" For this first phase, the artist worked in close collaboration with the City's Art in Public Places Commission, Duke Energy, and private building owners to make the city-wide installation possible. The Peace Center for the Performing Arts marks the second phase with a large installation of butterflies installed on its facade.
Additional Information
The next phase of the project will be in close collaboration with the Cancer Survivor's Park and involves the migration and installation of more butterflies in the Park. In conclusion, this project and its multiple components necessitated wide ranging partnerships between public/private institutions and individuals. The project is a true collaboration in the creation of a public art work.