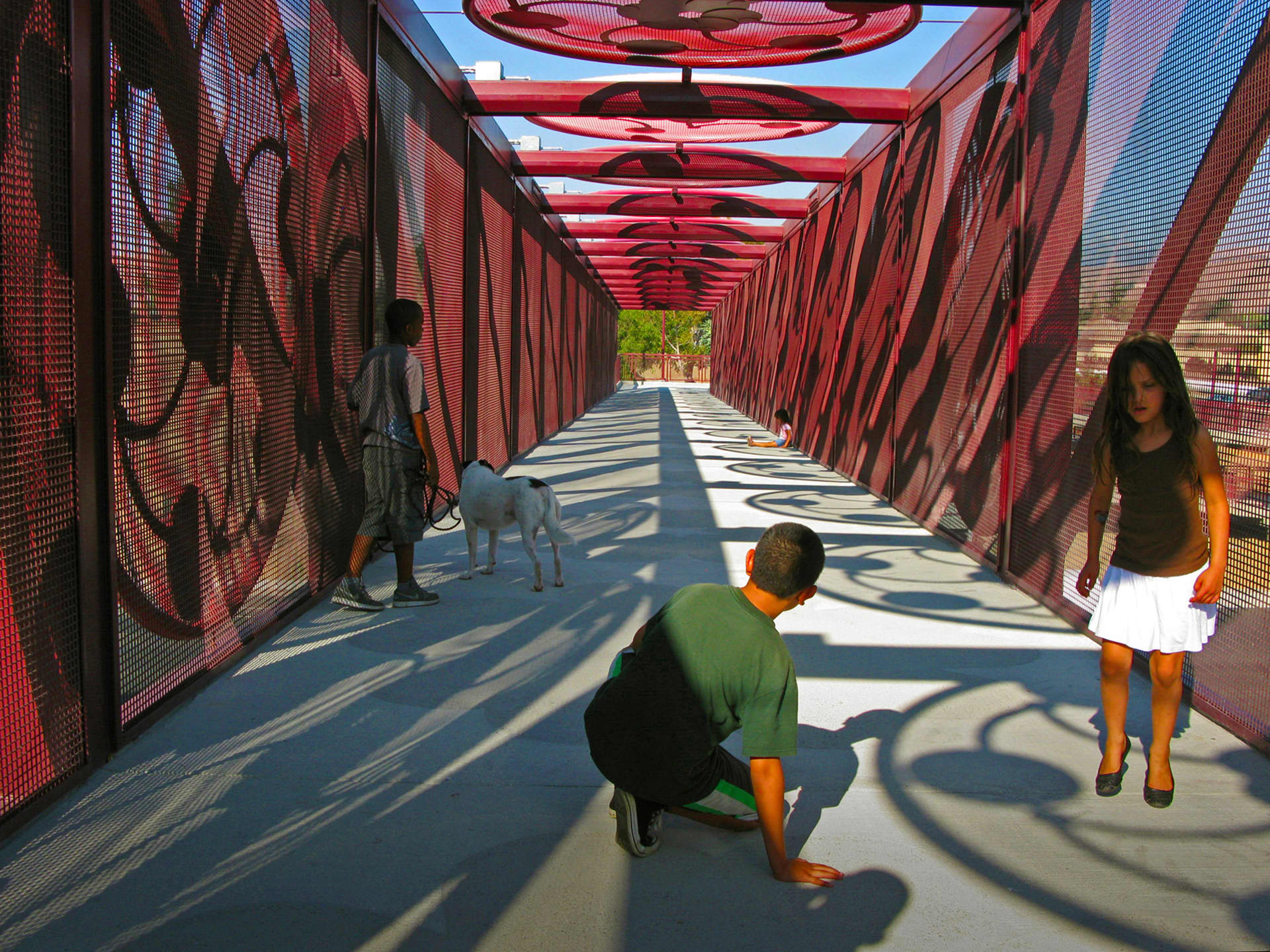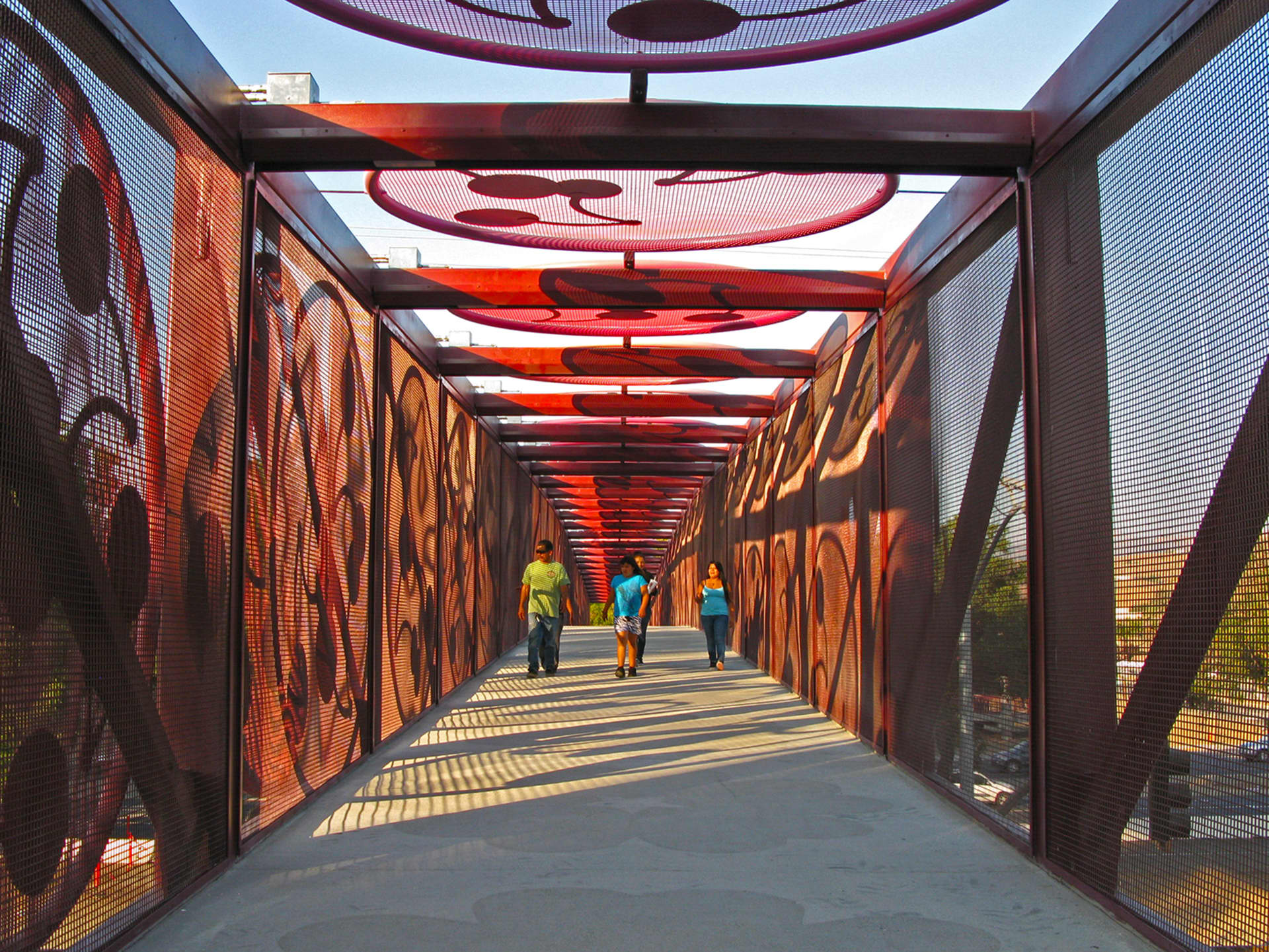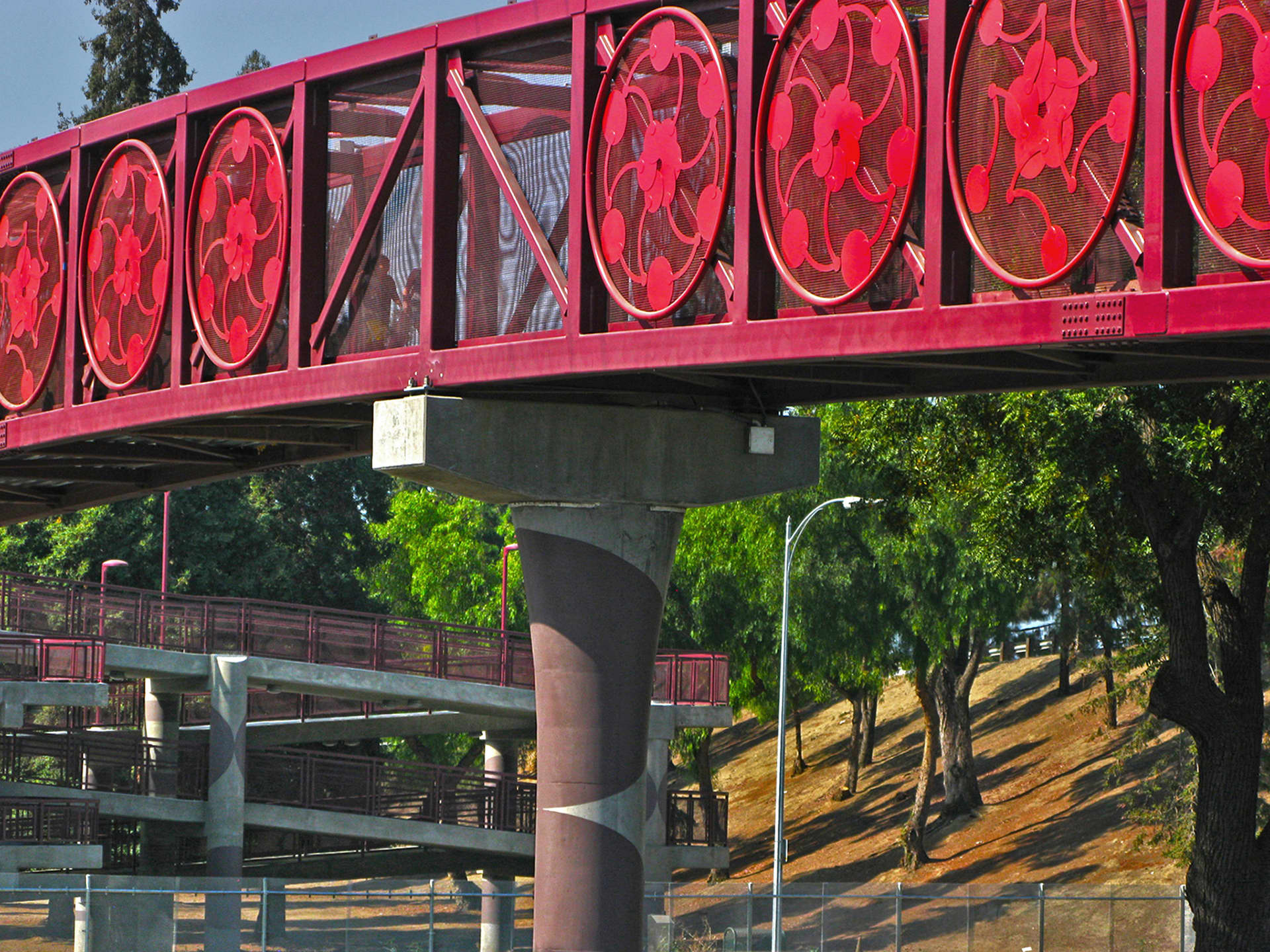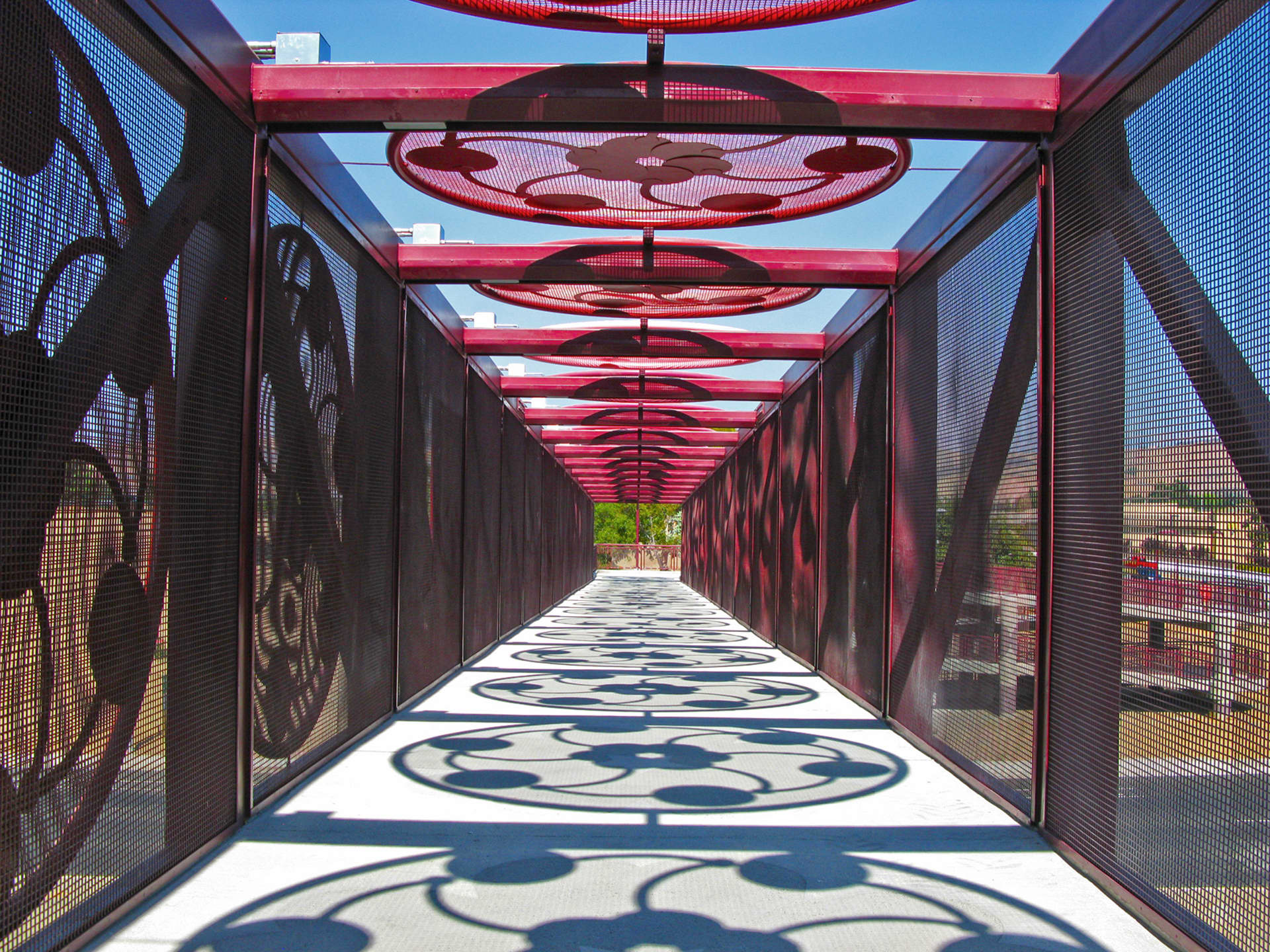 Project
Client: Valley Transit Authority
Location: San Jose, United States
Completion date: 2012
Artwork budget: $200,000
Project Team
Architect
Shirely Bassett
SBA Architects
Art Consultant
Lynn Rogers
San Jose Dept. of Cultural Affairs
Architect
Olga Rodriguez
AECOM
Artist
Vicki Scuri
Vicki Scuri SiteWorks
Art Consultant
Barbara Goldstein
PublicArtPlan
Overview
The bright burgundy red of the bridge and the cherry mandalas enliven the site and recall the cherry orchards that once made this area famous for its blossoms. The ramp continues the cherry mandala theme with a series of circular painted graphics that wrap the columns and depict the color of the cherries in their life cycle returning to the earth. The cycle of life is reflected in the mandalas and the colors throughout the bridge that range from mauve, through purples and pinks to the rich burgundy red of the bridge.
Goals
This project is an excellent example of integration that happened towards the end of the design phase. When the artist was hired to begin her work, the structure was already determined. She worked closely with the design team to add additional elements to the project that could work with the existing design parameters. This included the cherry mandala sun disks forming the overhead ornamentation and wall ornamentation, creating a magnificent shadow garden throughout the day. Additional features include the painted graphics that add scale and context to the pedestrian ramp; and the sandblasted cherry and blossom patterns that add texture and detail to the ramps and walkways. Also, the color selections of the bridge are key. The colors transitioning from burgundy reds through purples and mauve earth tones suggest the life cycle of the cherry and the cycles of life. This project commemorates the life of a child, Xander Arriaga, who at 2 years of age was fatally struck by an Amtrak Train on the nearby tracks. Perhaps it is the play of light and shadow that best captures the image of passage and transcendence. As the sun sets toward the horizon and the shadows mount the walls a
Process
Although integration started late in the design process for the Blossom Hill Pedestrian Bridge, transformation of the generic truss through the integration of artwork is the stated goal of the client. From the very beginning of the artist's participation on the design team integration was strongly stressed in order to maximize resources and deliver a bridge that enhanced the bridge on its site. The artist, Vicki Scuri, was hired because of her strong track record in creating collaborative, integrated designs for pedestrian bridges, across the US. This project, being fast tracked, required an experienced, highly creative artist to re-envision the bridge in a way that met budget, met the timeline, and met or exceeded the goals and inspirations of the community, to create a safe crossing that commemorates the death of a child. As evidenced by the images of the bridge, all of these goals were met and even exceeded. The quality of the shadow garden captures the essence of transcendence and creates a memorable, safe crossing throughout the day, through the shadow play throughout the bridge and site.