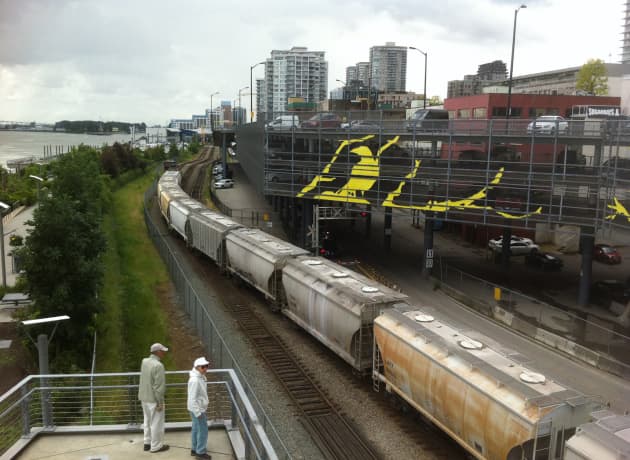 Client: City of New Westminster
Location: New Westminster, BC, Canada
Completion date: 2017
Project Team
Landscape Architect
Erika Mashig, Parks and Open Space Planner
City of New Westminster, Parks, Culture and Recreation
Art Consultant
Biliana Velkova
City of New Westminster, Parks, Culture and Recreation
Artist
Jacqueline Metz & Nancy Chew
Metz and Chew
Overview
This was a civic project with the City of New Westminster to re-vitalize a utilitarian parkade that forms one edge of a new park along the Fraser River.
Monumental fragments of the natural world are woven into the fabric of the chain-link façade. Birds resting on branches introduce something light-hearted, colorful, gentle – a slightly surreal addition to the layering of verdant landscaping, heritage buildings, and working waterfront. As you move through the park the imagery appears and disappears; inside the parkade you see luminous abstractions against the riverscape beyond.
Media: Lucite
Dimensions: 600' x 24' x ¼"
Goals
The City's goal was for a public art project "that integrates culture within the urban fabric" - comprised of a large-scale image integrated into the chain-link fencing of a rehabilitated parkade, retaining views to the riverfront, and allowing for natural light within the parkade. The chain-link facade is over 600' long and forms an edge to the new linear park along the river – it was crucial for the City that this façade become an integral part of the urban experience.

The Artists' goal was to use the vast urban scale of the project to add monumental yet playful imagery as a foil to the industrial waterfront, heritage buildings, bridges, and chain-link façade. While viewers from the park or across the river see an urban-scale image of several birds, from within the parkade that imagery is cut and framed by the concrete structure – the river and bridges beyond read through luminous abstracts.

The imagery is integrated into the rhythm of the façade, and was woven and then clipped into the chain-link scrim – without which the artwork could not exist.
Process
We began by generating several conceptual images for discussion with the City, including the Public Art Manager, the City Manager, and the Landscape Architect. These images referred to aspects of the local heritage, working waterfront, and surrounding natural environment. The images were in response to themes identified by the City and consultation process with the local residents. The selected image was fine-tuned to the grid of the parkade, to a bend part way along it's length, and to the various restrictions of the site. The technical development was in collaboration with the fabricator/installer, the supplier of the Lucite, the City and their Architect, Dialog BC Architecture.
Additional Information
The artwork was formed by weaving Lucite strips through the chain-link facade. We like the pairing of prosaic chain-link and colorful acrylic. We also like the idea of something so vast and semi-industrial recalling the domestic arts of weaving, petit-point, textiles.