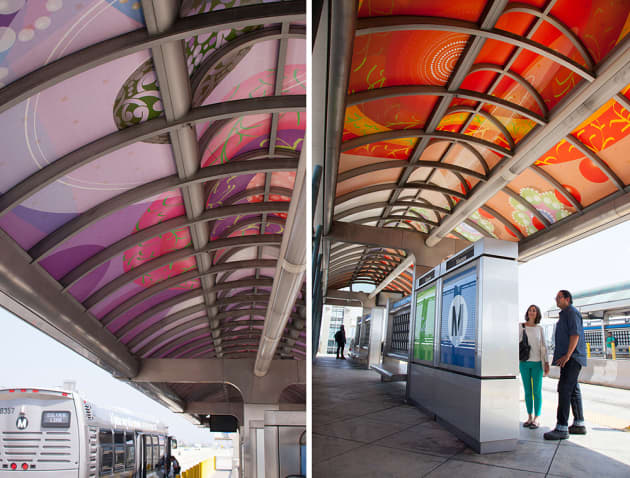 Client: Los Angeles County Metropolitan Transportation
Location: Los Angeles, CA, United States
Completion date: 2015
Artwork budget: $9,000
Project Team
Artist
Amy Cheng
Amy Cheng Studio
Public Art Agent
Pat Gomez
LA County Metropolitan Transportation
Overview
Beyond the Biosphere consists of two printed vinyl canopies measuring 17.5 x 105 feet covering the incoming and outgoing platforms of the Slauson Bus Station in Los Angeles, CA.
Goals
Although they didn't say this, because the awnings were lined with clear glass, I suspect they wanted to line them with vinyl to serve as a sun shield. The canopy designs take full advantage of visual illusion by providing the passengers, as they glance up, a playful sense of being under floating and hovering heavenly spheres.


Process
The entire project was managed by Ms. Pat Gomez of the Los Angeles County Metropolitan Transportation Authority. I had been scheduled for an in person presentation of my proposal but fog prevented my flight from taking off. Fortunately for me I had taken the precaution of shipping the project presentation boards to L.A. ahead of time. I made my presentation to the jury over the phone.