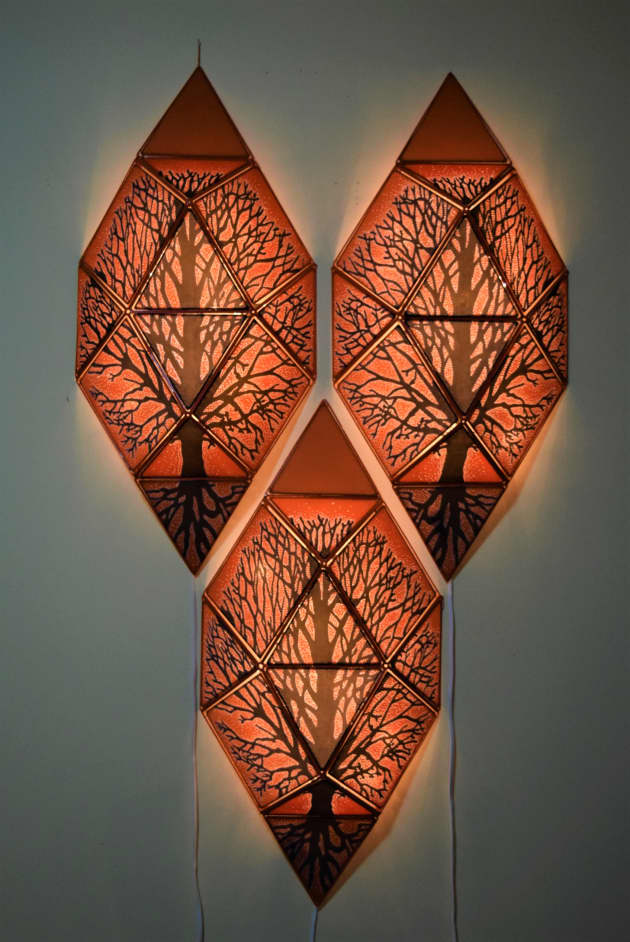 Photo: Sylvie Roussel-Janssens
Client: LSC Precast
Location: Chilliwack, Canada
Completion date: 2018
Artwork budget: $5,000
Project Team
Client
Brian Janssens
LSC Precast
Artist
Karly Norrish McChesney
Artist
Sylvie Roussel-Janssens
Overview
''Beech Tree Tessellation'', 2018. 56'' (W) x 64'' (H) x 8''(D). Recycled welded wire, polyester fabric, ink and light.
Goals
Like all my new sculptures, ''Beech Tree Tessellation'' is modular. For the available wall Five light sculptures could fit in the available space. In time, the configuration can can (group or linear composition). There could only be three or a single piece installed.
Process
There is a 90 year old copper beech tree on the property that very recently changed zoning form rural-residential to industrial. There has been great efforts to preserve the tree. This artwork is a tribute to the three generations of farmers who cared for the land before the new area.
Additional Information
My work consists of ''stand alone'' textile and welded steel sculpture, installations and functional art. With ''Beech Tree Tessellation'' I have reached the point where the three directions can merge and I am excited about the future.