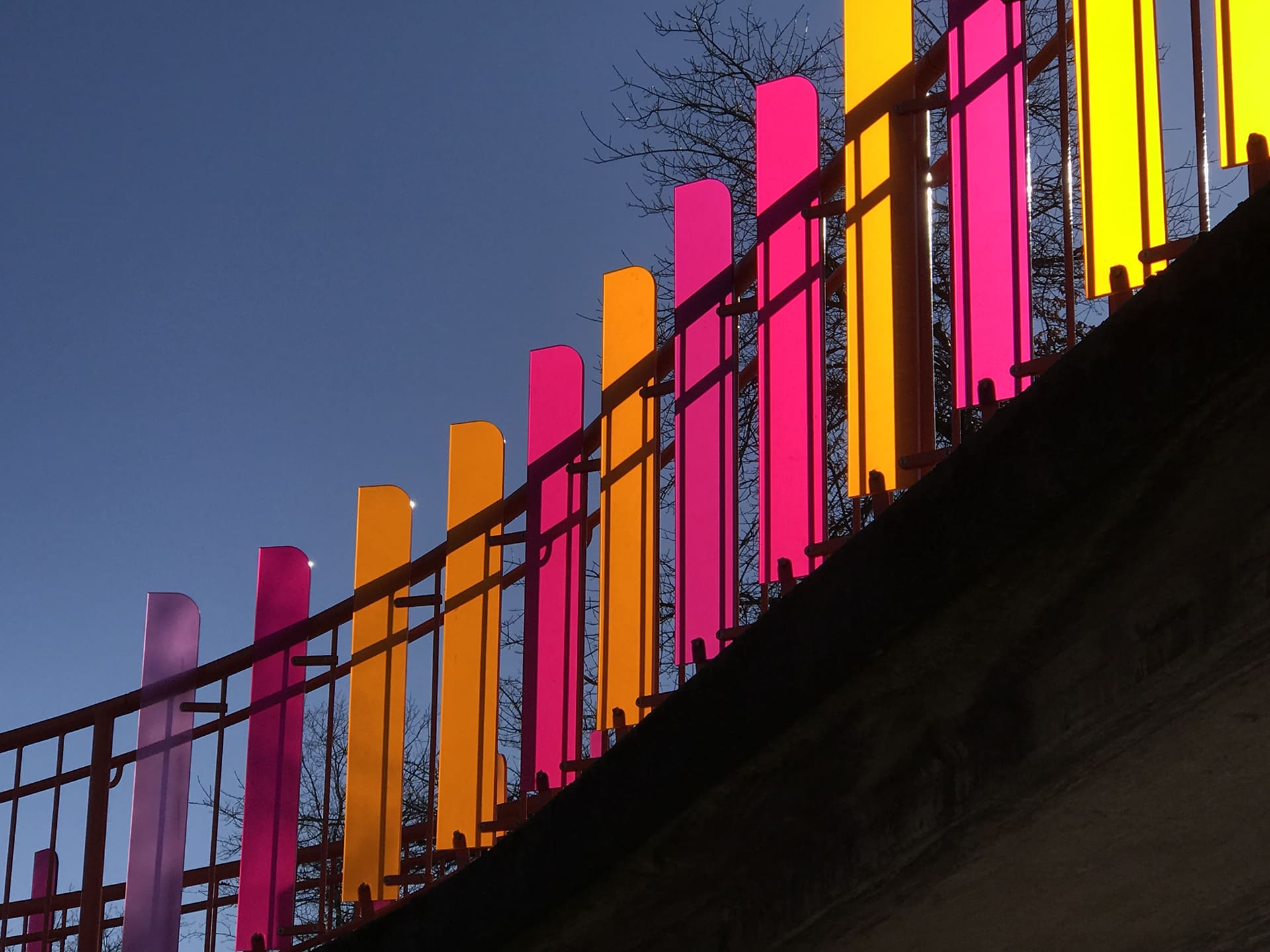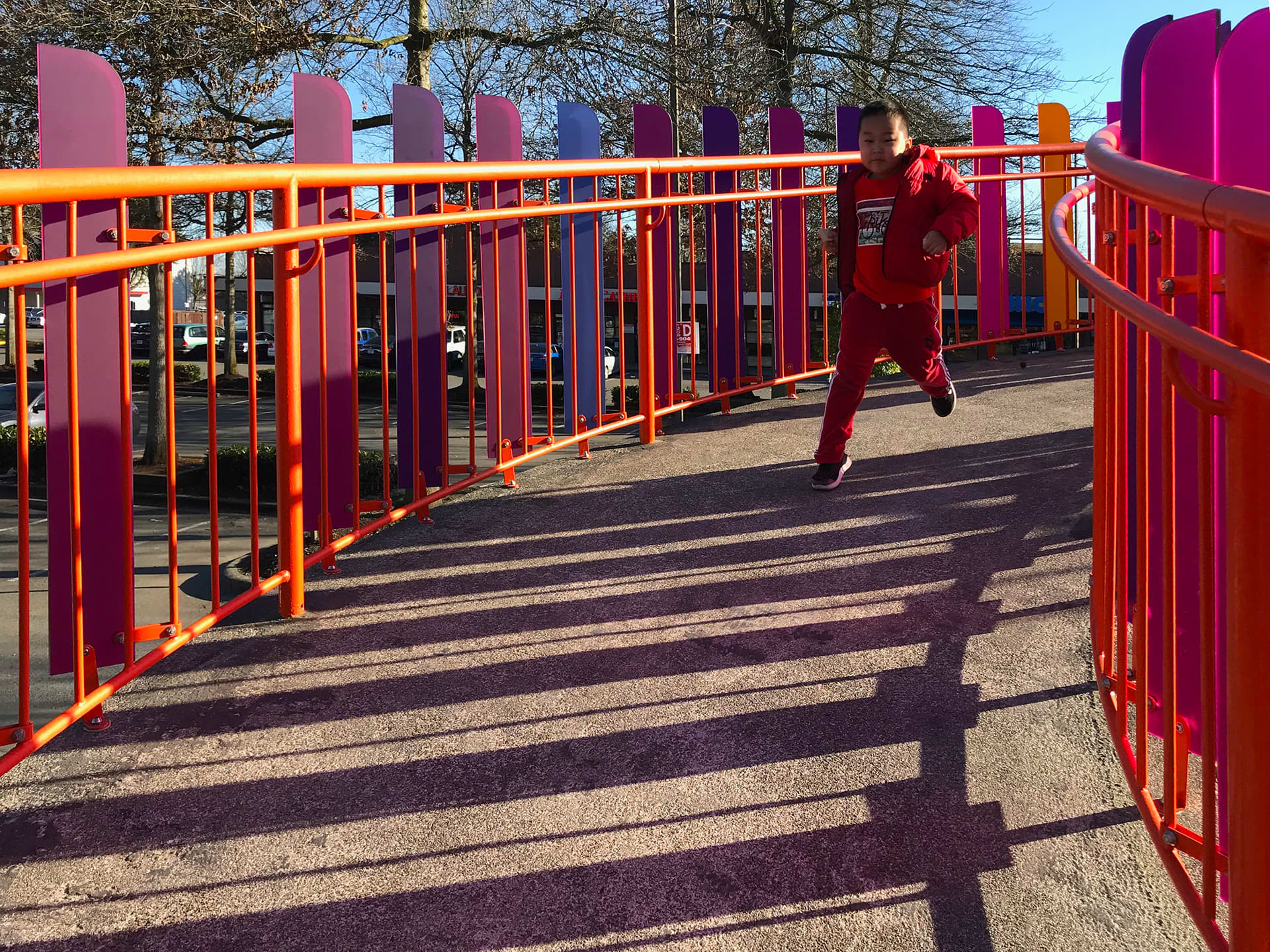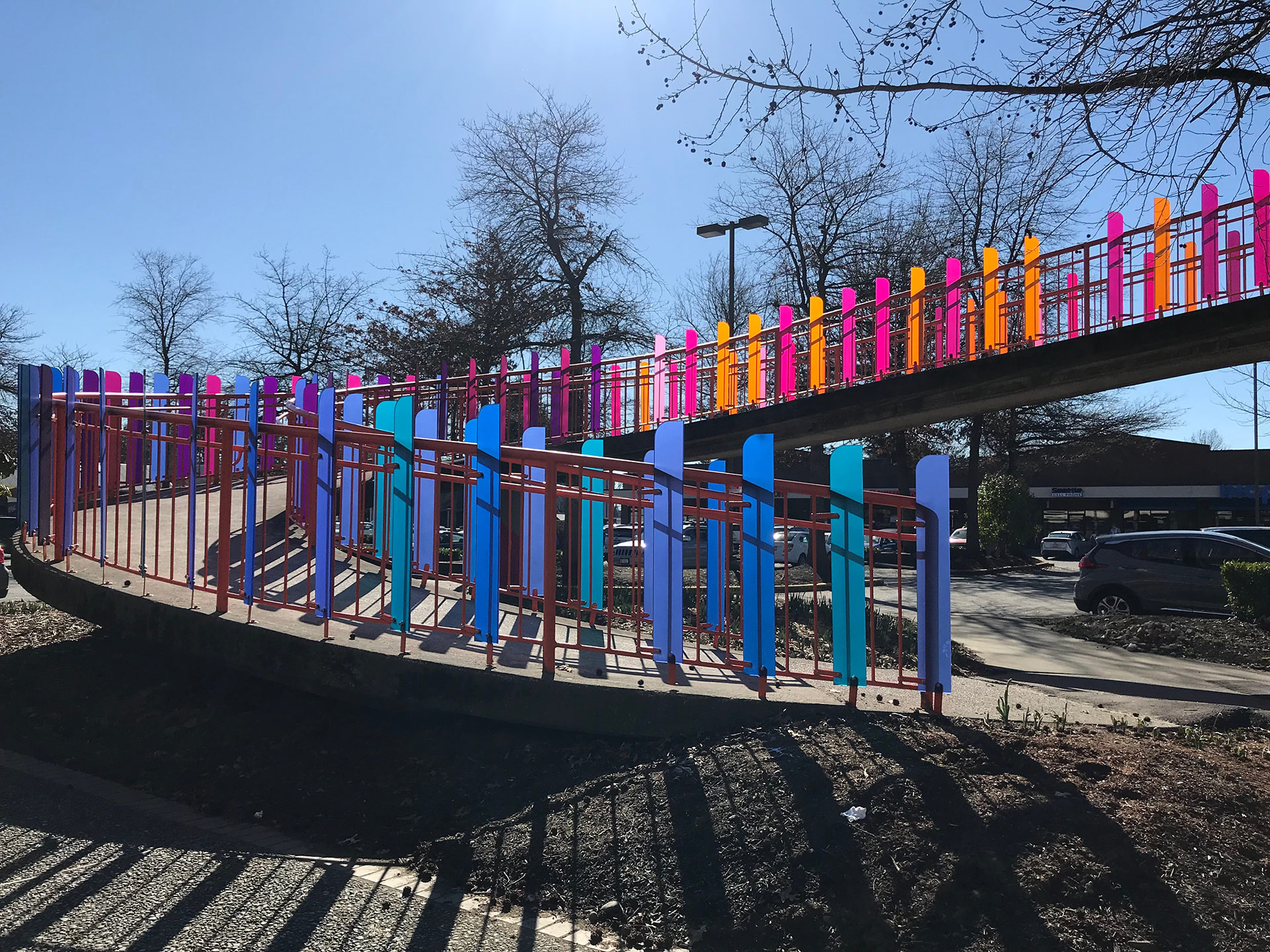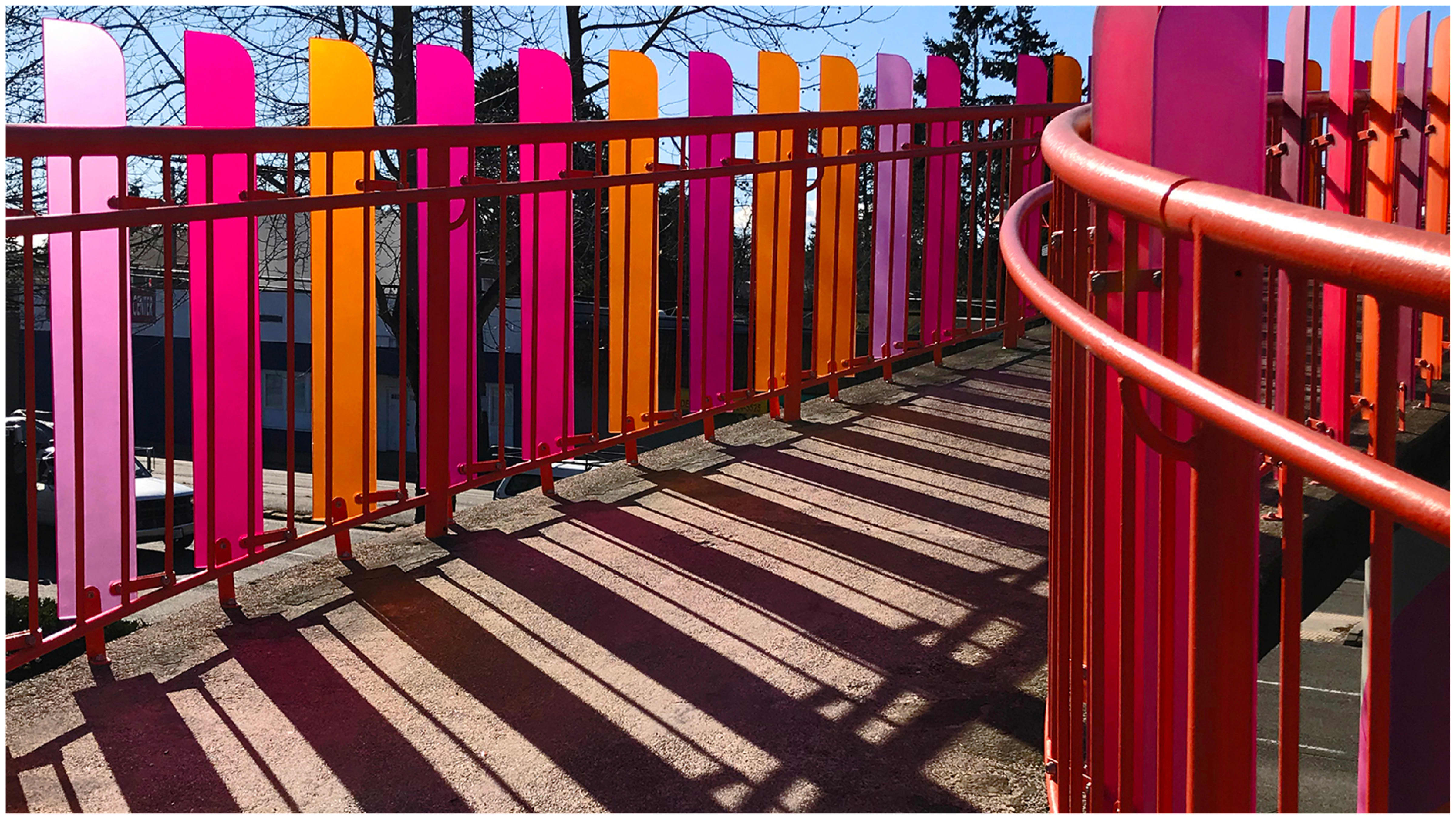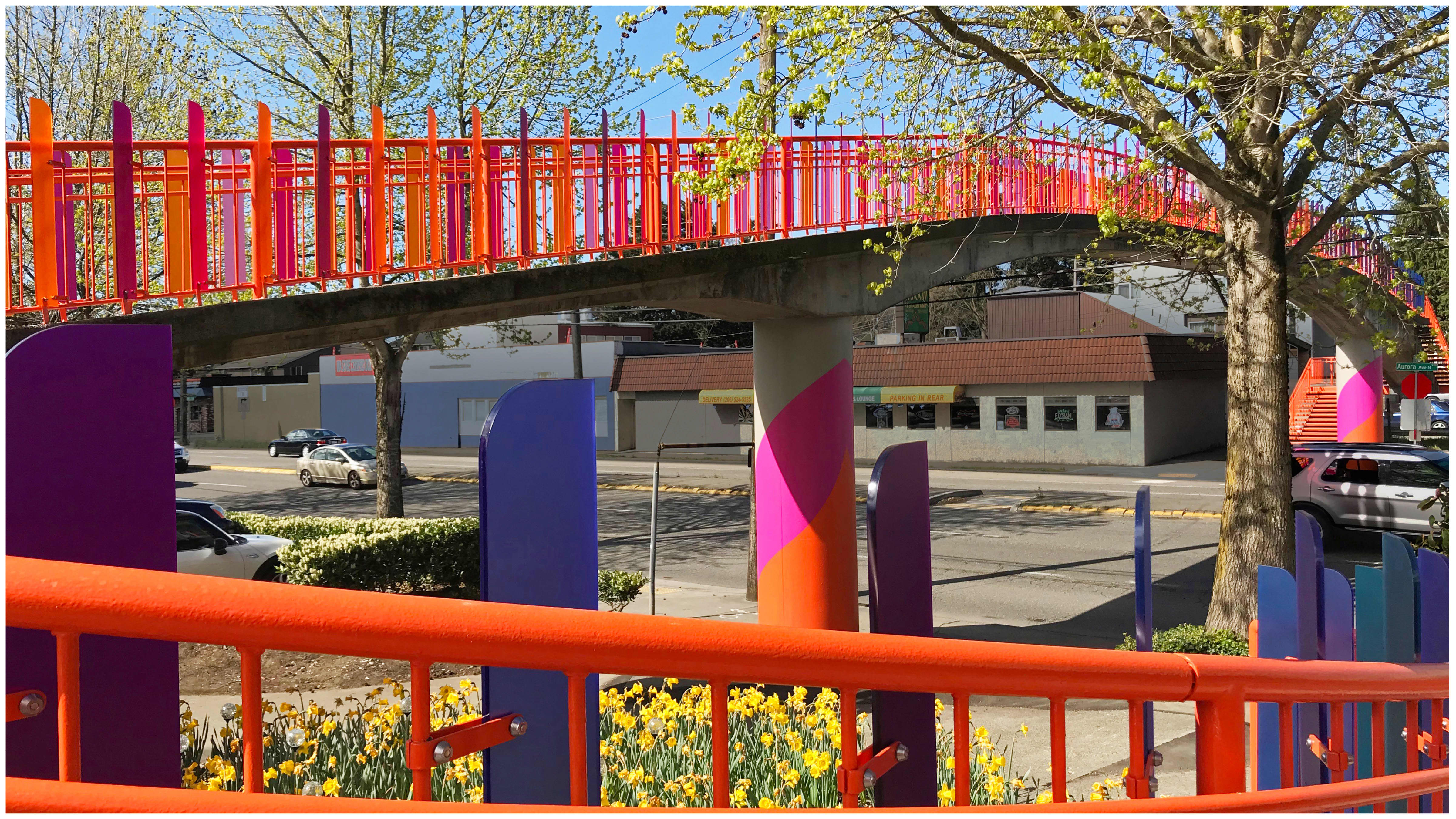 Project
Client: Seattle Office of Arts & Culture & SDOT
Location: Seattle, United States
Completion date: 2019
Artwork budget: $197,400
Project Team
Art Consultant
Kristen Ramirez
Seattle Department of Arts and Culture
Other
Leah Anderson
Aurora-Licton Urban Village (ALUV)
Industry Resource
Kevin Stoll
KBA
Industry Resource
Dan Peters
Carey Construction
Artist
Vicki Scuri
Vicki Scuri SiteWorks
Overview
Inspired by the sunrise, this project transforms an aging pedestrian bridge into a community landmark. Translucent colorful fins transition through the hues of the sunrise across the bridge span. The four-foot-tall and six-and-half-inch-wide fins sit on the outside of and attach to the railings. The fins elevate the bridge into a unique art experience for both the cars traveling under and the pedestrians above. The colors on the translucent fins will shift and blend as the viewer moves through the site, creating a dynamic experience. The bridge's columns and stairs hold colorful painted graphic, connecting the artwork to site.
Goals
This project was initiated by Aurora Licton Urban Village (ALUV) through an SDOT grant written by community members. The community members desire greater connection and participation in the redevelopment of Aurora Avenue, promoting safe crossings and identity along Aurora Avenue. As Aurora Avenue literally divides ALUV, the bridge is a symbol of connectivity. It is located at Oak Tree Village, the central hub of ALUV. The Artist worked with ALUV, SDOT and the Seattle Department of Arts and Culture to transform the bridge into a neighborhood landmark, promoting diversity, safe passage, color, and beauty, exceeding all expectations and goals. These goals include: transforming the pedestrian experience, promoting community identity on Aurora, promoting connectivity and safety, promoting art and beauty, and promoting visual perception throughout the day, by creating optical color blending with the sun's passage across the site.
Process
This project represents a team effort. Aurora Avenue is a state highway with many restrictions. The concept of transforming the pedestrian bridge into a public art amenity was not originally considered possible because of the complexity of the site. The Artist, who is a veteran of Design Team Collaborations, convinced the City, SDOT and ALUV that this project could be possible if it could become part of SDOT's street improvement package, bid and built by the General Contractor. The Artist and her project manager, Kristen Ramirez, promoted the concept to the City and SDOT. After many meetings and discussions with SDOT, the collaboration between the Artist and SDOT, was approved. The Artist worked with SDOT engineers to determine the loads for the bridge and the design of the hardware, for attachments. During the construction and fabrication of the Art Project, the Artist attended construction meetings, providing ongoing documentation and reviews of the project as it was being built. The Artist stayed involved with the community through all phases of design and construction and continues to work with all parties on an ongoing maintenance agreement.