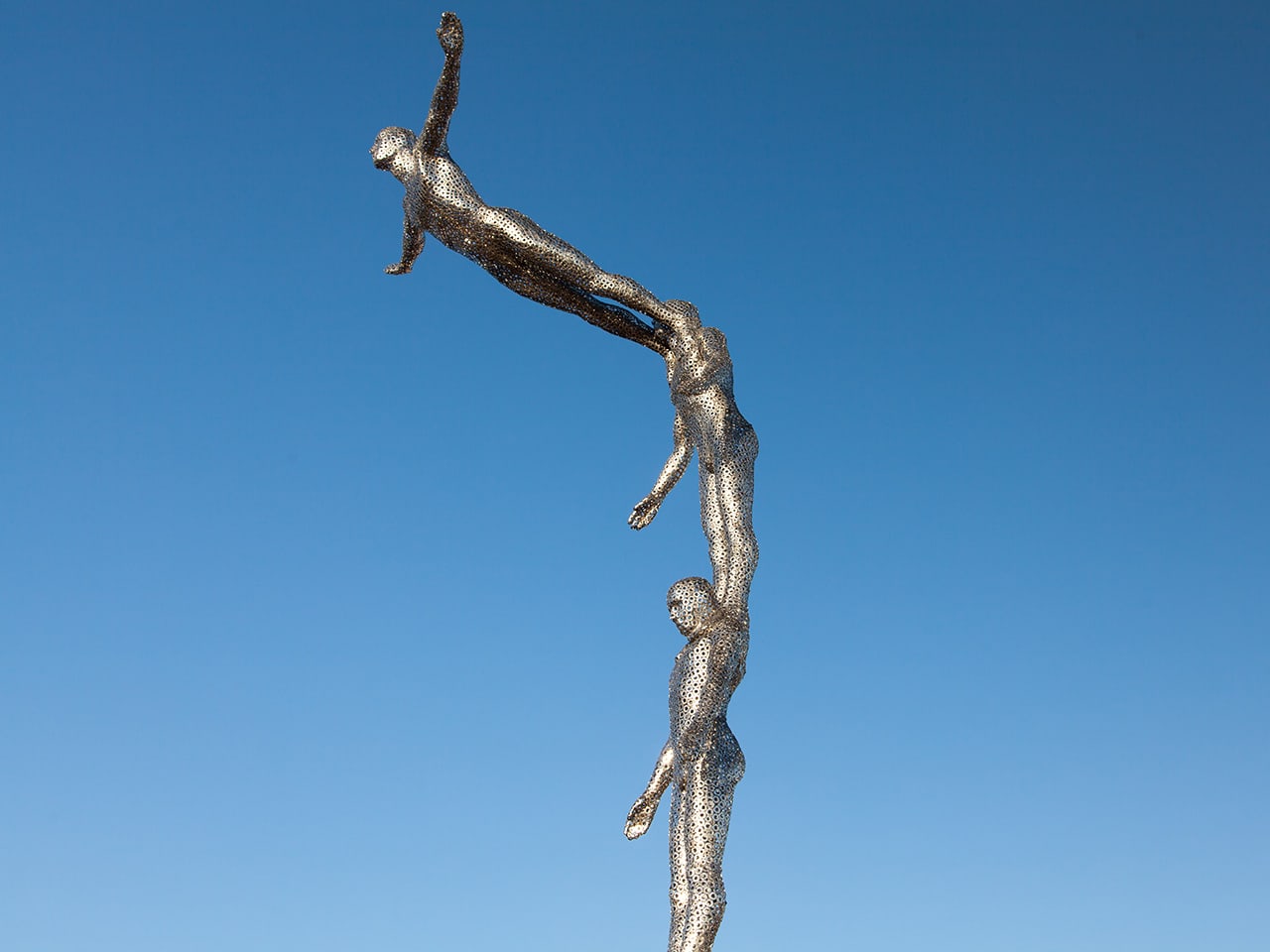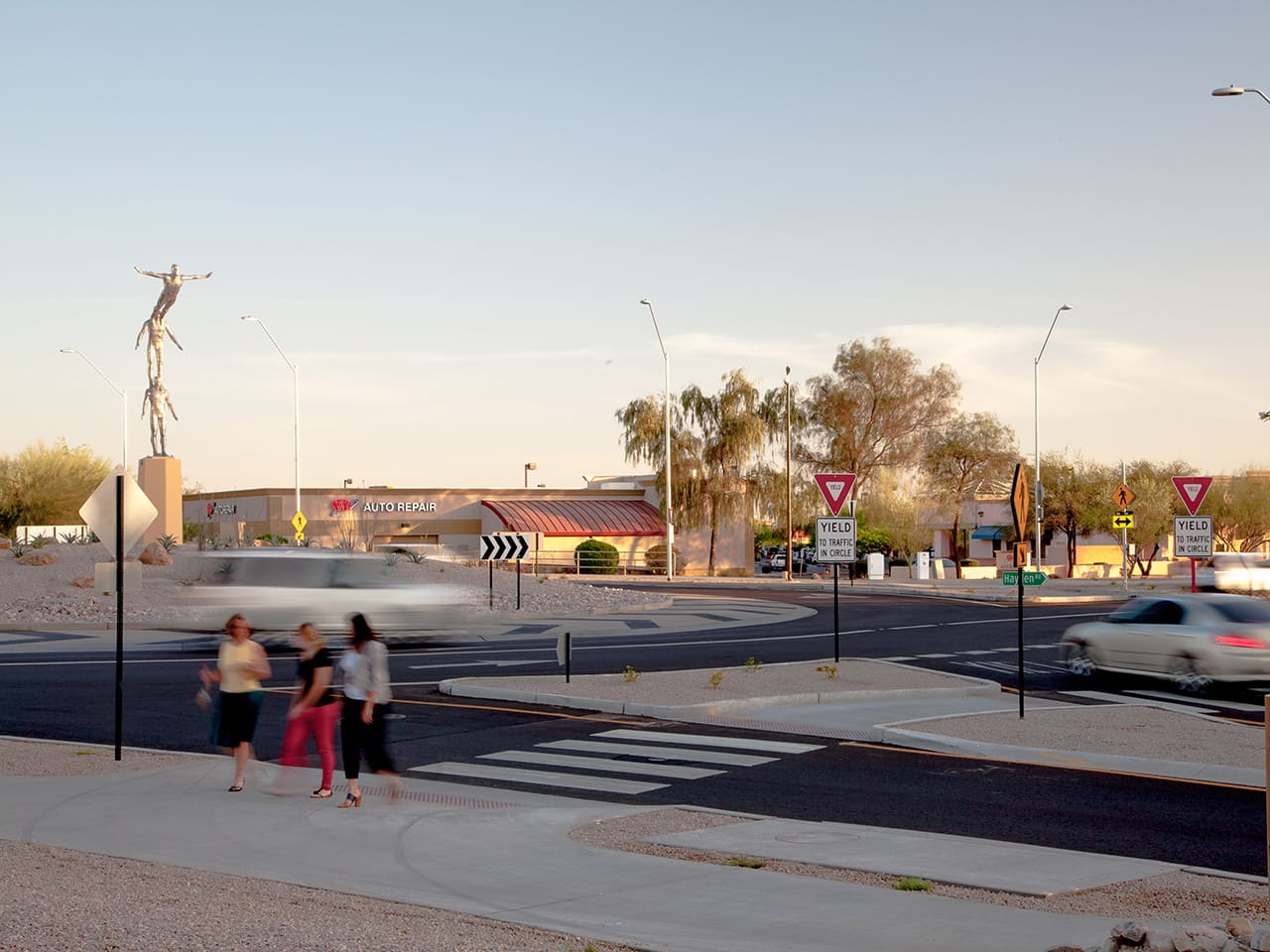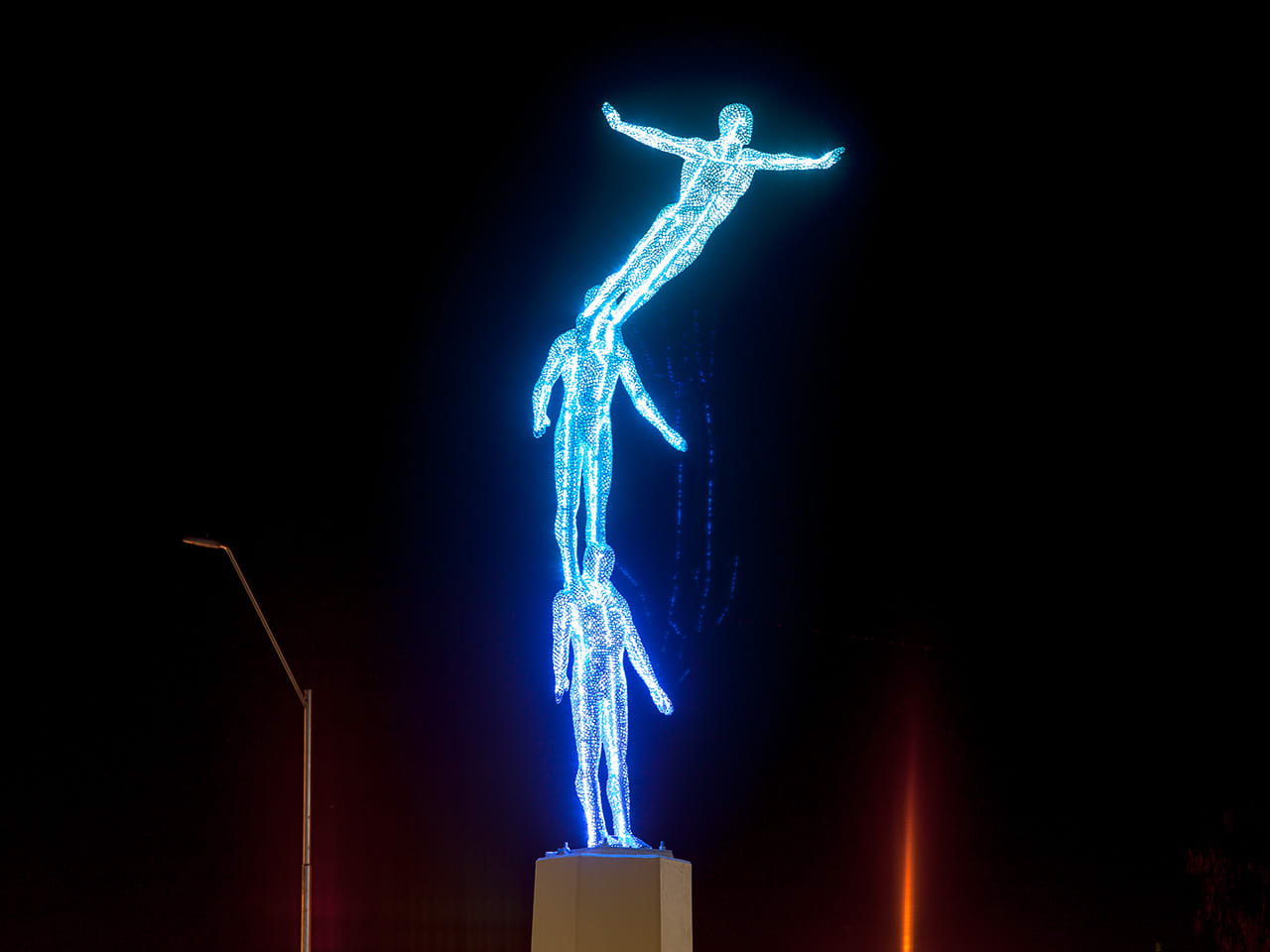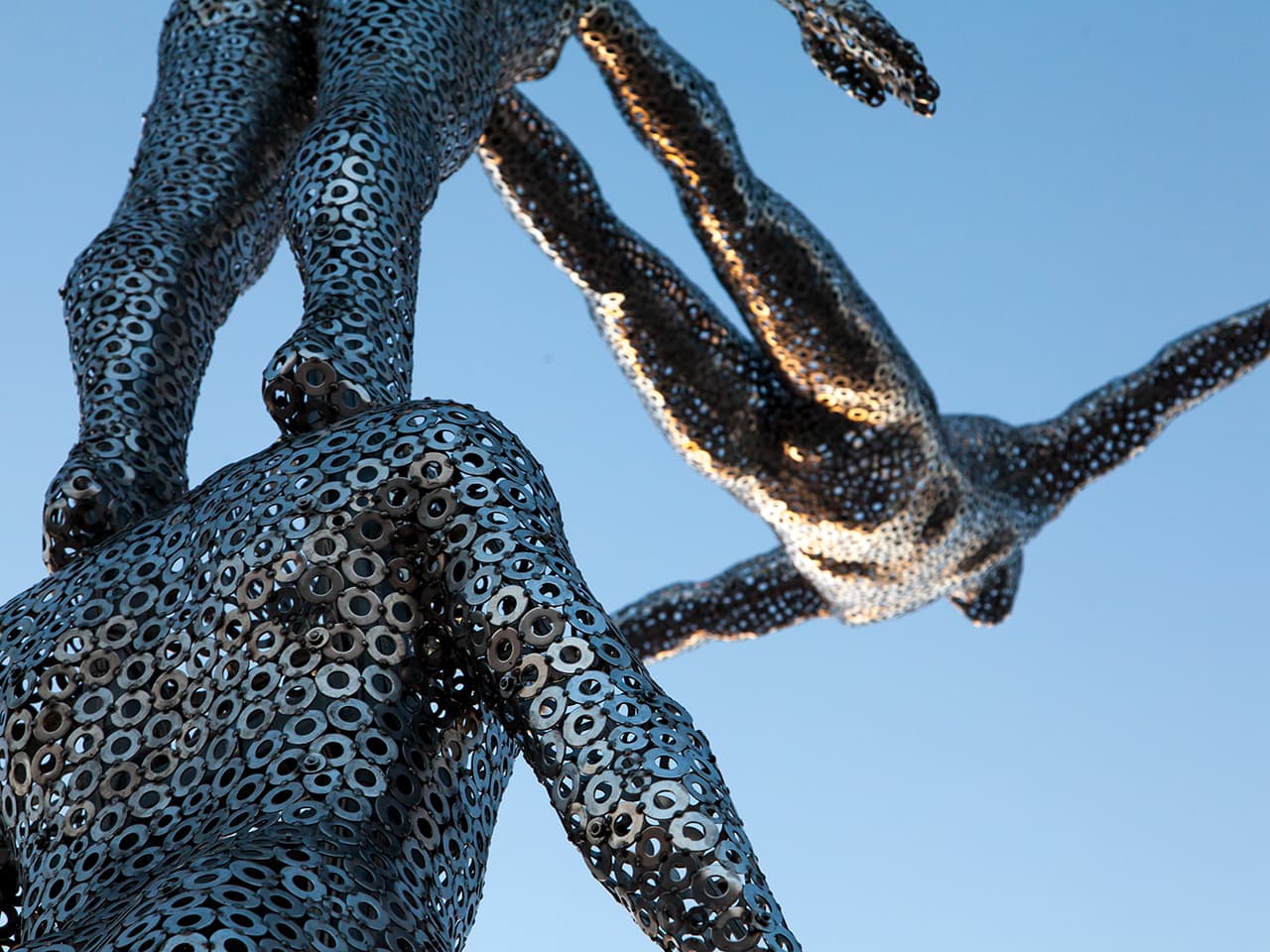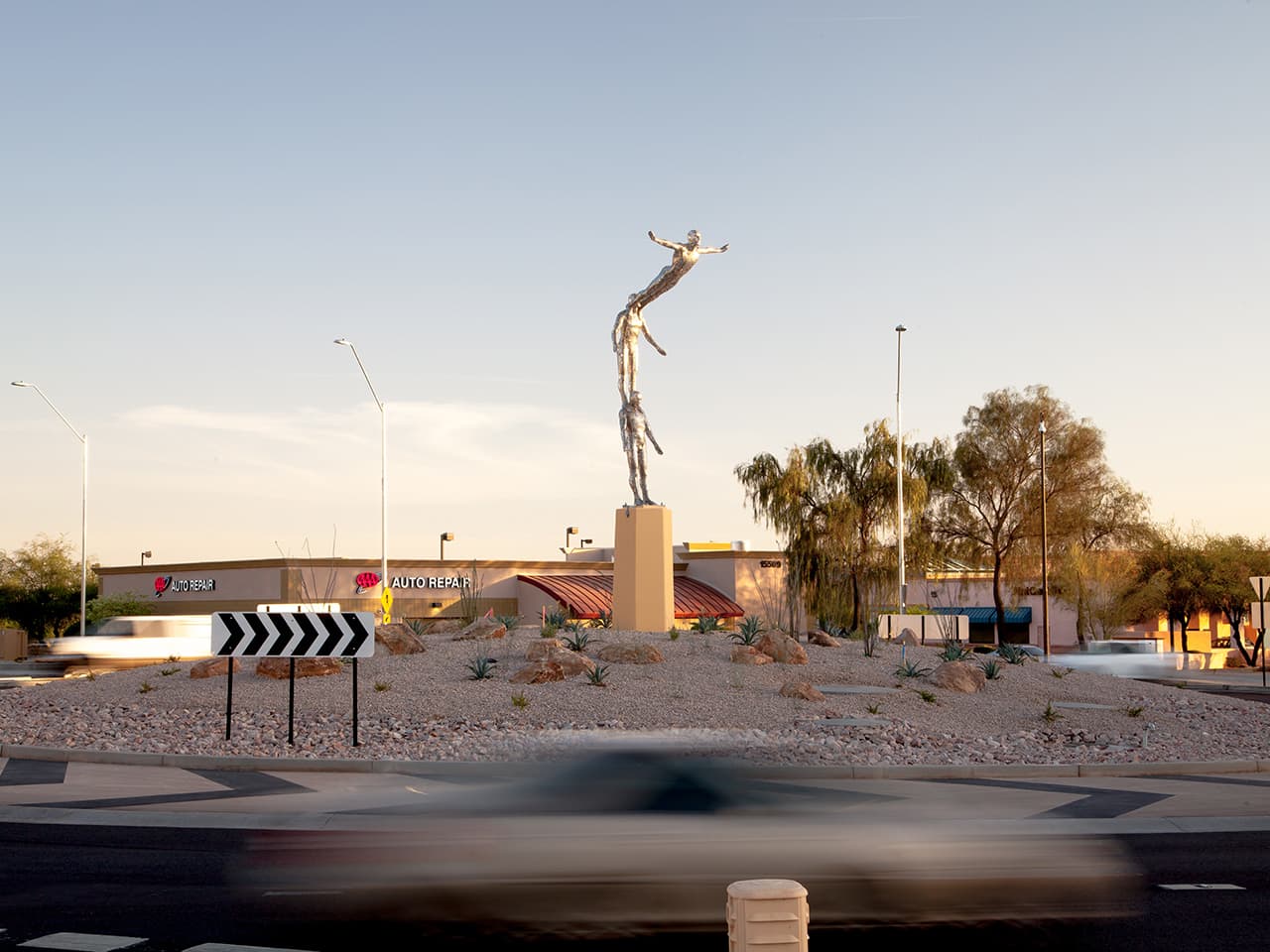 Project
Client: City of Scottsdale
Location: Scottsdale, United States
Completion date: 15/04/2014
Artwork budget: $73,000
Project Team
Public Art Agent
Scottsdale Public Art
Scottsdale Public Art
Other
Alison Tymkiw, Capital Projects Manager
City of Scottsdale
Other
George Williams, Traffic Engineer
City of Scottsdale
Other
Todd Lanenga, Public Works Inspector
City of Scottsdale
Other
Christie Hall, Project Director
Achen-Gardner Construction
Other
Howdy Hale, Superintendent
Achen-Gardner Construction
Other
Chuck Wright, Project Director
Kimley-Horn
Landscape Architect
Adam Perillo, Landscape Architect
Kimley-Horn
Other
Sean Deckert
Calnicean Projects
Overview
Located in the center of the first multi-lane roundabout in Scottsdale near the Scottsdale Airpark, Aspire reflects the human aspiration for flight and innovation. The figures can be seen as one man in varied stop-motion poses lifting off into flight, or as three men standing upon each other's shoulders with the top one soaring. The intent of this "flying dream" concept is to uplift and inspire the spirit. It is made of thousands of individually welded stainless steel washers. At night, gradations of violet-blue LED lights shine through these lacey forms, turning the piece into a beacon for the roundabout.
Goals
With the City of Scottsdale embarking on a strategy of using multi-lane roundabouts to alleviate traffic congestion and reduce high-injury collisions the Airpark, a major employment area of Scottsdale, there was concern about having art incorporated in the center. Research indicated that there is initial negative public reaction to roundabouts which dissipates after drivers become familiar. The attractiveness of art was a concern because traffic engineering did not want people to want to walk to the center nor have the artwork have detail that demanded drivers' attention. Though this project looks simple with a sculpture on a pedestal, the collaboration was significant to make the goals of the safety in the design of the roundabout work with art in the center. A sculpture that reads as a high silhouette by day, not unlike the Anteros in Piccadilly Circus, London, and as a lit night beacon, both which signal approach to the roundabout, arose out of this collaboration. The landscaping and simple plinth discourage the urge to get your picture with the sculpture. Details of the sculpture are readily perceived by pedestrians and the differing directions of approach give the sculpture multiple dimensions for the driver over time.
Process
The artists, Scottsdale Public Art, the City and the designers presented their ideas together in two sets of public meetings. The first involved three different ideas for an artwork for community feedback. The boards and the presentations reflected the responsive give and take of each of the proposals through the design process. Along with community preferences, the workability of each of the artists' designs was vetted within design team meetings. The artists responded positively and a resulting single proposal was presented in the second set of public meetings. The next stage of detailed collaboration was the installation of the finished sculpture. The construction team, in addition to the team meetings, visited the artists' studio in Tucson to see the unique fabrication with its attendant challenges to move from a prone position to placement on the plinth. Ideas were vetted, rejected, and revisited. Within two hours a definitive plan was created, communications of equipment needs and schedule followed in a prompt and positive manner, and the installation went seamlessly.