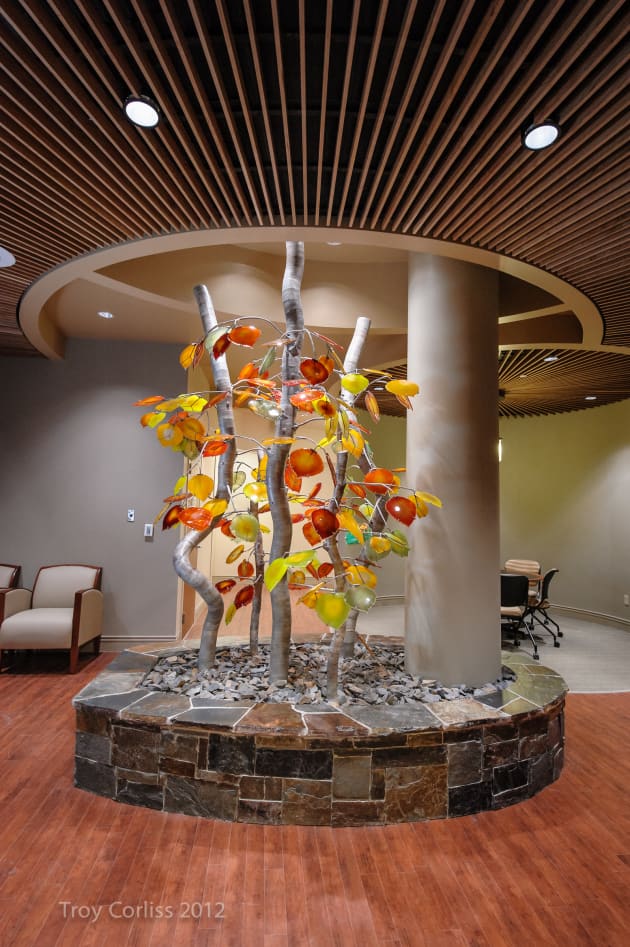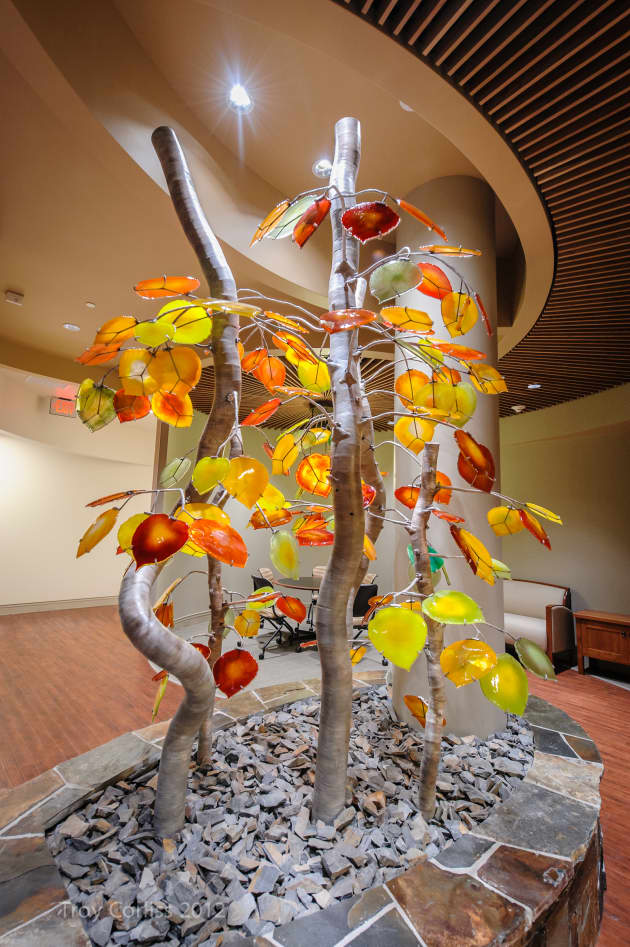 Photo: Troy Corliss
Client: Tahoe Forest Hospital District
Location: Truckee, CA, United States
Completion date: 2012
Artwork budget: $45,000
Project Team
Interior Designer
M. Joy Meeuwig, IIDA
INTERIOR DESIGN CONSULTATION
Other
Jason Shakespeare
Geney/Gassiot, Inc.
Client
Rick McConn
Chief -Facilities Development Tahoe Forest Health System
Artist
Troy Corliss
Corliss Studio
Overview
In the center of the new Cancer Center Radiation Lobby resides a floor to ceiling sculpture that resembles a clustered grove of aspen trees. The artwork is fabricated in steel and kiln fused glass and is woven into the interior architectural design of the room. Viewers first encounter the artwork as they enter the Radiation Lobby from the hallway leading from the main entrance of the Cancer Center. From this view, the Aspen Grove welcomes patients and visitors with a colorful array of glass leaves. Approximate dimensions are 14' high, 10' wide, 6' deep.
Goals
With the client experience in mind, the aesthetic intent for the artwork is to create a feature that is both intriguing and calming. The idea of bringing an experience of the natural outdoor world into the lobby waiting area through the artwork helps to orient visitors to the Radiation wing of the building. Ideally, it will also help to ease some of the anxiety and stress that can be associated with treatment. The idea for the artwork create a sculpture that is reminiscent of a local aspen grove in fall colors. The gentle curves of the tree trunks and the warm and subtle patterning of colors in the glass leaves create a 3-dimensional design that visitors may explore and find interest with over repeated visits.
Process
Tahoe Forest Health District contracted home town artist Troy Corliss to work with the cancer design team and general contractor to create this signature sculpture. Troy developed a design that was in keeping with the goals of producing a welcoming and healing environment for patients and their families. He coordinated the engineering, fabrication and installation with the GC to fit with in the scope and timeline of the facility construction.
Additional Information
Troy Corliss is a local artist who resides and works full time in Truckee. For the last 20 years, his work has focused on the design and production of site specific and architecturally integrated public art. Troy has completed many projects including several indoor & outdoor works that are integrated into the structures of high-use public facilities, such as, libraries, health care centers, government centers as well as light rail stations, park settings and botanical gardens.