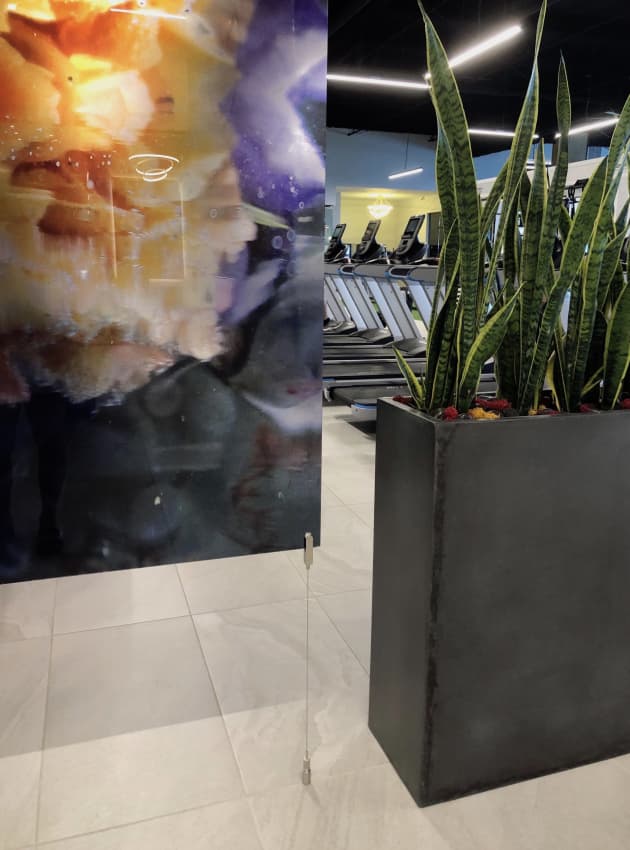 Client: Andrea Bonfils
Location: Melville, NY, United States
Completion date: 2019
Artwork budget: $27,000
Project Team
Artist
Andrea Bonfils
Andrea Art Studio, LLC
Interior Designer
Gretchen Van Sciver
Solutions By Design
Overview
Large scale photographs from Andrea Bonfils Submerged Garden Series (underwater floral photography) were installed in the foyer of the luxurious Push Fitness Club in Melville, New York. The submerged floral prints are a soothing reminder of an organic and spa-like getaway in this prestigious health-oriented environment. Within this series there are many options for hospitality, health care, recreation and transportation where botanicals or water are thematically suitable. Fabrications in glass, metal, paper, mosaic, and acrylic (opaque and semi-transparent) are a few of the many options available.
Goals
The goal was to have a striking and previously unseen art piece in great scale to complement the club's modern, clean, and welcoming aesthetic. The photography acting as a floating, dividing wall is now an inspirational transition from lobby to machinery, without closing down the space or light.
Process
The collaboration was fairly straight forward. The client Push Fitness Club requested images too be used within the foyers dimensions, colors, and aesthetic. Based on Andrea's suggestions it was decided that a floating and ceiling suspension of 20-foot panels of semi-transparent acrylic images would be most fitting. Andrea Bonfils is adept at unique installation and commission possibilities. The images can be viewed from both sides, leaving an impactful impression from all angles in the large space. Once the chosen images were finished proofing, and hanging hardware was selected shipping was arranged with the printer and the art was installed by the client's builders at the end of their new construction.
Additional Information
Many images (flowers, colors), fabrication options and sizes (up to 10ft) are available within this series (semi-transparent acrylic panels with images viewed on both sides for room dividers, or Vibrachrome metal prints for durability in all climates and large scale mosaics). Lenticular (3D) prints are created within series as well. Andrea states, " I'm primarily drawn to the wonders of nature and our humanity within. I've spent countless hours following majestic bands of wild horses, staring above in bird sanctuaries or submerged while documenting color, mood, fluidity and light in underwater movement. Reverence towards the natural world becomes evident as my underwater flowers which appear larger than life alters one's perspective, dwarfing the viewer and sparking a visceral deference to our environment."