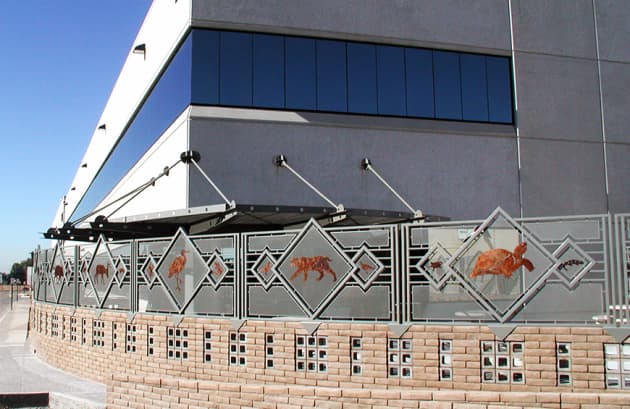 Client: MICROCHIP TECHNOLOGY
Location: TEMPE, AZ, United States
Completion date: 2005
Artwork budget: $100,000
Project Team
Artist
Lyle London
Art in Metal
Client
Steve Sanghi CEO
Microchip Technology
Overview
Microchip Technology was seeking a public art work that satisfied the 1% for Art in Private Development requirement of the City of Tempe for their new fab plant. Working with the company representatives and the City of Tempe I developed a fence surround and entry canopy for the outdoor employee patio area that represented the wildlife common to habitats in Arizona.
Goals
Microchip representatives wanted to integrate the art into the architectural environment and also make the piece specific to Arizona.
Process
Working with the company I developed 2 alternative approaches using 3D CAD modeling to create detailed drawings and renderings. Once the company chose a direction I submitted a final version to the City for approval.
Additional Information
This has been very popular with the Microchip employees.