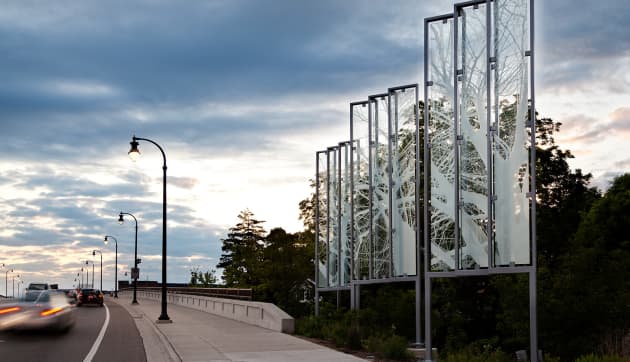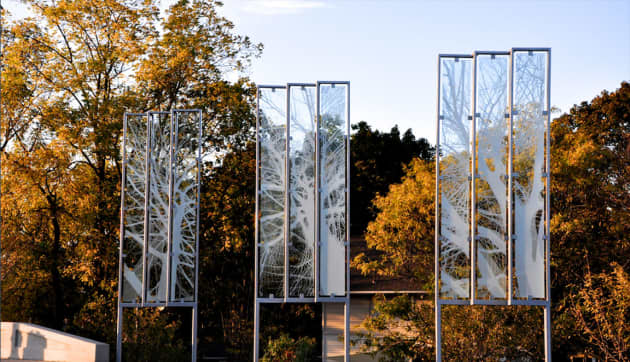 Photo: Catherine Widgery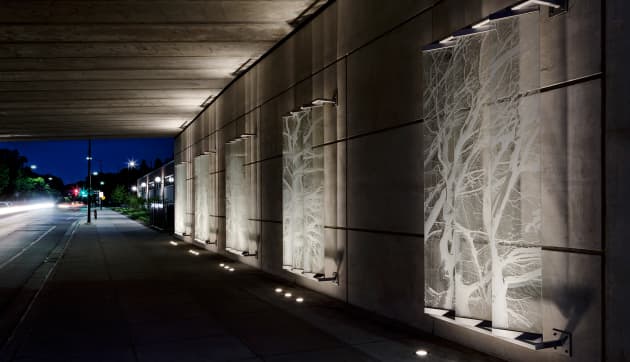 Photo: Will Howcroft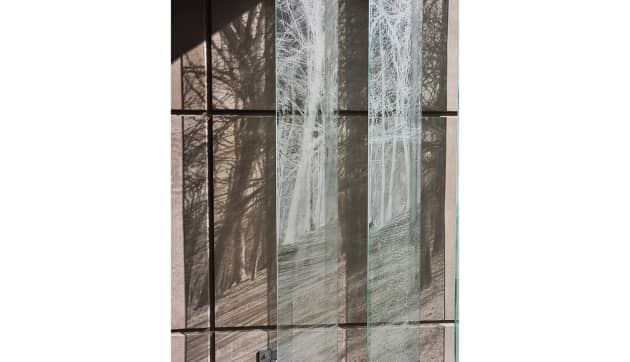 Photo: Catherine Widgery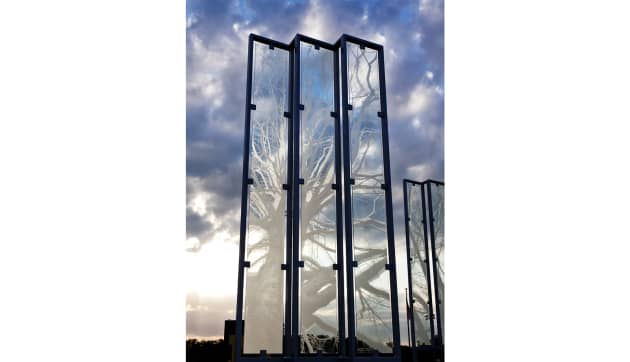 Photo: Will Howcroft
Client: City of Ann Arbor
Location: Ann Arbor, MI, United States
Completion date: 2016
Artwork budget: $364,000
Project Team
Artist
Catherine Widgery
Widgery Studio
Industry Resource
Isadore Michas
Industry Resource
Jon Drummond
Northwest Consultants, Inc.
Public Art Agent
Michael Nearing
City of Ann Arbor
Industry Resource
Roger Smith
Roger Smith Lighting Design
Overview
Arbor Winds is an iconic etched glass and steel gateway artwork signaling the entrances to the Stadium Bridge and the underpass of State Street below. Ghostly images of trees have been laser etched on glass panels in a slightly shifted configuration seen as if at two moments in time, the branches were being tossed by the winds. Arbor Winds evokes not just trees but wind and light as expressions of the energy that surrounds us. The trees as portrayed are a metaphor for our own paradoxical fragility and strength in the context of our life cycles.
Goals
Over the process of design development, we worked closely with the local community who wanted the artwork to have a visual language that reflected the town. There was a strong desire for signal elements that would announce the bridge to passing motorists and pedestrians.
Process
The collaboration in this case was between the community, the city coordinator, the engineer, lighting design and fabricator. The artwork design went through enormous changes during the process from both the conceptual phase and the practical challenges. Each individual brought a crucial component into the process of design development and then the realization of the final work and my role as the artist was to facilitate the conversation, weigh the input and keep the integrity of the concept intact and flourishing.
Additional Information
These fragmented images are etched like those etched in our memories. When we see trees, what remains in our minds are mental "snapshots" of the branches against the sky or the texture of the bark on a thick trunk or the shadows of bare branches on a city sidewalk. So this work is about time and our own fragility as well as that of the planet, more about memory than a physical reality: a subtle expression of our own ephemeral existence and the light traces we leave behind.