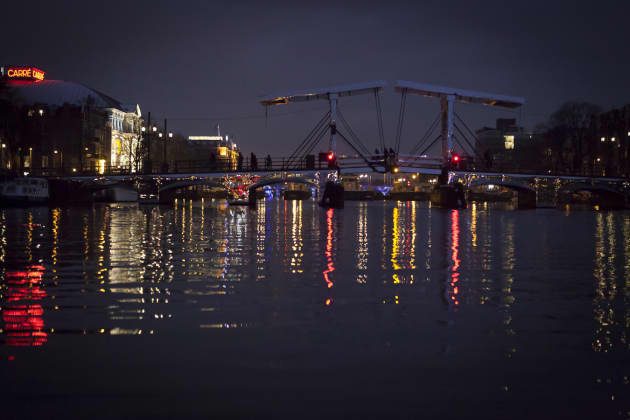 Photo: Taco Anema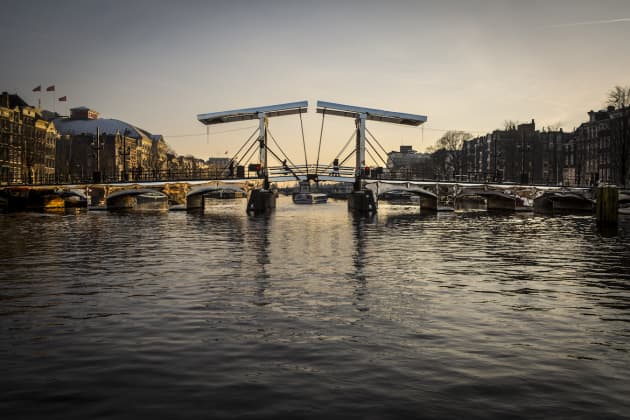 Photo: Taco Anema
Client: Amsterdam Light Festival
Location: Amsterdam, The Netherlands
Completion date: 2012
Artwork budget: $41,981
Project Team
Industry Resource
Neon Weka
Art Consultant
Amsterdam Light Festival
Overview
[email protected], temporary installation during the Amsterdam Light Festval, winter 2012/2013. The mirrors, who are attached at the Skinny Bridge, give visibility to the space and make the bridge disappaer. About 130 feet long and 13 feet high.
Goals
[email protected] (2012) is an enigma. During the day the Skinny Bridge ( Magere Brug) appears to dissolve into the light. The reflective, curving foil warps the surrounding world. The robust wooden bascule bridge seems to have become elastic, just like the surroundings, which shrink and swell as if in a dream. When darkness falls the Skinny Bridge provides an even more mysterious spectacle. Then, like a chameleon, the bridge merges into its surroundings. The dancing reflections of streetlight, headlights and neon signs melt into a waterfall of light. The bridge seems to lose its substance, but this is deceptive. An optical illusion, drawing attention to our sight's limitations.
Titia Ex produces [email protected] in a city of painters and optical illusions. Amsterdam, where the reflective water sets the world upside down and robs it of its substance, Ex adds a second mirror that reflects and fragments the reflection into a dizzying kaleidoscopic image. Anne Berk, 28 December 2012.
Art critic, curator, sculpture network correspondent
Process
It was a constructive and pleasant collaboration between various parties. The municipality of Amsterdam as the owner of the bridge, the commercial water transport administrator, the bridge guards, historic preservation, the houseboat residents, the technical staff of the festival and the artist.