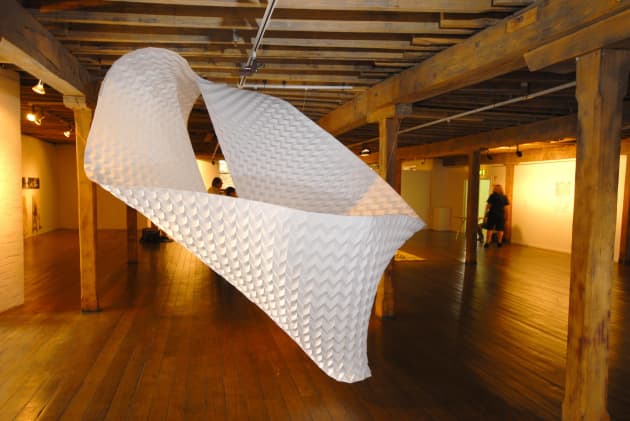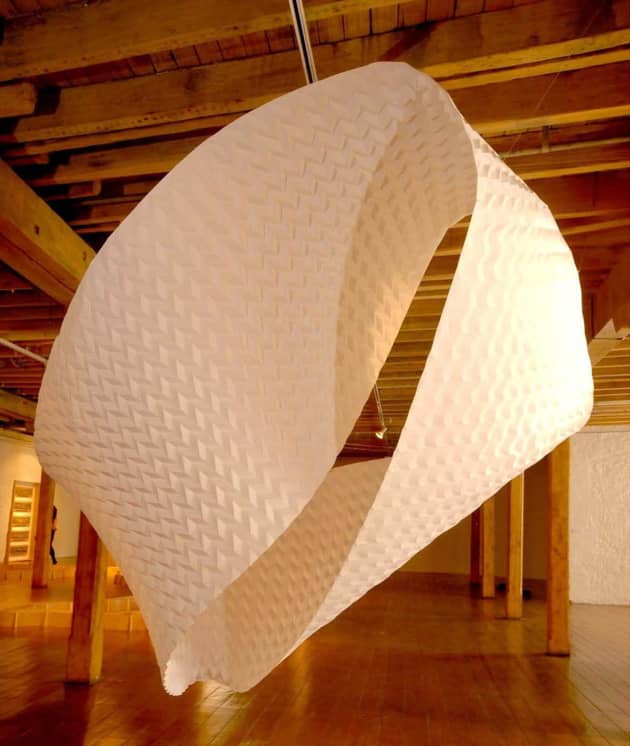 Photo: Craig Opie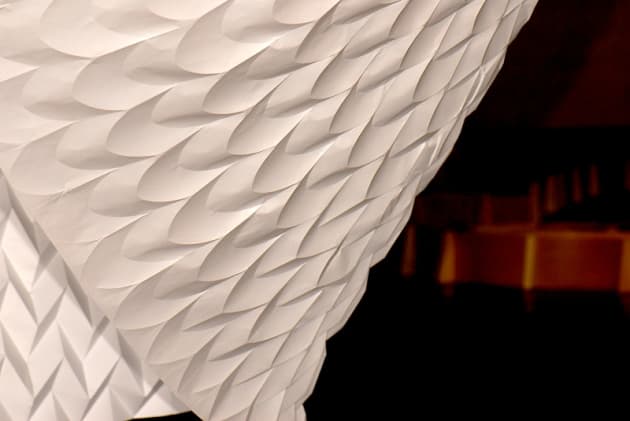 Photo: Craig Opie
Client: Salamanca Arts Centre
Location: Hobart, Australia
Completion date: 2018
Artwork budget: $1,000
Project Team
Client
Sean Kelly
Salamanca Arts Centre
Overview
Otherness is a paper installation created to represent Ireland in group show Another Place, curated by Sean Kelly, at Salamanca Arts Centre, Hobart, Tasmania, in Ten Days on the Island International Arts Festival. This was my reaction to the historically recent story of oppression and segregation in both Tasmania and Ireland. The changing pattern from sharp to oppositely curved edges slowly changes along a surface that is never ending, symbolizing a more profound level of connection that goes beyond the surface appearance of "otherness", and is a theme I have continued in my large scale work.
Goals
It was my aim to compliment & contrast the color and materials of this historic gallery space by the delicate folded paper surface, that swayed gently as people walked past. Conceptually, it was my aim to reflect the history of racism and segregation in both Australia & Ireland as being based on the fallacy of difference, when in reality we are all connected at a deeper level. This unity and connection was symbolized by the the changing fold pattern across an endless mobius twisted surface.
Process
With a loose outline fold pattern in mind, this work evolved organically during my invited residency and time in Tasmania. Here I met with Professor Marcelo Stamm, head of Philosophy at University of Tasmania, and also sound artist Nigel Farley, who both helped to folde this single paper sheet measuring 10 m x 1.5 m . The final decision to suspend the work in the space was team decision, and it was liberating to relinquish total control over this process.
Additional Information
Each folded surface of this work intrinsically affects all those surrounding surfaces, which in the context of racism and perceived differences has particular significance.