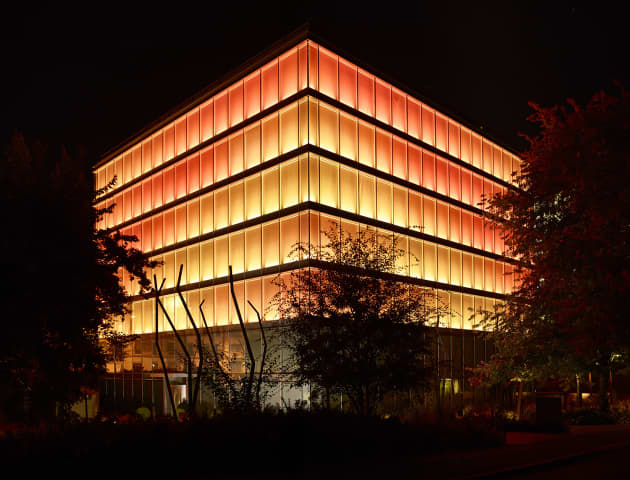 Photo: @lorisvonsiebenthal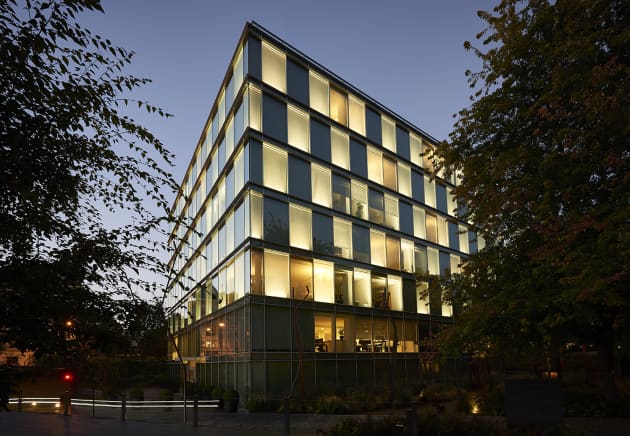 Photo: @lorisvonsiebenthal
Client: Société Privée de Gérance
Location: Geneva, Switzerland
Completion date: 2018
Project Team
Artist
Lighting Design Collective
Client
Thierry Barbier-Mueller
Société Privée de Gérance
Overview
The project re-imagines an iconic media façade in Central Geneva, Switzerland. Amandolier building is a minimalist cubic office building surrounded by a public garden incorporating vegetation, sculptures and vapour features. It was built in 2004 by Société Privée de Gérance.
Goals
The facade dialogues with the surroundings, depending on the variations in the light conditions. During the day, it is transparent but also reflects the vibrant life of the city and the ever-changing sky. When daylight fades, the facade communicates a new artistic expression with real-time data integration resulting in natural, calm movements of light and geometries drawn from the architecture itself. The basic repetitive geometry results in an open canvas for lighting and conveys a sense of order. The grid modules can be grouped in segments or floors playing with the perceived scale of the building. The first "content family" GEOMETRIES.
The second "content family" WEATHER, incorporates real-time meteorological data that influences visual algorithms. The design started its life from a study of what is called a cybernetic loop: when an object in an urban context affects its surroundings and vice versa the surroundings affect the object.
The third "content family" 8 BIT, plays with the facade grid, generating pixel art content considering each window like one pixel. The aesthetics for this kind of graphics recalls old-school systems.
The infrastructure can also celebrate Switzerland's and other countries' national days, sports accomplishments or solidarity by displaying flags.

Process
Lighting Design Collective collaborated with the manufacturer MCI, for the design of a custom luminaire to fit the existing niche in the facade. SPG requested that the shadows in the corners be minimized and that each window blind be evenly illuminated. Lighting Design Collective built a mock-up in Madrid to test three different combinations of optics and holographic diffusers. The chosen optics were elliptic 24 x 48 optics with perfect colour mixing. The new fixture control was designed to be flexible and allow for soft movements of light. There are 320 linear luminaires and 20 corner luminaires; a total of 7360 RGBW LED chips. Every two chips or 120 cm can be controlled individually, resulting in 3680 pixels with 4 channels.
Custom software was developed by Unstatic for lighting control. Different variations from the 3 content families are automatically scheduled, and SPG can change the lighting with an online app from any location.