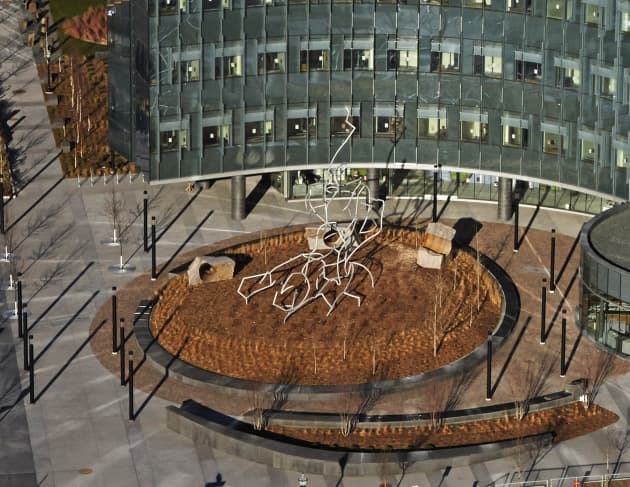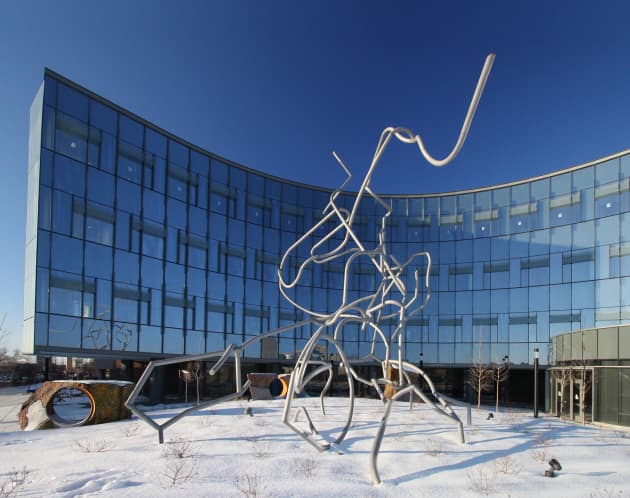 Photo: Patrick Siegrist, City Visions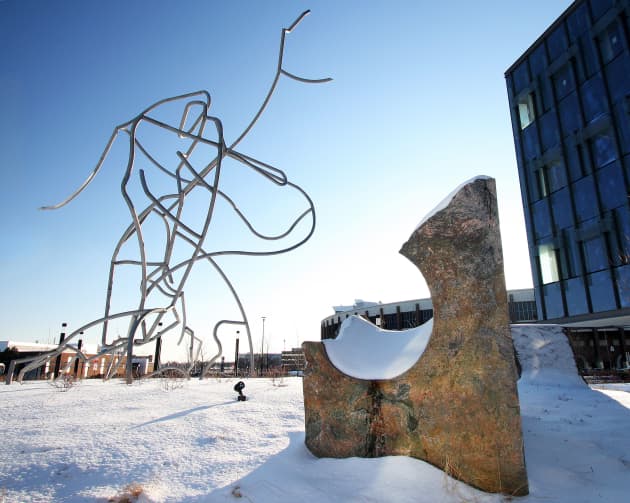 Photo: Patrick Siegrist, City Visions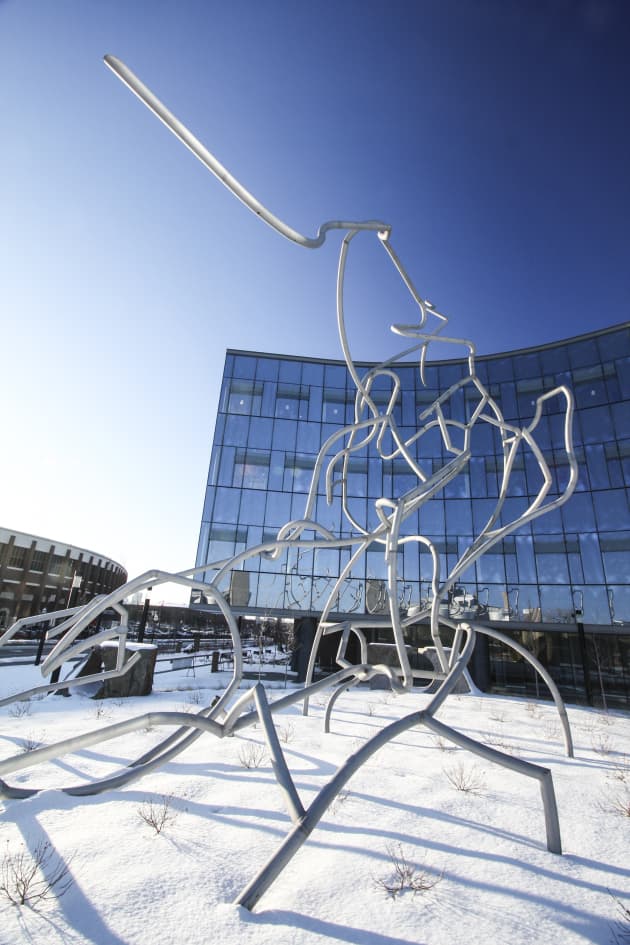 Photo: Patrick Siegrist, City Visions
Client: University of Minnesota
Location: Minneapolis, MN, United States
Completion date: 2012
Artwork budget: $304,530
Project Team
Architect
Thomas J. DeAngelo FAIA, Leed
Architectural Alliance
Art Consultant
Craig Amundsen, Deputy Director and Public Art Curator
Weisman Art Museum, University of MN
Artist
Maria Artemis
Artemis Studios, LLC
Overview
Adjacent Possible is a site integrated sculptural work designed for the plaza of the new Cancer and Cardiovascular Research Building, at the University of Minnesota, Minneapolis Campus. The building and plaza together are designed to foster collaboration and innovation. It is the physical place made ready for the ongoing activity of discovery. Adjacent Possible is a poetic response to this invitation.
Goals
The sculptural work engages the particulars of the architecture and landscape, mediating between the human experience of the plaza and the scale of the building. Craig Amundsen, the Public Art Curator has written, "Maria Artemis' new piece, 'Adjacent Possible' created for our Biomedical Discovery District is a great success on many levels. The Sculpture engages the Architecture and landscape of the host building in a manner that is very well integrated and engaging. The piece imaginatively portrays the discovery that will happen in the building and throughout the district. It adds tremendously to the experience of the district. Working with several budgetary challenges, Maria was able to give us a piece that is both of very high quality but also durable in our difficult weather conditions. her work will help us accomplish our mission of creating an enduring cultural legacy for the University and the state of Minnesota
Process
The design team which included the Architect, Landscape Architect, Public Art Curator, other artists doing work in the Biomedical Discovery District, and the building Project Manager from the University of MN. We met once every month, in Minneapolis, discussing the progress of our concept in relation to the project as a whole, communicating between meetings by e-mail and phone. There was a lot of constructive feed back aesthetically and practically which facilitated the success of the final design and installation of the work
Additional Information
The three twenty-ton granite elements, cut from one of the oldest continental bedrocks known, provide an allusion to the geological fundament of all life and change on the planet. This stone, 3.5 to 3.8 billion years ago, was slowly cooling below the surface during the same geological era that simple life forms first appeared on the planet as evidenced in fossil records. The stainless steel structure grows synaptically, according to its own internal logic. The sculpture is scaled to greet the curving glass façade of the building.