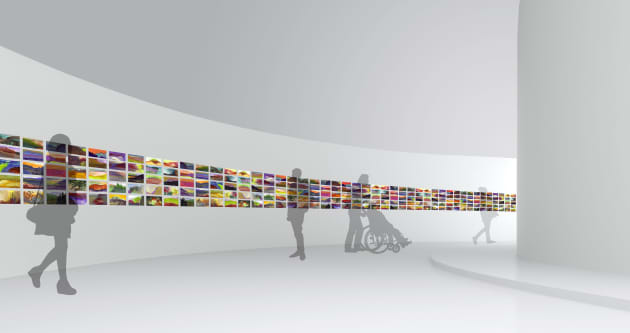 Client
Location: Cambridge, MA, United States
Completion date: 2010
Project Team
Industry Resource
David Schacter
Overview
A Thousand Windows: A Long Walk in Beauty is a two part project, which gave birth to Colors In Motion®. First, these abstract landscapes became the foundation for Linda DeHart's audiovisual masterpiece "The Human Journey," taking the viewer on an 107min – 10 part healing experience. This is available and has been used in healthcare settings nationwide via customized digital files or DVD purchases. Secondly, this project showcases how the 1,000 watercolors and a video wall presentation of "The Human Journey" invites viewers into a meditative state as they walk along a 135 foot wall of 1,000 original paintings.
Goals
Experiencing color and beauty in abundance opens us to a state of joy, healing and inner peace. The opportunity is to transition beyond the left brain focus of the object into the right brain experience of relaxation. "A Thousand Windows: A Long Walk in Beauty," The Human Journey" and all Colors In Motion® audio visuals offer a fine art alternative to the fast paced graphic and/or commercial video wall content presently available.

Process
Using high-resolution scans of these 1,000 paintings, Linda DeHart developed Colors In Motion: The Human Journey with a team of designers, musicians, and producers. The collaboration continues through the design firm of Colors In Motion® with DeHart Art and artists from around the world, creating audio visual content for video walls.

Additional Information
The original "A Thousand Windows: A Long Walk in Beauty" is an available work which includes the 1000 original watercolors and the audio visual experience of "The Human Journey" designed for a video wall.