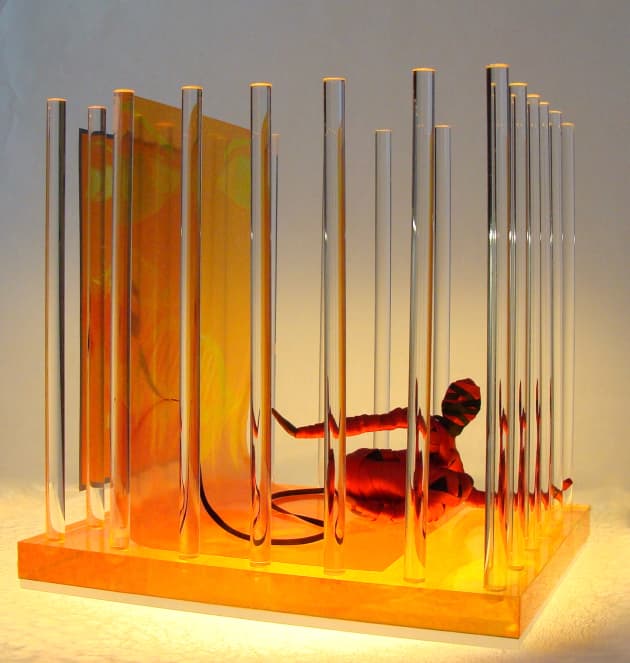 Client: Canneto Studios
Location: Columbus , OH, United States
Completion date: 2019
Artwork budget: $50,000
Project Team
Inmate artist
Acacia H
Ohio Department of Corrections
Inmate artist
Stacy H
Ohio Department of Corrections
Inmate artist
Stacy L
Ohio Department of Corrections
Inmate artist
Mark C
Ohio Department of Corrections
Inmate artist
Antwan B
Ohio Department of Corrections
Sculptor
Stephen Canneto
Canneto Studios
Overview
The Intersected Lives Project (ISLP) is an interactive multimedia exploration of the circumstances of five "Youthful Offenders" who were or remain incarcerated in the Ohio Department of Rehabilitation and Correction's adult prisons. So that we may understand them to be complex human beings with unique life stories worth hearing, each of the project's sculptures is inspired by an individual youth's writings, art and conversations with Stephen Canneto over a 24-month period. Their art and writings form the basis of each sculpture giving it meaning, power and authenticity. Through the youth's accompanying narratives we learn about the circumstances that led to their incarceration and who they are today.
Goals

The Inter/Sected Lives Project seeks to change how society views incarcerated youth and the laws that send them into adult carceral systems.

Process
InterSected Lives was created in collaboration with inmates Acacia H, Stacy H, Stacy L, Mark C, and the Ohio Department Of Corrections and Rehabilitation.
Additional Information
Technique: Mixed media is used to create the sculptures and convey each youth's emotional, social and physical relationships. The central figure representing the youth is made of ribbon wrapped cast resin. The ribbons binding the forms together symbolize their physical and emotional bonds to their family members, victims, antagonists and prison. The victims are represented by the negative spaces cut into the ceilings. They loom over the youth casting thsir shadows on cell walls and floors. Parents, siblings, boyfriend and guard are cut from steel and acrylic. The cells are fabricated from steel, wood, acrylic and printed Mylar.