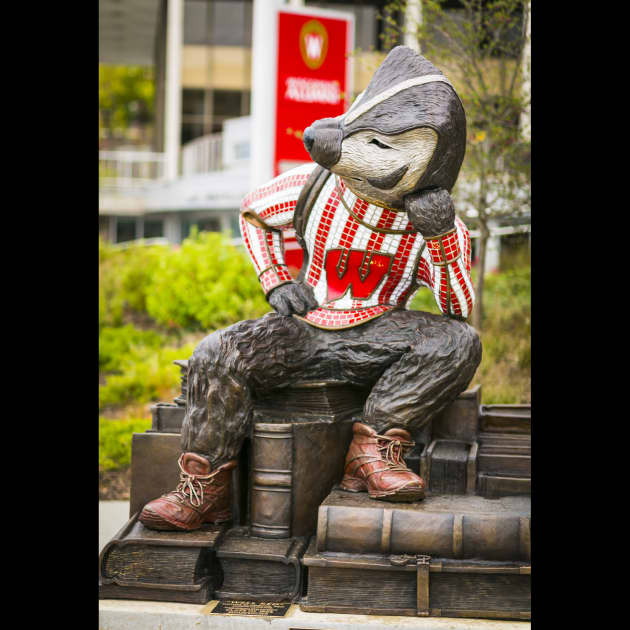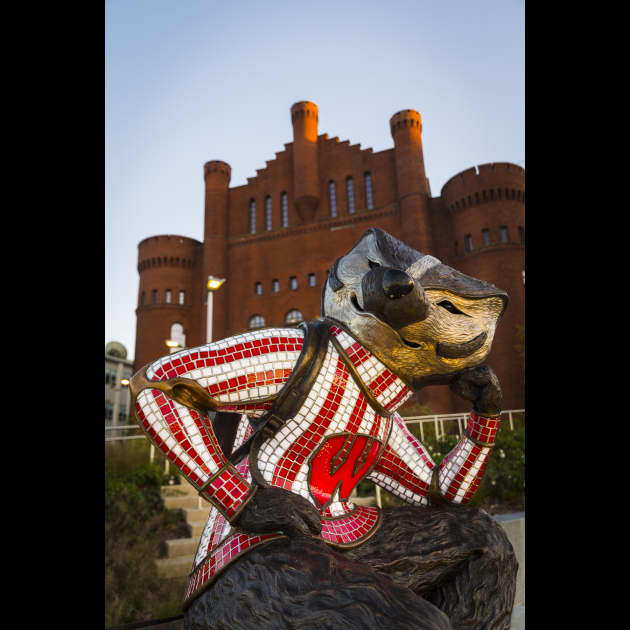 Photo: U of W staff photographer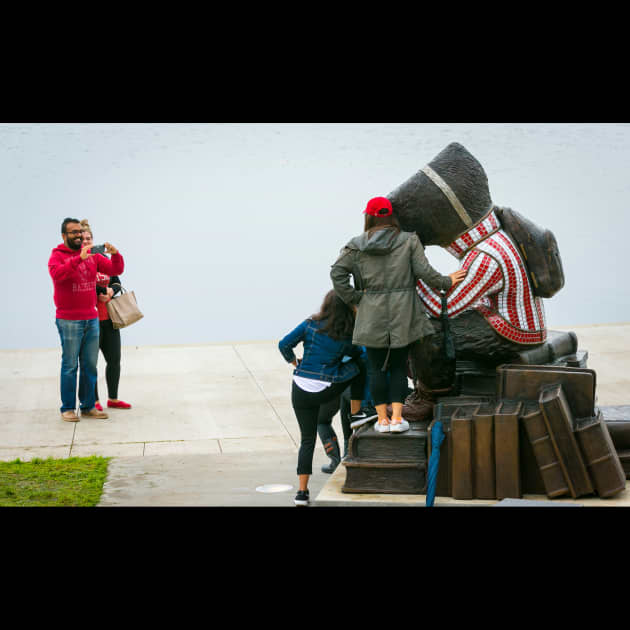 Photo: U of W staff photographer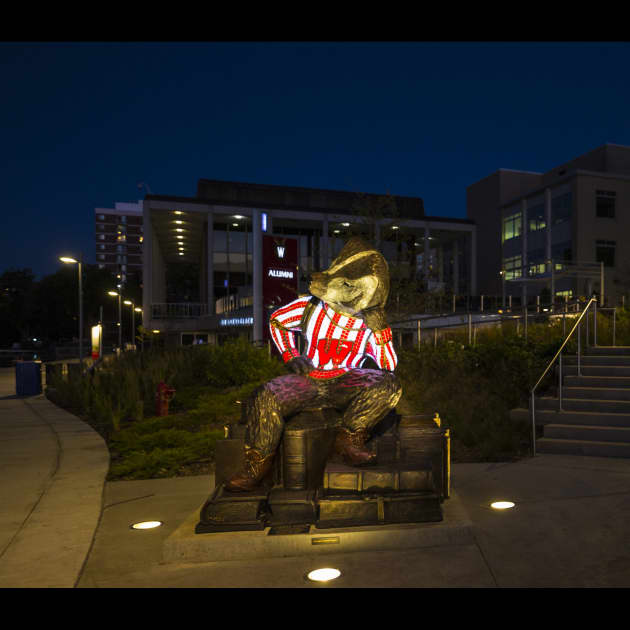 Photo: U of W staff photographer
Client: University of Wisconsin Alumni Association
Location: Madison, WI, United States
Completion date: 2017
Artwork budget: $170,000
Project Team
Artist
Douwe Blumberg
Douwe Studios
Artist
Dan Barnes
Dan Neil Barnes - Art Glass Constructions
Overview
Commissioned by the Alumni Association of University of Wisconsin at Madison. A cutting-edge, seamless fusion of illuminated stained glass, bronze and stainless steel create the life-and-a-half scale image of the beloved mascot of the University of Wisconsin. Pensively overlooking the lake shore in the new "Alumni Park", this piece was intentionally designed to encourage interaction and exploration.
Goals
The University of Wisconsin wanted an iconic image for their main Madison campus lakefront renovation. Their vision was an artwork that would become both iconic in itself, but also a photo-destination for alumni for generations to come. Their vision called for a sculpture of their mascot, "Bucky Badger" which placed many parameters on the creative process, but also proved a wonderful challenge. The site is directly on the lake shore in a highly prominent location on campus and as such needed a certain size, volume and height to stand out. My idea of internal illumination was embraced as it essentially turned gave them two completely different feeling artworks, one by day and one by night. My vision further evolved into creating an artwork that broke the traditional boundaries between viewer and artwork by inviting the viewer to physically interact with the artwork, rather than forcing them to stay distanced.
Process
Much close and sustained collaboration was required between the university, alumni association and construction/design personnel as this was a complex site and construction project. Timing was extremely important as they desired a definite "unveiling" ceremony and yet the site is very public, requiring a last-minute installation. Site access with large equipment and led programming and connections further complicated the process, but everything went smoothly and everyone was a joy to work with.
Additional Information
This piece was my first foray into integrating illuminated stained glass into a classic bronze sculpture. To the best of my knowledge, this was the first time this was done as we did it and there was a giant learning curve for myself and the glass artist I worked with. The technological aspects of seamlessly integrating glass with metal, both with different properties and expansion rates were daunting at time, but all went even better than we had hoped and the piece has been amazingly well-received.