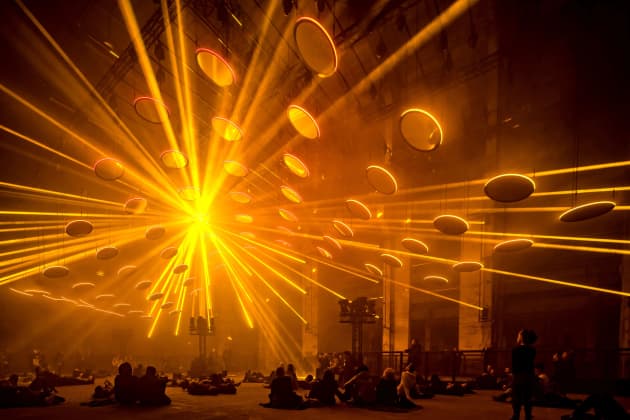 Photo: Ralph Larmann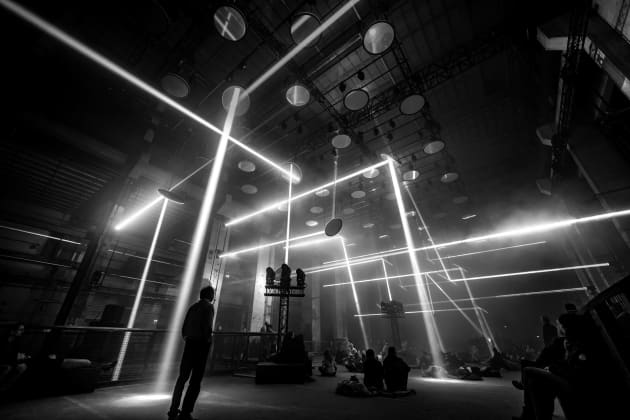 Photo: Ralph Larmann
Photo: Ralph Larmann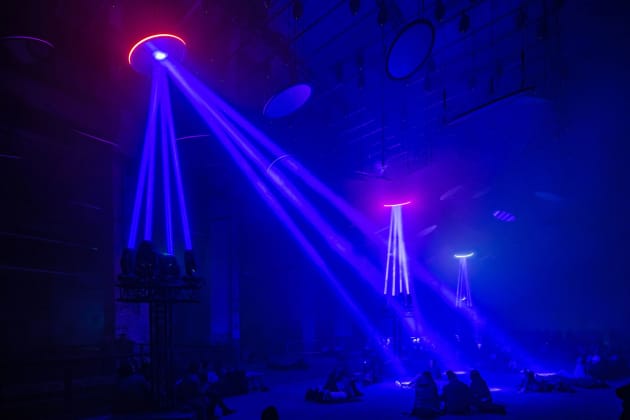 Photo: Ralph Larmann
Photo: Ralph Larmann
Client
Location: Berlin, Germany
Completion date: 2018
Project Team
Artist
Christopher Bauder
WHITEvoid GmbH
Overview
SKALAR is a large-scale art installation that explores the complex impact of light and sound on human perception. Light artist Christopher Bauder and musician Kangding Ray give an audiovisual narration of radiant light vector drawings and multi-dimensional sound inside the pitch-dark industrial space of Kraftwerk Berlin. By combining a vast array of kinetic mirrors, perfectly synchronized moving lights and a sophisticated multi-channel sound system, SKALAR reflects on the fundamental nature and essence of basic human emotions. With its titular Turmoil theme, CTM Festival 2018 sets the perfect environment to launch the artistic venture of SKALAR.
Goals
SKALAR is an intense journey through the cycle of basic human emotions. The full spectrum of emotional experiences is triggered by ever-changing tonalities in light, sound, and motion. Feelings of awe, surprise, exhilaration, anticipation, and of having one's senses overwhelmed are created, explored, and repeated in cycles throughout the piece, providing a collective and yet highly individual emotional experience. SKALAR is a central piece within light artist Christopher Bauder's body of work, reflecting his deep fascination with light. Light and darkness as endless cycles of day and night define our perception of time and influence our emotions. In SKALAR, light is treated as a solid material that can be sculpted and shaped to architectural dimensions, evoking abstract emotional associations. Intertwined with musician and composer Kangding Ray's tireless exploration of textures, rhythm, and sound design, the silence of darkness is filled with iridescent formations of spatial light and sound. Measuring 45m in length, 20m in width, and 10m in height, the generative luminous structure encompasses a perfectly synchronous interplay of 65 motorized mirrors, 90 moving lights, and a multichannel sound system – elevating creative possibilities to a whole new level.
Process
SKALAR is made possible by the technical expertise and generous support of three main partners. The art and design studio WHITEvoid manages the event's production and provides custom software development, KINETIC LIGHTS offers its high-performance precision motor winch systems, and ROBE lighting provides the highest quality in moving light technology: ultra-sharp and homogeneous parallel light beams that can hit designated positions with repeated precision and perfect colour consistency across 90 devices. All technical partners are helping extend the limits for this groundbreaking, cross-media project.
Additional Information
The echo to the SKALAR exhibition is still vibrant, videos and pictures spreading through the net and continuing inquiries are motivating to push the intention to realize further appearances around the world.