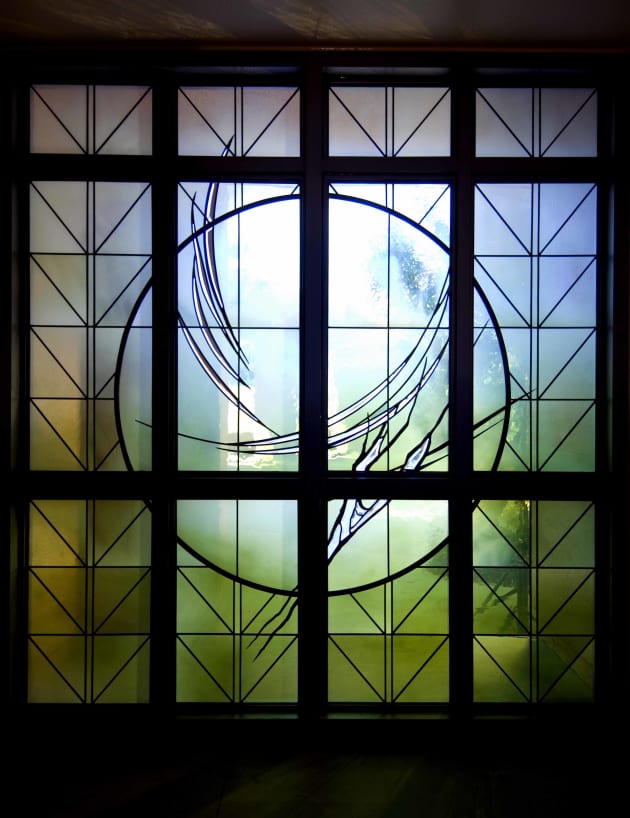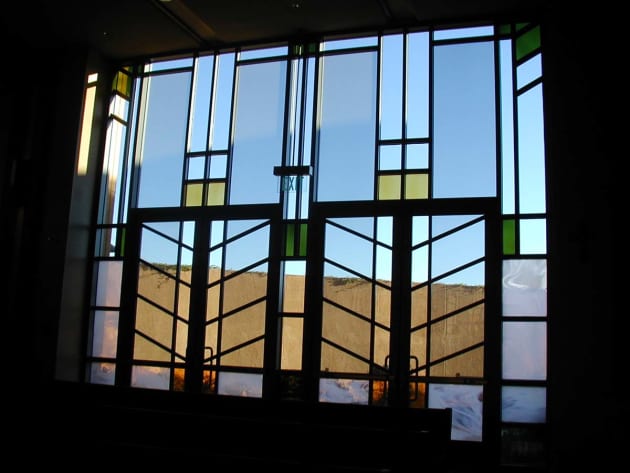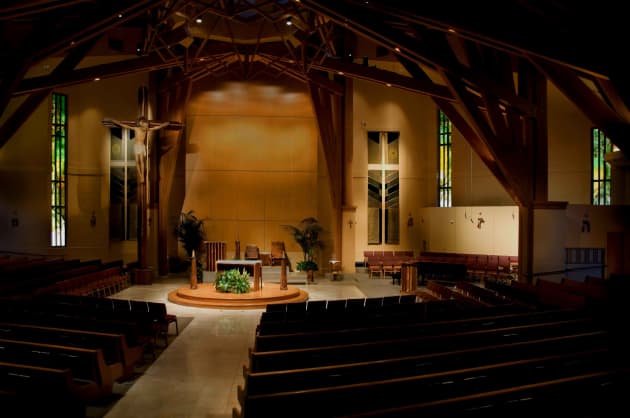 Photo: Ron Schwager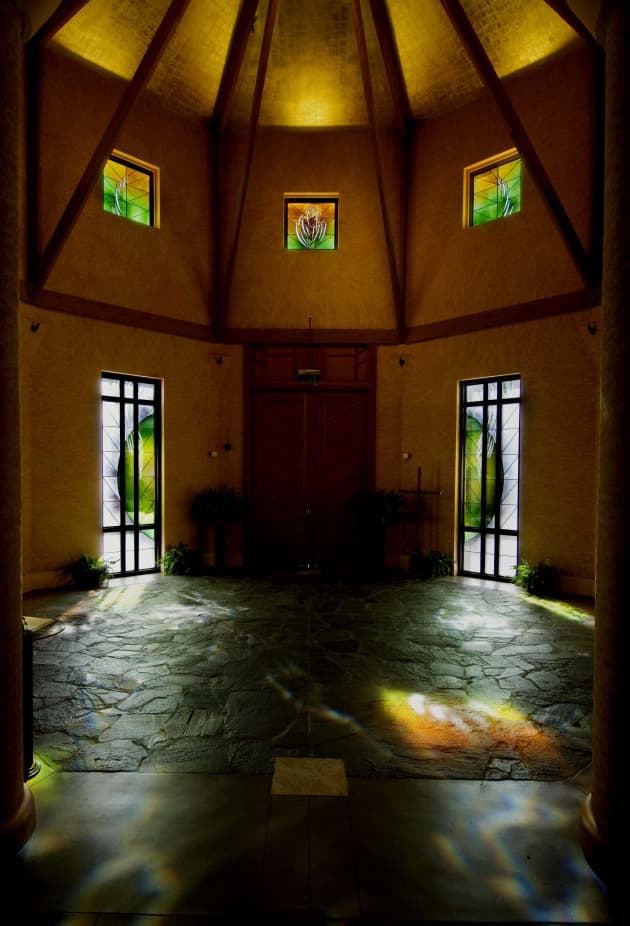 Photo: Ron Schwager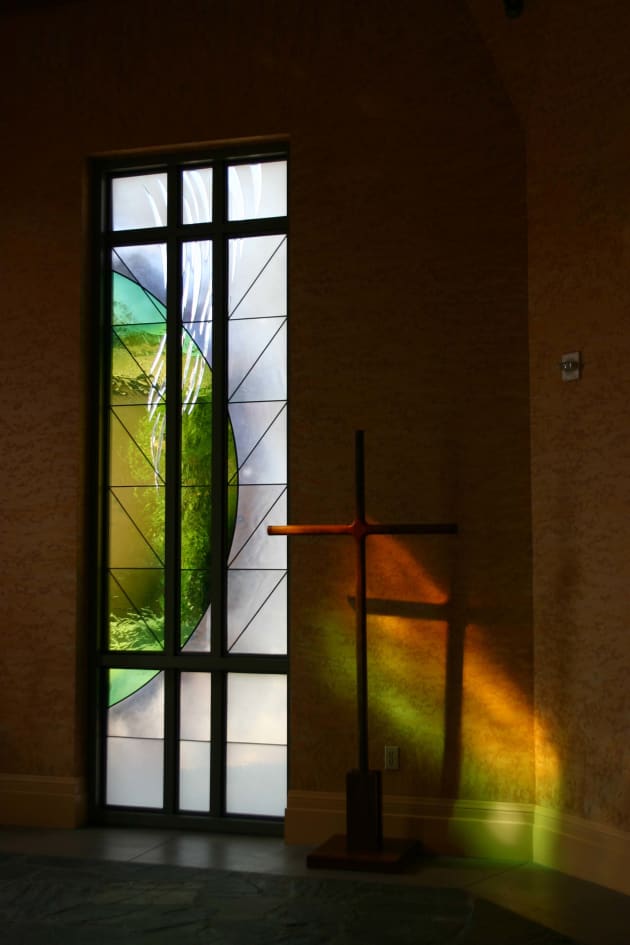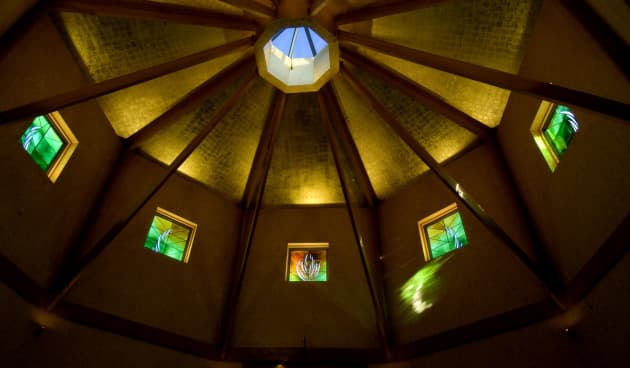 Photo: Ron Schwager
Client: Catholic Diocese of Los Angeles
Location: Westlake Village, CA, United States
Completion date: 2007
Artwork budget: $135,000
Project Team
Artist
Elizabeth Devereaux
Devereaux Architectural Glass
Artist
Elizabeth Devereaux
Devereaux Architectural Glass
Architect
A. C. Martin & Assoc.
A. C. Martin & Assoc.
Client
St. Maximilian Kolbe Catholic Church
St. Maximilian Kolbe Catholic Church
Other
John Mullinax
Devereaux Architectural Glass
Other
Aaron Macomber
Devereaux Architectural Glass
Overview
Both the architect's colors and geometric armature directed the art glass color selection and underlying geometry of the windows. The contemporary architecture demanded an abstract approach to the design. The Entry Door designs represent the human pierced by the Spirit, the 3 vertical Sanctuary windows suggested the Tree of Life, the encircling vine and thorns, representing the Crucifixion – turning into leaves of gold – Resurrection . The Reconciliation window symbolizes the healing power of natural elements. 12 windows, 325 sq. ft.
Goals
The integration of these windows into the architecture was an essential design goal. The window colors of shaded greens and white translucent hand-blown glass reinforce the architect's established palette. Likewise, "chevron" mullions mimic the architecture's geometric pattern. Each window site had different light and design requirements. With direct light, we integrated handmade bevels into the designs to capture the prismatic light and project it into the interior space. With a mix of unwanted and desirable views, the colors were more or less translucent, allowing in or diffusing the views.

Process
I met with the pastor, parish director, and the arts committee to show them past work and listen to what had meaning for them, what their unique identity was. I also studied the A. C. Martin architecture, the direction of light and the site. Presenting preliminary designs and receiving feedback brought continued integration of design and meaning for the windows. I took cues from the hand built Sam Maloof liturgical furniture, and as my designs took form, the parish director had the temporary art reflect the furniture, my designs and the architecture.
Additional Information
I found the architect's color and design palette to be a pleasurable challenge, and all involved moved to create a cohesive integration with the architecture.