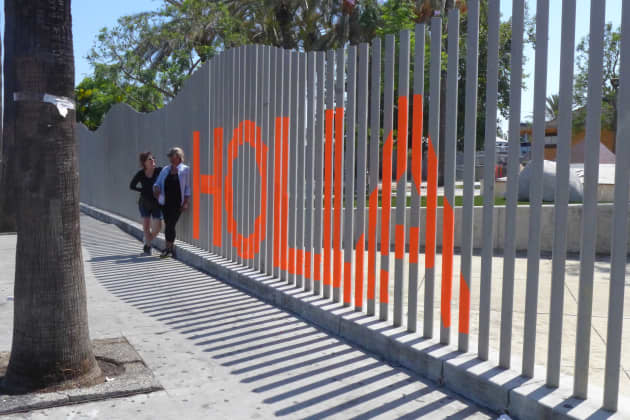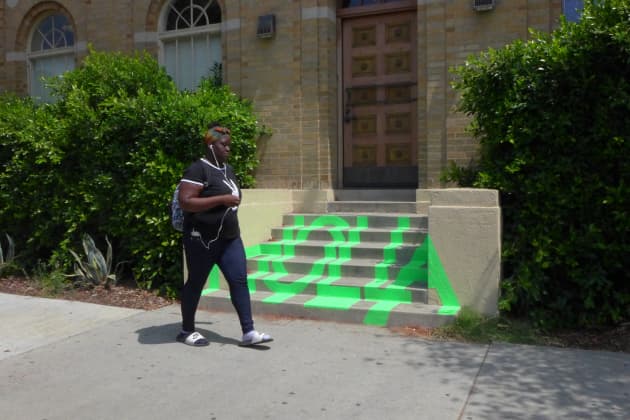 Photo: Jeanine Centuori
Photo: Cate Roman
Client: Watts Labor Community Action Committee
Location: Watts, CA, United States
Completion date: 2017
Artwork budget: $40,000
Project Team
Artist
Jeanine Centuori
UrbanRock Design
Client
Timothy Watkins
Watts Labor Community Action Committee
Overview
Walk Watts is a self-guided walking tour of the community of Watts that combines three integrated components involving sound, sight, and touch. Each of these components may be experienced separately while serving as a prompt to explore the other two components. Environmental artwork calls attention to the downloadable APP called Hear Our Local Leggacy App (HOLLA).
The three components:
1. Sound | A downloadable app titled HOLLA (Hear Our Local Legacy App)
2. Sight | Environmental Artwork
3. Touch | A z-fold pocket map & promotional rack card for hotel lobbies
Goals
The Walk Watts project is anticipated to change the perception and behavior of tourists who visit Watts. Typically, they sojourn to the cultural island of the Towers and adjacent Art Center without exploring anything else in Watts. This community is an unnecessarily forgotten and feared neighborhood. Walk Watts is intended to counter this perception and amplify the many positive histories and contemporary artistic and cultural artifacts in Watts that are worthy of celebration. We intend for tourists to learn that Watts is more than riots and towers.

Process
The artists, Jeanine Centuori and Cate Roman, worked closely with the non-profit client in order to raise awareness of the cultural value of the community of Watts. Plagued by a history of the 1965 uprising, and rampant poverty, this community has struggled for its identity. The process of creating a self-guided tour involved interviewing many elders and residents of Watts who tell their story on the app. The environmental components of the project create focal points throughout Watts, and bring attention to the audio and printed map.