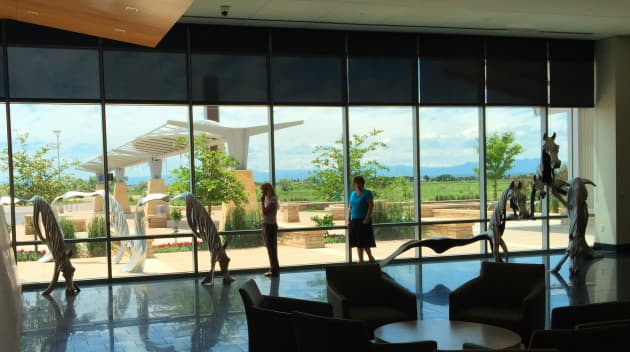 Client: Adams County Government Center
Location: Brighton, CO, United States
Completion date: 2015
Artwork budget: $120,000
Project Team
Artist
Douwe Blumberg
Douwe Studios
Public Art Agent
Robert Grant
Adams County Visual Arts Commission
Overview
I love the way the art is seen from within and without. The piece possess ever changing "personalities" based upon the viewer's position and time of day. I am especially desirous here to create an "experiential" work which would invite exploration and interaction.
Goals
This concept utilizes "negative space" as an essential element of the work. This technique increases viewer engagement and interest because their minds are subconsciously involved with completing the "image". This piece would not feel heavy or block views, yet would completely fill the given space. It is a fusion of abstract and representational styles using an image which is both iconic to the area and universally engaging. This would be a cutting-edge artwork which would still appeal to a wide viewer demographic regardless of age, gender, ethnicity or cultural background.
Process
I was overall conceptual designer and sculptor. I worked closely with the Adams County Visual Arts Commission on this project.