Welcome to the October issue of CODAmagazine, where we share the best in design + art projects from all over the world. The magazine is published twelve times a year by CODAworx. We're an online community for artists and design professionals to showcase their work, collaborate with one another, and earn recognition for their projects.
Technology + Art is the organizing principle of this month's issue. Artists and designers utilize technology to create spaces and construct wildly imaginative, interactive, and ever-changing environments.
CODAmagazine documents the trend of fusing the digital and the technical with the artistic and the architectural; we have selected 25 awe-inspiring projects where collaborative teams transform public, commercial, educational, and residential spaces through the latest and most innovative art technologies.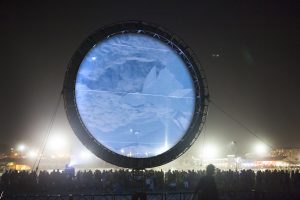 Within this issue, you'll find an artfully designed charging station in an airport in Russia, a projected video to accompany the Los Angeles Philharmonic's concert in the Walt Disney Concert Hall, and a light installation in Spain which responds to sound.
Designed and created by the technologically adept members of the design + art community, these projects go above and beyond in their use of technology. Some projects incorporate smartphone apps to interact with the art, while others respond to the environment. From city squares to shopping centers, restaurants to universities, the projects can be found all across the globe.
We hope you will subscribe to CODAmagazine on Flipboard to receive the best design + art projects from all over the world, delivered to you, free of charge, each month. We look forward to sharing more of these incredible collaborations with you.
Sincerely,

Toni Sikes, CEO and Publisher
CODAmagazine