Welcome to the May issue of CODAmagazine, where we share the best design + art projects from all over the world. The magazine is published once a month by CODAworx.com – we're an online community for artists and design professionals to showcase their work, collaborate with one another, and earn recognition for their projects.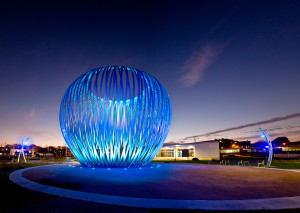 Placemaking Art is the focus of CODAmagazine's May issue. We called for collaborative design and art installations which define, activate, and create spaces. And what an amazing response we had! The art of placemaking is a growing movement that reimagines public spaces as the heart and soul of the community; it is the most ambitious challenge for the creative minds of our age.
This month, CODAmagazine showcases the 25 projects we thought best define spaces. These projects in the public sphere give new life and meaning to everyday environments. Memories and experiences are created, adding meaning and richness to our lives.
All projects featured this month succeed in building a unique experience for the viewer—an experience we will take with us as we move through life. The common theme is the collaborative team, as these projects involve arts organizations and public art programs working in tandem with artists and design professionals, who in turn are dependent on their fabricators, suppliers, and installation specialists to bring these projects to reality.
It's a spectacular collection. We hope you will subscribe to CODAmagazine on Flipboard to receive the best design + art projects from all over the world, delivered to you, free of charge, each month. We look forward to sharing these incredible collaborations with you.
Sincerely,
Toni Sikes, CEO and Publisher
CODAmagazine