Welcome to the March issue of CODAmagazine, where we share the best in design + art projects from all over the world. The magazine is published ten times a year by CODAworx. We're an online community for artists and design professionals to showcase their work, collaborate with one another, and earn recognition for their projects.
Art that transforms walls is the organizing principle of this month's issue. Artists and designers are taking the fundamental building block of our structural environment and turning the walls of our spaces into rich and amazing canvases for art. CODAmagazine documents this trend; we have selected 25 evocative projects that are certain to delight.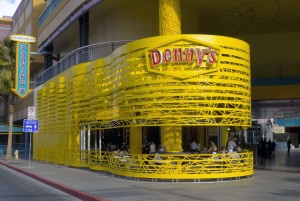 These are collaborative projects that reinvent the concept of the wall—by adorning, covering, and constructing the walls that make up our built habitats. Some creative professionals apply transformative surface design, using traditional materials to create eye-catching patterns that go on for miles. Check out the 400,000 sq.ft. of highway walls by Vicki Scuri. Others are literally building walls that become an innovative presence within the architecture, as SITE and James Wines re-shape Denny's restaurant with a new image for the 21st Century.
Smaller-scale wall work adds meaning and emotion to our public spaces as Greg Goldberg's site-specific paintings do for the Sky Lobby of 1 World Trade Center. And massive murals use color and graphics to turn the walls of silos into giant billboards in Northam, Australia.
It's a spectacular collection—an example of the wondrous things artists and designers can accomplish when they collaborate. We hope you will subscribe to CODAmagazine on Flipboard to receive the best design + art projects from all over the world, delivered to you, free of charge, each month. We look forward to sharing these incredible collaborations with you.
Sincerely,