Metal sculptor Susan Madacsi, who utilizes architectural glass and blacksmithing techniques, is drawn to designing and making site-specific artwork for spaces in healthcare environments. Beyond the reward of creating artwork accessible to anyone who visits the buildings, the artist states that beauty's "subtle aesthetic cues" can so positively impact an observer's spiritual and emotional wellbeing. "Beauty is a tool to create pleasure and a way to relax and take yourself away from the things that are troubling you," says Madacsi.
Certainly this is the intention of Madacsi 's most recent work that greets visitors at the welcome desk in the newly constructed St. Alphonsus Medical Center in Nampa, Idaho. Spanning 20-feet-tall by 16-feet-wide, the tableau, recessed into the wall, incorporates colorful forged steel medallions, cast architectural glass and LED lighting that side and backlight the artwork. Celebrating Idaho's diverse topography, seven vibrant panels move the eye from desert and farmland to highlands to foothills and mountains. It's a terrain deeply familiar to this Idaho native who spends her free time hiking, skiing and exploring the region's hot springs.
The landscape is also meant to evoke in visitors the stewardship of God's creation. "As a faith-based hospital, it was important for them (the investors and staff) to have that present in the work," states Madacsi who welcomes the opportunity to collaborate with those who will continue to frequent the space. "It's what helps me to understand their point of view and what they are looking for in order to help them create an environment that is whole."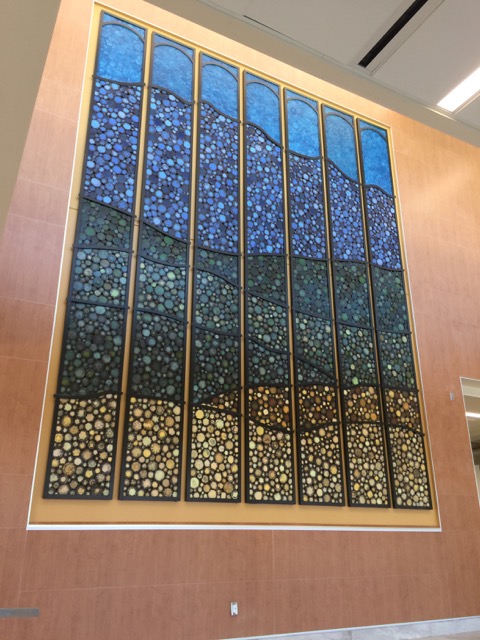 Take, for example, the seven rendered parables embedded via etched medallions into the St. Alphonsus installation. Inspired by input from the director of nursing, Madacsi and her team included a key alongside the piece to encourage visitors to pass the time searching for images and reading about the teachings of the parables. The feature also reinforces the hospital's mission to provide healing and hope to all who visit.
"It's beautiful and it means a lot to me," Madacsi expresses of the work. "I think part of the success had to do with working so intimately with the staff and the architects." The project also had personal significance to the artist whose mother and grandmother worked as physical therapists in hospitals in the area. "This is my own way to contribute to healing," she says.
Creating Nature from Metal and Glass
Madacsi's media of choice—steel heated to temperatures hotter than 2000 degrees Fahrenheit and kiln-cast glass—require a bold vision and physical fortitude. Yet her designs are strikingly fluid, even delicate. "My work is intended to be beautiful," says Madacsi who began her career designing and creating jewelry and who finds inspiration in the shapes and arrangements found in nature.
An installation at the San Jacinto Methodist Hospital in Houston, Texas, for example, adorns railings that overlook an indoor courtyard with window boxes sprouting individually formed Birds of Paradise, Anthurium and other colorful flowers native to the region. The unassuming metal sculptures lend a playfulness and sense of familiarity to the space.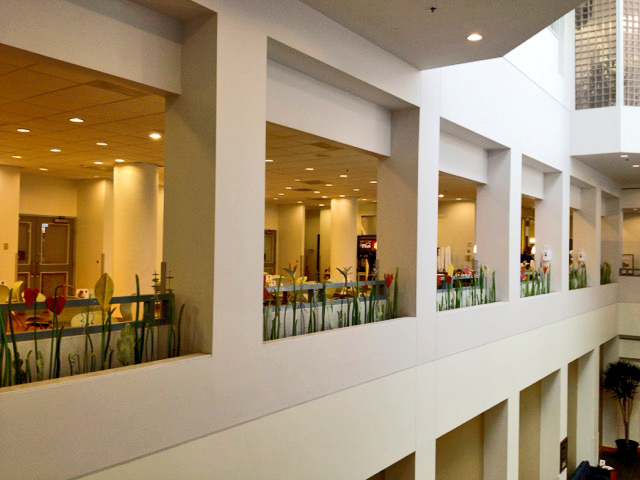 "What I do now is just sort of a larger version of jewelry," she says of her sculptures. " It's the same set of techniques, just scaled up to more of an architectural size."
Those techniques range from forging and blacksmithing to welding and riveting shapes together. By applying aerosol enamel paint to individual pieces, she is able to highlight the metal's texture with pigment and light. The colorful medallions and abstract forms evoke stones, seedpods, leaves, flowers and fish—organic forms manipulated out of the plasticity of forged metal.
Creating an Environment That is Whole:
Because Madacsi's artwork is designed to complement a client's site, she is eager to integrate their vision into the piece. To that end, she may request paint chips and textile samples to ensure consistency with the site's existing aesthetic. Equally important, she happily coordinates her design with the building's interior designers, architects and engineers to ensure the artwork can be easily cleaned and otherwise maintained for years to come.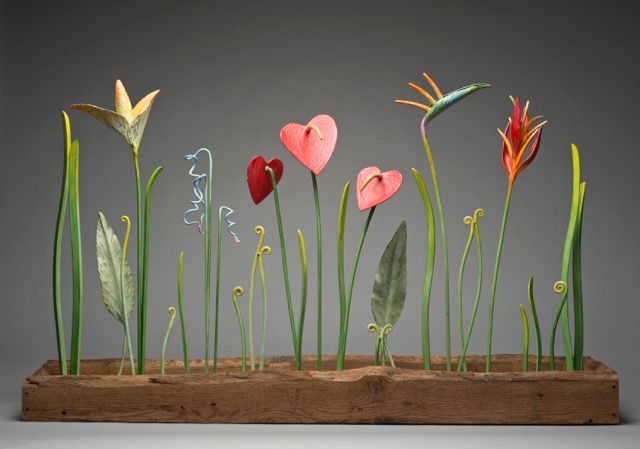 The donor recognition panel Madacsi designed for Victory Care Center in New York City, for example, serves the dual purpose of beautifying an outdoor entrance and highlighting the organization's supporters. Working with an art consultant, she honed a handful of designs until they landed upon something that truly met the client's unique needs. A hinge secured with a single pin allows one panel to easily open for new donor plates to be installed as needed.
"I love incorporating ideas from clients and other people involved in the project," Madacsi says. "After all, the work is ultimately going to belong to them."