Crafting the Impossible: Technology and Art Converge at Digital Atelier and The Seward Johnson Atelier
By: Sarah Muehlbauer for CODAworx
If we look at the root of the word "technology," we see that it is inseparable from art. From Greek and New Latin technología, it is the systematic treatment of the arts and sciences. From téchnē "proficiency in an art or craft," it implies mastery of both materials and process. Technology developed in its most direct sense as the use of tools to shape the environment. It's how we adapted, controlling material resources to satisfy embodied, spiritual and intellectual wants and needs. The artists of today seek to resonate with their audience through physical experience, while meeting a higher-than-ever bar for what can be shaped through traditional and complex new technical processes. Technology in the arts can enhance every step of fabrication from concept to execution, offering artists malleability that transcends specific skill sets; it expands range, scale, and material in ways that are current and forward facing. Poised at the  vanguard of this evolution are the collaborative fabrication studios Seward Johnson Atelier and their innovative brainchild, Digital Atelier.
Image Credit: "Boys, tonight's on me"  by Tomokazu Matsuyama © 2017, Photos Courtesy of the Artist's Studio
Working independently and together, these companies engage with artists and others to deliver fabrication techniques that combine the best of what a 40-year established studio can offer, bridging material processes with cutting-edge digital technology. "Atelier" is a term that implies mastery and apprenticeship, highly trained artisans working in a collaborative structure. SJA and DA offer a 75,000square-foot studio playground of state-of-the-art equipment, filled with sparks and sensate activity and an outstanding team of physical and digital technicians. Through their work, they transform and evolve the process of making art. Each company was developed to solve particular problems for creatives, engaging technology both deeply and broadly.
Take the example of Kara Walker's "A Subtlety" (2014). In this piece, a 70-foot long sphynx-like woman dominates the relics of a former Domino Sugar refining plant in Brooklyn. This was the first large-scale public project by this remarkable artist. Others refused to take on the design, believing it couldn't be built, but with the assistance of Digital Atelier a temple-worthy archetypal figure was brought to life. Digital technology amplified the approach, making it possible to accurately design a structure, coated with 80,000 pounds of sculpted sugar. The Atelier scanned her clay model, digitally enlarged it and output it to their CNC machines to create a milled block structure not unlike the pyramids. The result is sweet and saccharine, textural and visceral, powerfully feminine and commodified, spiritually and profanely overwhelming as it silently points to the trade of bodies for sugar, the connection between unpaid labor and imperialism. It's a heavy-hitting concept, political overlay, and technical juggernaut, demonstrating incredible artistic vision and technical skill. 
See more on this project at Creative Time.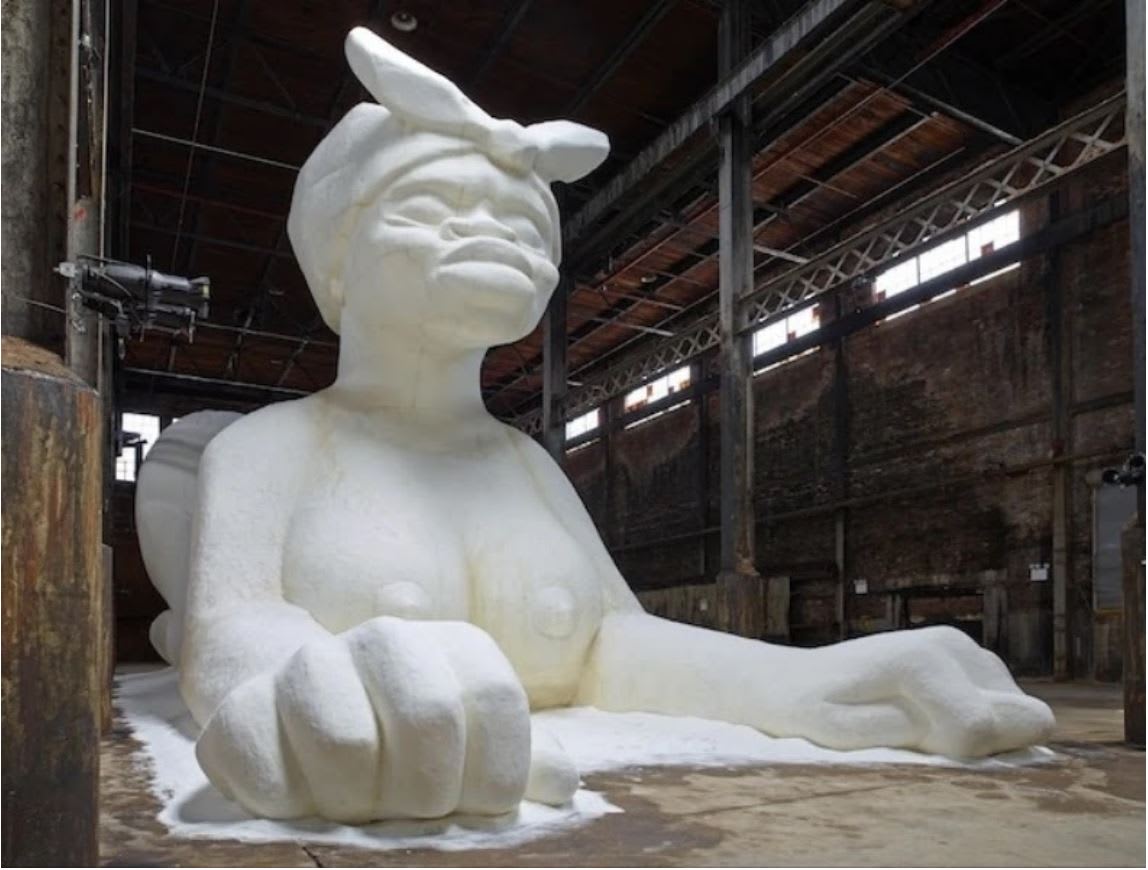 "A Subtlety" by Kara E Walker © 2014, or the Marvelous Sugar Baby, an homage to the unpaid and overworked artisans who have refined our sweet tastes from the cane fields to the kitchens of the new world on the occasion of the demolition of the Domino Sugar Refining Plant, Domino Sugar Refinery, A project of Creative Time, Brooklyn, NY Photo by Jason Wyche
Seward Johnson Atelier and Digital Atelier have been working primarily in collaboration with sculptors, commissioning partners, and community leaders in public art; however, their expertise also lends well to complementary fields. The Ateliers work with all types of designers, engaging in rapid prototyping, film and stage production and architectural modeling. Both entities perform  extensive  work with conservators, educational institutions, and museums around the world, restoring, repairing sculpture works, and copying important archaeological artifacts and objects. Many of these pieces would otherwise never be seen by the general public. Their unparalleled efforts have included working with institutions such as the Metropolitan Museum of Art, Harvard, UPenn, and countless other Institutions. 
Image Credit: "The Theater of Disappearance" by Adrian Villar Rojas, ©2017 on view at The Metropolitan Museum of Art, NY, NY
In another demonstration of technical prowess, Digital Atelier and the Atelier collaborated with Argentine sculptor Adrian Villar Rojas on the work "The Theater of Disappearance".  It was commissioned for the Met's Cantor Rooftop, highlighting artifacts from the Met's collection. In the process, DA facilitated the purchase of digital scanning equipment for the Met and trained their conservation team for the project. They set up a mobile scanning unit in New Jersey with Rojas's studio to scan humans, animals, and other objects that were then composed digitally with nearly 100 pieces from the Met's collection. The result is 16 massive sculptural objects that span and envelop the past, present and future. Realistically rendered, surreal compositions in black and white, coated in dust, set against the New York City skyline, draw together continents and cultures in "impossible" moments. Figures and objects are playful, vulnerable, tangible, and ghostly. The limited color palette and technical mastery of detail, expertly painted by the Seward Johnson Atelier, give metaphoric compositions the gravity and intimacy necessary to enter and believe the narrative, joining the artist's world of frozen time.
"The Theater of Disappearance" by Adrian Villar Rojas, ©2017 on view at The Metropolitan Museum of Art, NY, NY
As the key founding institution, Seward Johnson Atelier offers clients and collaborators a wealth of hands-on technology and materials to engage with the possibilities of production  in a familiar, analogue way. Education is mission-centric. The non-profit organization offers tours, lectures, technical demonstrations such as casting pours, and hands-on learning opportunities. They empower sculptors to transform, experiment, and expand their horizons en route to creating a unique end result. For example, working with the master patinists and painters in the extensive finishing department of the Atelier.
This generous mission reflects the philanthropic vision of founder and artist Seward Johnson, whose life-like figurative sculptures connect with audiences by celebrating the nuance of living.. Figures from Johnson's "Beyond the Frame" series tour the world allowing viewers to enter classical impressionist paintings. Johnson, who passed away in 2020, remarked on this series, "I find it so moving to watch people interact with these sculptures.  One thing that these pieces do — they invite an intimacy with the paintings that the paintings themselves don't allow simply due to the limitation of scale, depth and access." – Seward Johnson
That breadth of access and intimacy that Johnson committed to giving his viewers is mirrored in the process offered to all who work with both Seward Johnson Atelier and Digital Atelier. Johnson founded the original company out of a desire to demystify and deinstitutionalize the making process, allowing artists to become more involved in all aspects of production. 
"Chair Transformation #20B by Lucas Samaras, ©1996, 2021 bronze fabrication/patina photo by Ken Ek
Curator Paula Stoeke says, "I think we are all inspired by our founder's personal core values: collaboration, transparency and innovation. We bring that, and a sense of true camaraderie, to the projects we undertake." As Business Development Officer Keppie of Digital Atelier says, "We don't sell products, we develop processes." As time, technology, design, and objects shift continuously in culture, so does the Atelier. As artists and audiences evolve their expectations and desires for engagement, so too does the work of these companies in supporting every new vision that artists bring forward. 
Quan Yin, Tao Restaurant Group ©2020 milled foam/ faux metal patination, photo by David Steele