Welcome to the August issue of CODAmagazine, where we share the best in design + art projects from all over the world. The magazine is published twelve times a year by CODAworx. We're an online community for artists and design professionals to showcase their work, collaborate with one another, and earn recognition for their projects.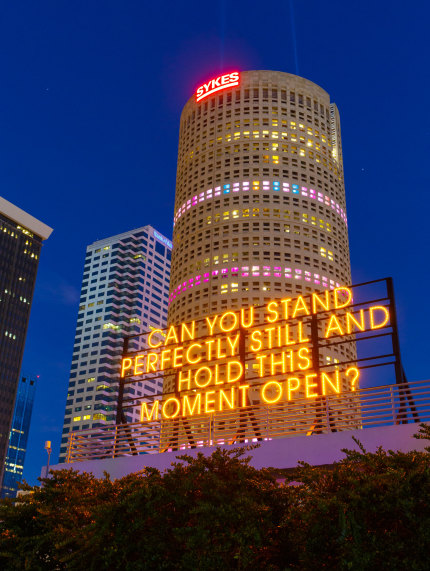 The Written Word is the organizing principle of this month's issue. Artists and designers have taken our relationship with the written word to new levels, using typography, iconography, and whole words as images, thus creating a strong presence in the environments we inhabit. CODAmagazine documents this trend; we have selected 25 evocative projects that send powerful messages for all to see.
Featured projects include an enormous carpet of 160,000 granite letters embedded into concrete, pushing the boundaries of public art and typography to their limits. In Paris, a 140-meter-long ribbon is made up of tens of thousands of lines of text, all focused on the various issues raised by fashion. On a smaller scale, an artist has created text and words by incorporating textured embroidery threads, beads and lead weights, fishing hooks and feathers. She states, "Nylon fishing line was a natural choice to create a net to catch the words."
Letters, numbers, and icons are utilized in diverse ways with astonishing results: they are laser-cut in steel, hand-carved in stone, inlaid in mosaics, and painted into murals. In Palestine and Israel, an artist uses light boxes and phrases to insert into the city and landscape. Dramatic, enigmatic, and powerful indeed.
It's a spectacular collection—an example of the amazing things artists and designers can accomplish when they collaborate. We hope you will subscribe to CODAmagazine on Flipboard to receive the best design + art projects from all over the world, delivered to you, free of charge, each month. We look forward to sharing these incredible collaborations with you!
Sincerely,
Toni Sikes
CEO and Publisher
CODAworx