We are all in search of that perfectly amazing space, one that fills us with wonder and happiness. We know it when we see it. The integration of art and design, a melding of talent coming together to create a unique environment that accomplishes what was intended—and more.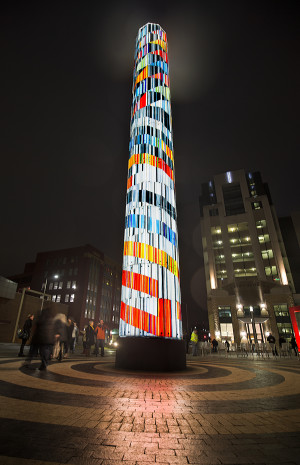 CODAworx, the online platform that connects artists who create commissioned artwork with design and industry professionals, hosts an international awards program in search of that perfectly amazing space. The annual CODAawards recognize the most successful integration of art into interior, architectural, and public spaces. These awards honor the design and art professionals whose collective imaginations create the public and private spaces that inspire us daily.
We saw a great variety of projects entered into the CODAawards this year. In total, we received 323 entries. Collaboration was key to success, with 1,157 project participants reported. This year, the cost to produce ranged anywhere from $415 to $10,000,000 and each one was worth every penny. And the entries into the awards can be found all around the world, as we received projects from 19 different countries.
Our esteemed panel of jurors voted for their favorites. We took the Top 100 scores and opened the votes to the public to determine the two People's Choice winners. In addition, Interior Design magazine selected their merit winners. Altogether, we have 49 spectacular works to share with you this month. We truly think they stand out in their field!
This remarkable collection is a what happens when collaborations succeed to their fullest and people come together to create marvelous works of art. We extend our heartfelt congratulations to all of these amazing individuals.
Sincerely,

Toni Sikes, CEO and Publisher
CODAmagazine