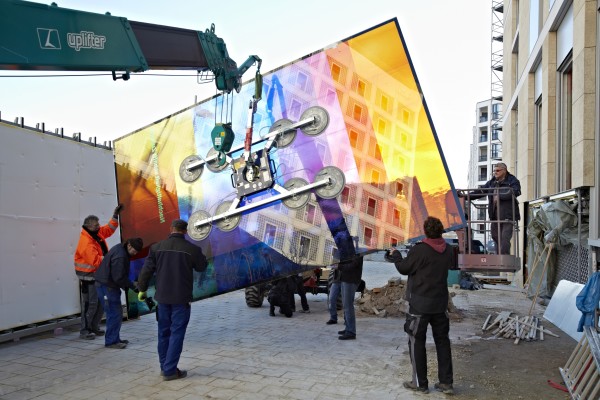 MADISON, WI, July 16, 2018 – CODAworx, the hub of the commissioned art economy, announced a new partnership with New York-based ARTA Shipping, expanding the CODAworx marketplace to its global network of creative professionals. ARTA provides a full-service logistics operation, powered by an easy-to-use online platform catered to the specialized needs of fine art transport. Their technology helps hundreds of museums, galleries, collectors, and artists streamline the complicated process of moving artwork from one place in the world to another.
CODAworx members will be able to rely on ARTA's software and team of logistics experts to secure, compare, and accept competitive quotes for shipping, packing, and installing artwork that is large and requires sensitive handling. ARTA works with a network of 350+ curated specialized vendors all over the world, from road- and air-freight shippers to packers and craters to installers. ARTA's close relationships and understanding of each vendor's strengths will ensure that CODAworx members always receive the best rate for highest-quality services. ARTA will also provide a dedicated service agent to respond to inquiries from CODAworx members.
Surveys of CODAworx members have consistently revealed that shipping/logistics is a serious pain point for artists, fabricators, and suppliers of large-scaled artworks. It is also an expensive piece of the commission, often costing between 10%-18% of the total price of creating site-specific works of art. As a result, last year CODAworx began the search for a partner that could bring efficiencies and cost savings to its members.
"We are thrilled to announce our partnership with ARTA and look forward to pursuing business together," said CODAworx CEO Toni Sikes. "ARTA's team brings expertise and capabilities via their network of service providers, and their proprietary technology efficiently meets the needs of those involved in the commissioned art process."
The announcement of this partnership adds another key service to the CODAworx Marketplace. Other marketplace offerings are the CODAworx Commission Contract, and Art Installation Liability Insurance. For more information on the ARTA Logistics Program offered through CODAworx, visit www.codaworx.com/shipping-logistics
About CODAworx
CODAworx is on a mission to transform every space in the world by making great commissions happen. Serving as the hub of the commissioned art economy, we connect all members of the industry, matching creative talent with creative opportunities, and providing digital tools that streamline the commission workflow process. Our network connects artists and creative teams to architects, design and art professionals, and the universe of companies that provide services and products for commission projects. The CODAworx website, which launched in December 2014, has attracted design + art members from 93 countries. To date, over 5,000 projects are featured on CODAworx with art budgets totaling over $1.3 billion. Visit www.codaworx.com
About ARTA
ARTA's online platform makes it faster and easier to receive and compare competitive shipping quotes for high-end goods. Our free, easy-to-use technology streamlines booking, payment, and tracking for every shipment, and our team of logistics experts provides the highest level of customer support. We partner with a curated, global network of 350+ specialized logistics vendors, and have shipped to over 45 countries. ARTA is trusted by hundreds of galleries, museums, collectors and institutions across the world, including David Zwirner Gallery, Phillips Auction House, and The Conservation Center. Visit https://shiparta.com.