Take a trip to the Crossroads of America and you'll discover more than just a sports fan's paradise, a city that brims with creators and innovators, designers and manufacturers. And you'd be hard-pressed to find a company more dedicated to Indy's culture of creative innovation than the one that bears its name.
Indianapolis Fabrications (iFab for short), is a custom fabrication company born from the complementary pairing of its two founding business partners, Brian McCutcheon and Randy Domeck. McCutcheon, who holds an MFA from the Cranbrook Academy of Art, is an award-winning artist, with private and public sculpture found in collections and cities across the United States. In 1996 he began work as a self-employed fabrication contractor, where, through a mutual project, he met Domeck, a talented fabricator and automotive restorer. They formed Indianapolis Fabrications in 2009.
"Our talents and personalities dovetail well together," says McCutcheon. "Our backgrounds are disparate, but we each bring our own strengths to a project, whether that be molding and casting, or development, fabrication, and installation."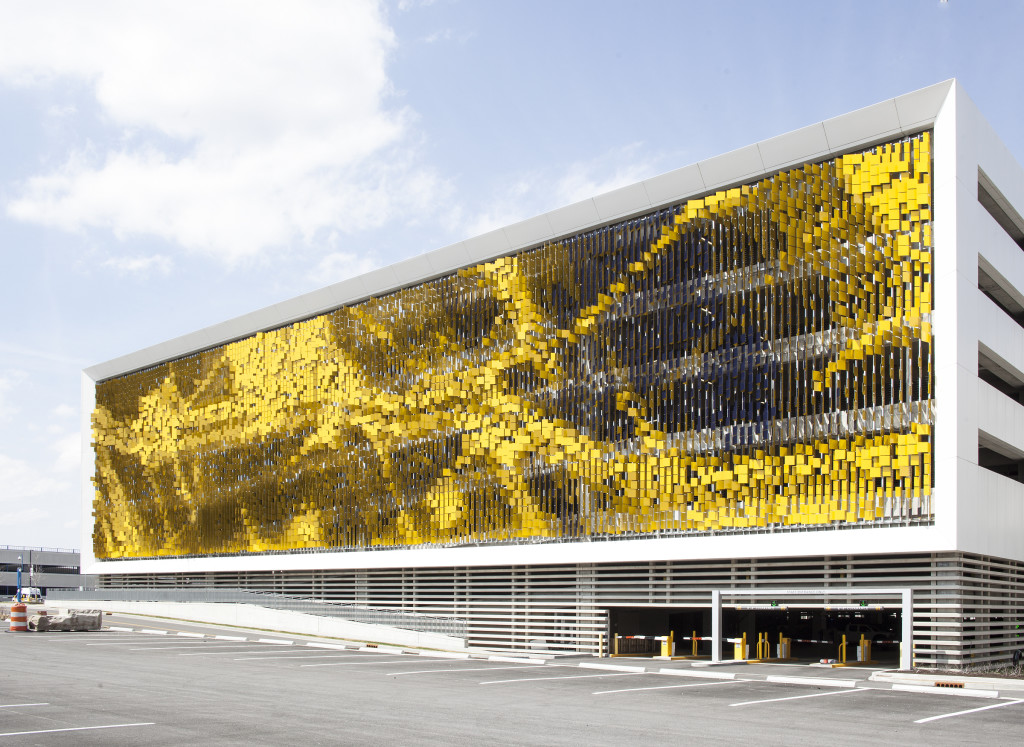 The two also share a love for and experience working in the custom automotive industry, and have a couple of employees who continue to work primarily on automotive projects for iFab today. "When we first started the business and things were slow, we took in automotive restoration and custom work," McCutcheon recalls. "It was great training for the kind of creative problem-solving we do with art and design today because so many of vintage and custom cars required us to source, find, or make the necessary parts ourselves. We use the same level of quality and craftsmanship in our art and design projects, so the skills translate really well for us."
Capabilities, Clients, Community
As Indianapolis Fabrications grew, so did their reputation for skillfully designing, fabricating, and installing large-scale works of fine art and design. Artists from around the globe began seeking iFab's formative expertise, particularly when, as McCutcheon explains, "there was no one else." Atypical one-offs or unusual works of art—not always dream jobs for traditional fabricators—were welcomed by McCutcheon and Domeck, who relished the opportunity to put their creative problem-solving to work.
As an artist, McCutcheon offers a unique appreciation for an artist's intent when it comes to fabrication, offering solutions for materials, timelines, and budgets that also respect an artist's vision. Most of iFab's dozen full-time employees have degrees in art, design, or architecture. "Everyone is here because of the uniqueness of what we do," McCutcheon explains.
Projects vary widely in complexity and cost, and include limited-production work for designers, architects, and landscape architects seeking value-design work that many contractors aren't interested in handling. "We're a one-stop shop and can work from the napkin sketch phase to installation, but we're happy to be involved as much or as little in any project as needed" says McCutcheon. Depending on where the client is with project development, iFab offers design consultation, drawings, and prototypes to help clients with budget proposals. Fabrication can happen in any material, including wood, plastic, or metal, which iFab then sources, fabricates, welds, and finishes. McCutcheon, who also has experience working with public art agencies, can also help steer clients through the process of city permitting and union agreements, as well as rigging, transportation, and installation. (They own their own fleet of trucks and trailers, so work may be crated and transported directly, if needed.)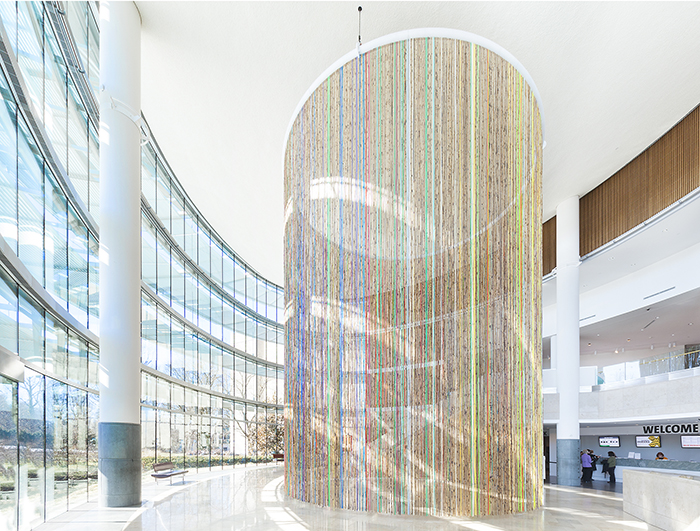 Though iFab works on projects across the country, it's also finding interest from international sources. In 2014, McCutcheon traveled to Cambodia to advise artist Sopheap Pich on his 1,200-piece project, A Room, which was later cast in colorful urethane plastic by iFab and installed at the Indianapolis Museum of Art. Sometimes, as Domeck recounts, clients come to them through less-conventional or surprising means. "Brian and I were working on a project in Salt Lake City, and while waiting at the airport to return home, we were approached by a gentleman who noticed the Indianapolis Fabrications t-shirts we were wearing and asked about the type of work we did." Before McCutcheon and Domeck knew it, the two were on the floor of the airport reviewing blue prints for Indianapolis's Mormon Temple, for which iFab was eventually hired to fabricate a unique steel grid sub-frame for the building's decorative limestone exterior. To date, it's the company's largest revenue-generating project, part of an overall project budget that exceeded a half-billion dollars.
Because the company is just six years old, emerging technologies have been part of the business from day one. "Right from the get-go, we've incorporated digital fabrication in most of our projects," McCutcheon reports. iFab is seeing more computer designs, especially for large-scale works, and keeping up with the technology is just part of the job. Other projects may require collaboration with industrial subcontractors, which are plentiful thanks to the city's sizeable manufacturing industry. "Because we never really create the same project twice, it's always a process of identifying what we need to do to make a project successful," says McCutcheon. "We'll find these solutions for our clients, whether it's us figuring out a new technology or hiring a subcontractor who can do the work for us. The resources are here for us to do whatever it is a client needs."
This willingness to engage other local businesses speaks to iFab's dedication to doing not only what's best for their clients, but also what's best for their city. Civic engagement has come to be one of the outcomes of their work that gives them the most pride. "We seek it out," says McCutcheon. "We support a variety of other Indianapolis-based arts organizations and nonprofits. We do work in kind or at break-even cost to get local projects built." For one such project, iFab worked with local non-profit People for Urban Progress to salvage and refurbish seats from the old baseball stadium and installed them at bus stops throughout Indianapolis.
The goal isn't simply to make neighborly connections and refer work to the city's wide-ranging pool of craftspeople and manufacturers, it's to make Indianapolis a better place. "We believe that the quality of culture here is an important part of improving the community," McCutcheon says. Like the city's initiatives to retain and attract young talent with things like improved walking and bicycling infrastructure, so too does iFab's commitment to public and community arts benefit Indianapolis as a whole. "Value-added designs improve the living environment of our residents, and increases the value of the design, architecture, and real estate."
The Artful Fabricator
Within the last twelve months, about a third of iFab's business has been for its own co-owner/artist. ("I'm the best client I have!" McCutcheon laughs.) The largest project in the shop at the moment is a 31' upside-down bronze palm that McCutcheon has designed to look as if it's been ripped from the ground. Created for a newly constructed downtown in Rancho Cucamonga, California, McCutcheon's piece represents the first large-scale commission by the developer in the area, and may serve as a springboard for a percent-for-art program to be established in the Inland Empire.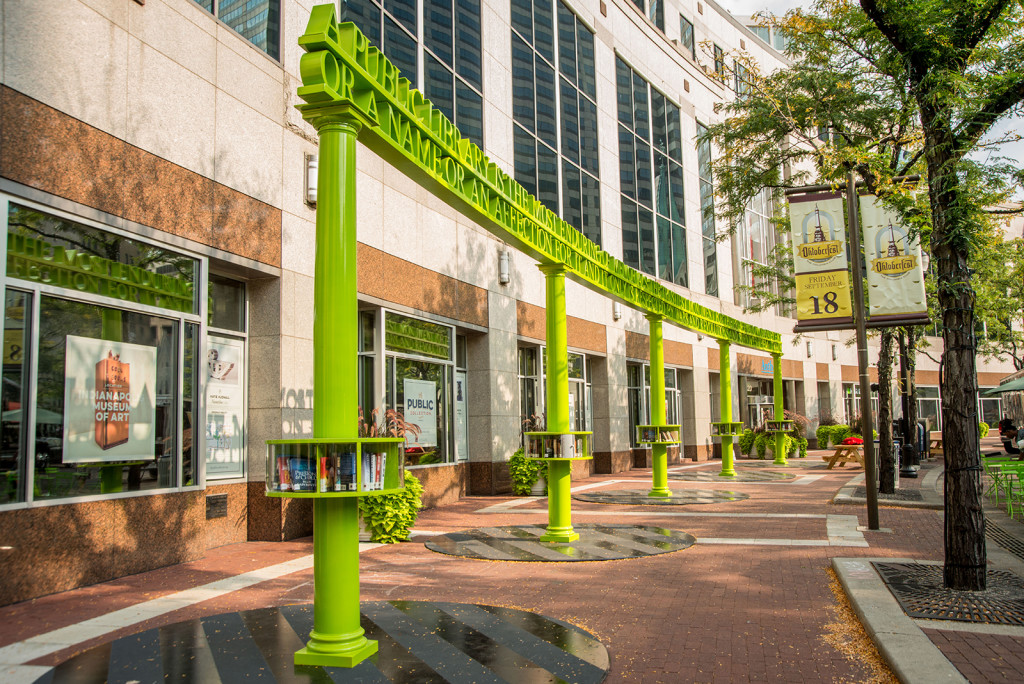 "It's hard to see myself as the client sometimes, but often enough I am," McCutcheon reflects. In his roles as both artist and fabricator, he learns from his own work and better understands where iFab's clients are coming from. "I can stand in an artist's shoes because I am an artist. My hope is that this makes me a better fabricator, one who can be uniquely sympathetic to what it is an artist is trying to express."
Regardless of the client or project, iFab's goal is always the same: to see the work manifest as closely as possible to what the client envisioned. "We want everyone to feel comfortable working with us, regardless of their background, budget, or experience," say McCutcheon. "And we're going to give the same amount of care to that small project as we do to that large, well-funded project because either way, it represents the face of our business."