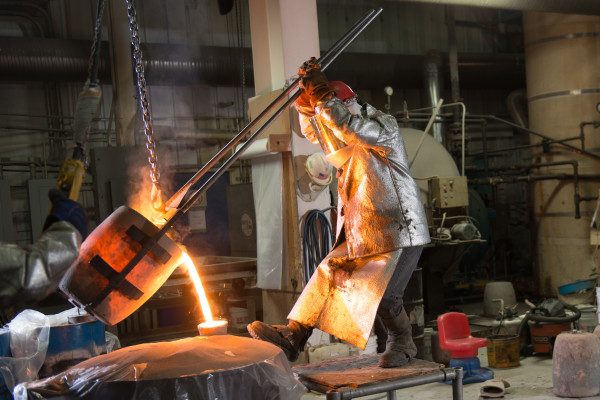 Lichtenstein. DeKooning. Johns. Gaylord. Graves. It's an impressive list of some of the most iconic and respected artists of the last fifty years. And while each is known for his or her own distinct style, technique, and influence, these artists do share, at least, one commonality: a work of artistic creation brought to life by Polich Tallix Fine Art Foundry.
The esteemed foundry, established by metallurgy mastermind Dick Polich in 1968, has been the gold standard for objects cast or fabricated in metal, pushing the limits of cutting-edge technology while employing an incomparable level of old-world craftsmanship. Collaborating with some of the greatest minds in art and architecture over the last forty-five years, Polich Tallix's work can be seen in public and private collections, museums, and street corners all over the globe.
Like skilled musicians in a world-class symphony playing together to flawlessly perform a composer's score, the seventy-plus employees of Polich Tallix bring together a combined knowledge of craft, material, and technique to precisely articulate the creative expression of artist, architect, or designer. To date, they've produced works for more than 500 artists.
Despite this high level of success, Polich Tallix's General Manager, Adam Demchak, describes the foundry's role in modest terms. "We think of ourselves as a tool in the sculptor's or architect's toolbox," Demchak explains. "We are here to do as much or as little on a project as the artist needs, without leaving any of our own fingerprints. Artists utilize Polich Tallix to help realize their vision; our job is to provide the tools and knowledge to make it happen."
It's a philosophy established by Dick Polich from the foundry's very beginning.
Beginnings
A Chicago native, Polich graduated with an economics degree in 1954 from Yale University, where he also studied modern art and architectural history. A few years later, Polich was introduced to Merton Flemings, a metallurgist at MIT who became his mentor and encouraged his interest in casting and metal. Polich would earn his MS at MIT in 1964, working on grants that united art and technology. It was this experience of bringing ideas from disparate fields together that sparked the idea of a foundry devoted to fine art casting.
He started Tallix Foundry—the name derived from a play on "metallics"—in a garage in Nelsonville, NY, in 1968. The business underwent several changes in name and location over the next few decades; since 1996, it's called a 100,000 square-foot facility in Rock Tavern, NY, its home.
Wherever the foundry went, innovation, experimentation, and good work followed.
In the mid 1970s, Nancy Graves began working in cast materials with the guidance of Polich; her work represented Tallix's first bronze castings created directly from organic materials, including flowers, vegetables, and wood. In the 1980s, fellow Hudson Valley resident and printmaker Frank Stella transitioned to sculpture, and challenged the foundry to combine different alloys in direct "splash" pouring.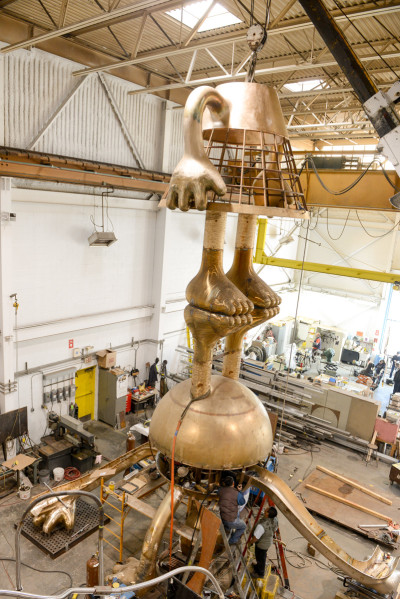 Polich, always the creative problem-solver, helped scores of artists push the envelopes of material and art, developing new processes and techniques for the foundry in the process. In 1992, Frank Gaylord's haunting and iconic work The Column would be installed at the Korean War Veterans Memorial in Washington, DC. Nineteen seven-foot figures were enlarged and cast in stainless steel by Tallix. The late 1990s saw the arrival of artists like Rona Pondick, who was interested in new ways of incorporating color and mirror finishes in stainless steel not ever before achieved.
In 2011, Tallix began work on the single largest-budget sculpture ever completed by the foundry. At more than five million dollars, Tom Otterness's awe-inspiring four-story playground sculpture Other Worlds, fabricated in bronze using a combination of methods, was installed in the Hamad International Airport in Doha, Qatar, in 2014.
Despite the impressive client list, Demchak says there is no project that's too large—or too small—for Polich Tallix. ("We're working on the tiniest castings we've ever done right now," he reports.) Hobbyists, architects, designers, and professional sculptors alike are welcome at Polich Tallix.
Process
Today the foundry works not only with artists, but also architects and designers to translate any number of materials—including stone, wood, glass, paper, cloth, and clay—into works of metal. At any given time, an average of 125 projects are in process on the foundry floor, which buzzes with light, heat, sound, and the energy of craftspeople who know and love their work.
While clients, materials, and technologies have evolved over the decades, Polich Tallix's process, Demchak notes, has remained essentially the same.
"We start with an initial conversation with the artist or architect to gather information about the project," says Demchak. "What is their vision for the project? Are they working at a computer? Are they in a studio up to their elbows in plaster? Are they at a quarry picking out stone? We want to know what we're starting with, and what the artist expects to see when we're done." The starting point can be anything from a sketch on the back of a napkin to a fully developed CAD rendering.
Once the project is defined, it's then the role of Polich Tallix to help the artist understand the foundry's capabilities, along with options for materials, technology, and finishes.
Most of Polich Tallix's projects are cast using the lost wax technique, with the artist providing feedback at various stages of the process. For some artists, the initial wax positive is the first time they see the their work in physical space. Once the foundry gets the artist's approval on the wax, they create the ceramic mold, pour the specified metal, and then assemble the sculpture. The artist typically works on site during the final patina process, checking the finish for color, texture, and depth.
The process is essentially the same for the architects and designers the foundry works with. "We do quite a bit of architectural work and have also cast utilitarian objects such as desks, chairs, wall hangings, and candlesticks for interior designers," notes Demchak. "We're happy to cater to any of these types of projects. If a project warrants or needs a specific cast metal element, that's what we're here for."
Future
At age eighty-three, Dick Polich is still a fixture at the foundry. He's there every week, actively evaluating projects, advising on solutions that have worked in the past and developing new ones for the future. Conducting the orchestra that is the foundry rests these days with Demchak, an engineer by trade with a background in custom manufacturing and architectural products. "I'm not an artist," he admits. "But I am an engineer and a craftsman who knows what the goals are."
New technologies continue to challenge the traditional way of making sculpture, while new materials provide greater offerings to artists. Small-scale works can be scanned three dimensionally, scaled to any size in CAD, then CNC-milled by a robot to create a full-scale replica. Three-dimensional printing in sand offers an alternative to traditional ceramic molds, and a variety of new materials can be used to create positive or negative molds of any given piece. Ceramic printers are used more and more to print a negative shell of a piece, which can then be filled with any number of materials.
Part of Demchak's job, he says, is to be constantly brainstorming new services the foundry can offer its clients, which means keeping up with the latest and greatest technology in other industries. "Technology is user defined," he points out. "Nobody is out there making machines for art foundries. It's our responsibility to find that technology and figure out how we can use it in our work."
At the end of the day, it's the artist or designer's satisfaction that determines the success of a work. "If we've done our job, when the artist comes in to see the final piece, it should look like what they envisioned," says Demchak. "There shouldn't be any surprises."